Hands On with the Sony Xperia XA1 and XA1 Ultra
Article Comments
Feb 27, 2017, 2:45 AM by Eric M. Zeman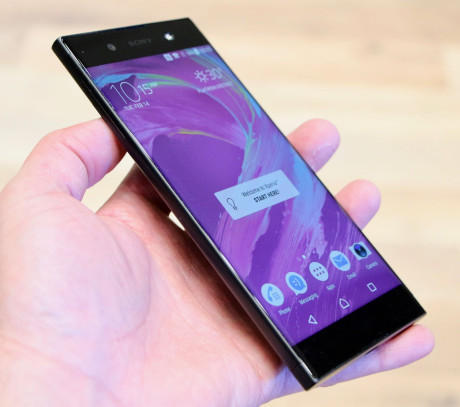 Sony is betting on these two mid-range Xperia smartphones to help it find traction with U.S. buyers. They have reasonable prices, reasonable spec sheets, and that Sony design language. Here are our first impressions with Sony's XA1 and XA1 Ultra
Advertisements article continues below...
The XA1 is a carry-over of last year's XA. Sony improved the specs a bit, but otherwise it is nearly the same phone. The XA1 Ultra is slightly better in the spec department and is definitely bigger in the size department.
The XA1 is a small phone. It has a 5-inch 720p screen, which makes it the smallest of Sony's 2017 phones. It is thin and light, and will easily disappear in your pocket. I had no trouble holding or using the phone. The side bezels are nearly invisible and the top and bottom bezels aren't as over-the-top as on Sony's pricier models. It still has an elongated look, but the glass-and-metal design is appealing and the phone has a good set of features.
The screen could be a little bit better. I mean, 720p resolution works on a 5-inch display, though other phones at lower price points have larger, higher-resolution screens on them. The side edges are typical for a Sony. The camera button, screen lock key, and volume toggle are all on the right edge. The camera button is a tad small, as is the screen lock key. These buttons have good travel. The volume toggle is the best of the three. The headset jack is on top, the USB-C port is on the bottom, and the SIM card hides beneath a hatch on the left edge.
The phone runs Android 7 Nougat and is powered by a MediaTek Helio P20 processor rather that silicon from Qualcomm. The camera has a huge sensor at 23-megapixels.
If you really like small phones, the XA1 may be worth considering. It is priced modestly at $300 and it goes on sale soon.
The XA1 is simply more. It has a 6-inch full HD screen and a bigger battery. It is the largest of the 2017 handsets from Sony, and boy can you tell. I could not reach more than about half the screen when swiping my thumb across it. It's hard to hold, and doesn't fit into pockets all that well. The reward is that huge, huge screen, I guess.
It has the same button layout, same controls, and same internals as the XA1, though the selfie camera is better thanks to a larger sensor and optical image stabilization.
We don't know the price of the XA1 Ultra yet and it won't arrive until closer to summer.
No messages