MWC 2016
All LG Samsung Verizon Alcatel more... Discuss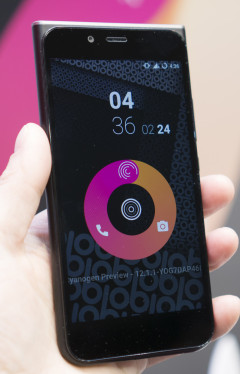 Obi Worldphone is a phone company founded by John Scully, former CEO of Apple. Perhaps not surprisingly, the company focuses on design, with attractive phones proudly "designed in San Francisco". They're not selling them in the U.S. just yet, but they have ambitions to sell in their home country soon. They have one high-end phone and their newest model — a mid-ranger — runs a new version of Cyanogen OS. We checked them out. Read on for our impressions.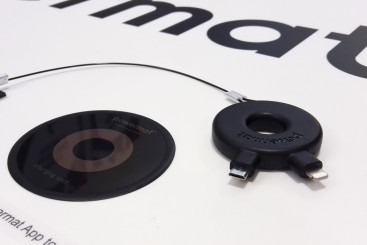 Powermat this week showed off an early version of its forthcoming universal fast wireless charging ring for public Powermat charging stations, at locations such as Starbucks. Current charging rings come in two separate versions: Lightning for iPhones, and micro-USB for all other phones. The new adaptor includes both connectors on one ring. It's also a higher-power adaptor at 15 watts, and supports Qualcomm's Quick Charge standard, to charge phones faster on phones that support Quick Charge. The ring should start rolling out to public Powermat locations this summer. The company is also working on a version that supports USB Type-C, to be deployed later. In the meantime, the company encourages users to use a Type-C to micro-USB adaptor with its charging rings.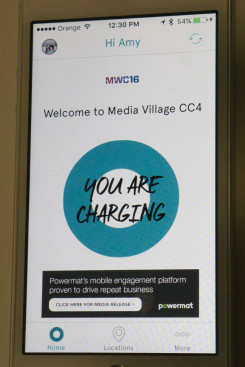 Powermat today announced a new "mobile engagement platform" that will allow public charging station providers such as Starbucks to push marketing directly to phones via an app. Companies that choose to deploy the new platform will be able to require users to download and install the app before their phones will charge. The technology uses location beacons to verify phones and switch charging pads on or off as necessary. The app can display promotions, including ads and discounts for products at that location. The platform benefits charging location providers, and thus encourages the installation of more public charging stations worldwide. Users can use either the Powermat-branded app, or a store-branded app. Powermat is providing an API to partners to enable this functionality in their own mobile apps. The Powermat app shows all nearby charging locations, and can list promos and discounts available at nearby charging spots. Once users have the app installed, stores can also use the platform to push promos to nearby users as they walk by. This allows nearby stores with charging locations to compete for customers by offering discounts. Current public Powermat installations - including Starbucks - already include the cloud-connected hardware and beacons to support this new platform.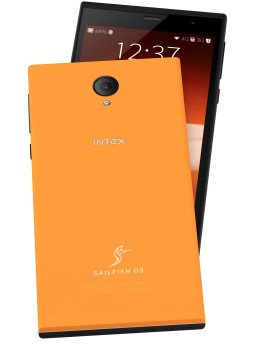 Jolla today announced that Intex Technologies has licensed Sailfish OS and put it in the Aqua Fish handset. The Aqua Fish is the first handset to run Sailfish OS outside of the phones made by Jolla itself. Intex said the phone will include Super Apps, which are accessible by swiping the home screen. These apps include the Gaana music service and Snapdeal. Intex plans to sell the Aqua Fish in India before the end of the second quarter. Jolla and Intex didn't provide any details about the hardware. Jolla also struck a deal with mi-Fone, which said it plans to bring a Sailfish OS handset to select African countries during the second quarter of the year. Last, Jolla said Fairphone is considering using Sailfish OS in the Fairphone 2. Fairphone is an ethical company that makes handsets responsibly with conflict-free minerals. Jolla is composed primarily of former Nokia employees and Sailfish OS is based on the Meego Linux platform. Jolla no longer intends to make its own hardware and is instead licensing Sailfish OS to phone makers as an alternative to Android, Tizen, iOS, Windows Phone, and others.
T-Mobile will commence trials of 5G technologies with partners Nokia and Ericsson during the second half of the year, says Nokia. The companies plan to use the 28GHz band for testing, which is one of the bands proposed for 5G usage. Their goal is to "support massive bandwidth capacity and virtual zero latency." The tests will allow T-Mobile to evaluate 5G technologies and help it plan for its future network upgrades. Unlike AT&T and Verizon Wireless, T-Mobile doesn't expect to deliver 5G to its customers until 2020 or later. AT&T and Verizon have said they'll have some 5G service available as soon as 2017 and 2018. The ITU has not yet defined what 5G will be, but the focus is as much on minimizing latency as it is on allowing devices to reach the internet at blistering speeds. Verizon is pushing forward with testing aggressively as it hopes to play a role in defining the 5G standard. T-Mobile is treading into the 5G waters more cautiously. "We're looking forward to working with Nokia to bring 5G capabilities out of the lab and into field trials with LTE technology and spectrum we already have today," said T-Mobile CTO Neville Ray. "Building on investments we've made to deliver America's fastest 4G LTE, this puts us on the path to real 5G use cases once 5G consumer smartphones are available in the 2020+ timeframe."
OmniVision today announced the OV13870, a camera sensor for mid-range and high-end smartphones that records full HD resolution video at 240 frames per second for the ultimate in slow motion playback. It can also capture 4K/2K video at 60 fps or 720p HD video at 300 fps. The OV13870 is a 13-megapixel sensor built on OmniVision's PureCel Plus-S pixel architecture, which are larger pixels meant to help improve low-light performance. The sensor has a 12-bit analog-to-digital converter, uses phase detection auto focus, and supports dual-camera functionality. The OV13870 is already sampling and is expected to enter mass production during the second quarter of the year.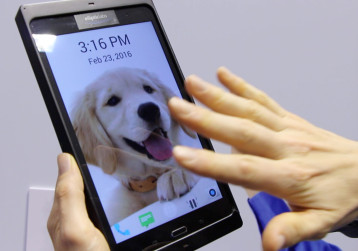 Elliptic Labs hopes to let people interact with their phones via hand gestures. The company is using the speaker and microphone already installed on most smartphones to emit sound waves, which its algorithms can then decipher as you move your hand closer to the phone. Here's a video demonstration of how it works.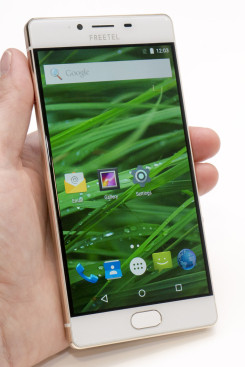 Freetel is a Japanese company, but their team actually has deep roots and experience in the US market. They are bringing a range of unlocked phones to the US this spring and summer, including the premium-but-affordable Samurai REI, an Android phone with a premium metal body and decent specs. We checked it out. Read on for some background on Freetel, and our impressions of the REI.
Volvo owners may soon be able to open and start their car with a smartphone. The carmaker is testing an application that relies on proximity sensors similar to today's key fobs. When the car senses the phone is near, it will unlock the doors and allow the engine to start. Volvo will test the digital key technology starting in 2017 with its own car-sharing service in its home market of Sweden. It may eventually expand it to the U.S. Since the technology relies on an app it can be shared with other phones, which are then granted permission to access the car.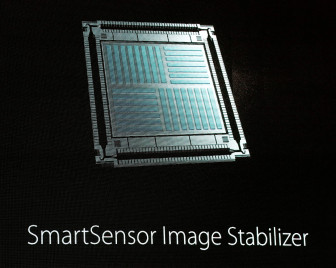 Oppo today debuted two new technologies at Mobile World Congress in Barcelona, one that promises higher-quality pictures and another that delivers faster-charging batteries. Oppo says it has created the first image stabilization system for phones at the sensor level. Rather than use optics (OIS) or software (EIS) to account for handshake, the sensor itself is mounted in a moving chassis that can adjust in three dimensions in order to compensate for movement. The results, claim Oppo, are much faster image stabilization and lower power requirements. Oppo plans to commercialize the technology in its future phones. The company also announced SuperVooc, the latest generation of its rapid-charging technology. Oppo's new algorithms are able to use 5W chargers to fully charge a 2,500mAh battery in 15 minutes. Oppo contends that its low-voltage solution is superior to competing high-voltage (10W) products, such as Qualcomm's Quick Charge, because it creates less heat and is more efficient. Oppo will use SuperVooc in handsets later this year.
Google, the GSMA, and a collection of wireless network operators around the world today said they'll work together to bring Rich Communication Services to Android devices around the globe. Google will create an Android RCS client that all the participating carriers will adopt. The GSMA said the universal RCS client will let mobile operators offer a consistent messaging experience to devices no matter where they are. Operators can use Google's Jibe platform to handle the client, or provide their own. Some of the features of RCS include group chat, high-resolution photo sharing, advanced calling features, and read receipts. These enriched tools will become default characteristics of messaging services offered by Sprint in the U.S., as well as América Móvil, Bharti Airtel, Deutsche Telekom, Etisalat, Globe Telecom, KPN, Millicom, MTN, Orange, PLAY, Smart Communications, Telenor Group, TeliaSonera, Telstra, TIM, Turkcell, VimpelCom, and Vodafone. Notably absent from the list of participants are AT&T, T-Mobile, and Verizon Wireless. The GSMA also says the interoperable messaging service will aid operators when it comes to testing, and the messaging profile will eventually be made available to other platforms. The GSMA did not provide a timeline for deploying RCS.
Skype today said it will discontinue its Qik video messaging service. Microsoft bought Qik and relaunched the mobile app as a way for people to send quick video clips to one another. Microsoft learned, however, that most people already do this within the main Skype application. Microsoft said it has ported some of Qik's most-used features to Skype and will turn Qik off entirely March 24. Microsoft suggests Qik users save any videos they might want to keep.
When Samsung's Galaxy S7 and S7 edge were announced this week, many people wondered why the phones have a micro-USB port instead of the newer USB Type-C connector. The competing LG G5 and a growing number of phones at all price points this year include Type-C. When asked, Samsung Director of Product Marketing Shoneel Kolhatkar indicated that compatibility with the existing ecosystem of Samsung accessories was the reason, but particularly Gear VR, the current version of which is built in a such a way that it can only work with micro-USB. USB Type-C connectors are reversible, (like Apple's Lightning connector,) and support much faster data and more power for charging.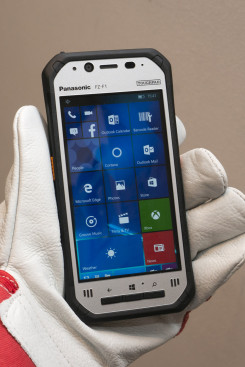 Panasonic has a new rugged smartphone for field workers. It's big, tough, and scans barcodes like a champ. It's not for consumers, but if your company has a warehouse or delivery people, this phone is tailor-made for those employees. We checked it out. Read on for more info on what makes these phones special.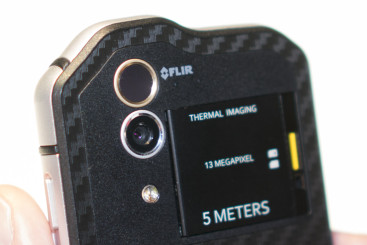 CAT recently announced the S60, a rugged phone with one very unique feature: a true thermal imaging "camera" built right in. CAT has a short but respectable history releasing very rugged phones that might appeal to construction and other field workers. But there are a few specific sub-sets of this category that would find thermal imaging very useful, and this phone is for them. It's also an extremely waterproof phone, down to 5 meters of depth, which is very deep for a phone. Read on to find out more about the S60 and how it actually works.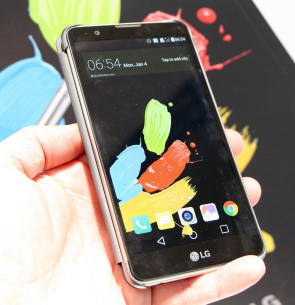 LG has a handful of new phones on display in Barcelona that are not the G5. The Stylus 2, X cam, and X screen round out the middle of LG's profile and are interesting smartphones in their own right. Here is a look at each.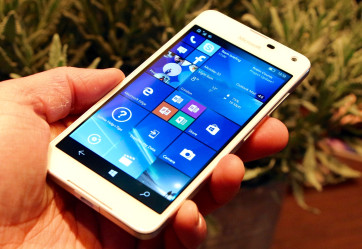 Microsoft announced the Lumia 650 ahead of Mobile World Congress and we had a chance to take a look at it on-site here in Barcelona. This mid-range Windows 10 handset is far more impressive than the entry-level Lumia 550, and almost outshines the high-end Lumias 950 and 950 XL. Here's why.
ZTE today said it is ready to upgrade the Axon Pro smartphone to Android 6.0 Marshmallow. ZTE is toeing the the line with the update and sticking to stock features, such as Doze, Google Now On Tap, and the revised app drawer. ZTE didn't call attention to any specific apps or features it is adding to the mix. ZTE recommends consumers download the update (835MB) over WiFi. It can be snagged manually via the Axon Pro's system settings. ZTE said it is prepping Marshmallow for the Axon in the coming months.
At an event at Mobile World Congress this week, Motorola unit President Rick Osterloh gave an update on the integration of Motorola Mobility into Lenovo, and gave new information on some future plans. The mobility unit of the company is now profitable. The company has integrated Motorola and Lenovo mobile design, engineering, and manufacturing teams, combining best practices from both. Former Motorola designers are working on an all-new, unified design language for the company's Vibe line of phones, while continuing to work on new Moto X, Moto G, and Moto E models. The company also plans to expand Moto Maker to allow even greater customization of phones, although there are no plans to bring a Moto Maker assembly facility back to U.S. soil. Moto and Vibe will continue as separate brands, each with a unique identity and focus. Moto phones are intended to be innovative phones for "trend-setters", while the Vibe line will continue to focus on value. The company is integrating hardware and software platforms in all "behind the scenes" aspects, however. This will allow it to consolidate component procurement and achieve better economies of scale across both the Moto and Vibe lines. The company expects to present a "fully converged" portfolio of Moto and Vibe phone models by mid-summer 2016. The company is still working on a more unified brand strategy for the longer term.
Sony today said it plans to bring its new X Series handsets to the U.S., even if only via its own online sales channel. The company reiterated its commitment to the U.S. market, where it currently sells the Xperia Z5 and Z5 Compact directly to consumers online. Sony representative Don Mesa told Phonescoop that the company is always talking to wireless network operators, but will sell the X Series phones in the U.S. whether it scores a distribution deal or not. The X Series do not replace the Xperia Z series, they are simply an expansion of the Xperia product range. The X Series is meant to showcase new design language and relies on metals more than the glass surfaces of the Z Series. Sony expects the new X Performance, X, and XA to launch over the summer months. Pricing has not been revealed.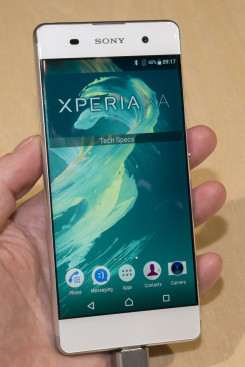 The X Series is an interesting new range of phones from Sony. Although they all look similar, the various specs cover a surprisingly wide range of the market from affordable to high-end, the models hit on a number of current trends. They look like excellent entries from Sony, but how are they in person? Read on for our impressions.
Samsung today announced the Samsung Enterprise Device Program in order to help companies buy, secure, and manage mobile devices. The program is kicking off with the new Galaxy S7 and S7 Edge handsets. The company plans to work with businesses' purchasing departments and will allow its customers to buy the same model over and over again up to two years after the phone's initial release. Samsung believes this will help companies maintain consistent fleets of devices. Samsung is also promising its business customers monthly security updates via KNOX, and mobile device management tools via Android for Work. The Enterprise Device Program is meant to help Samsung better compete with Apple for business customers.
SanDisk today announced the Extreme Pro microSDXC UHS-II card for mobile devices. The Class 10 card meets UHS Speed Class 3 and can deliver transfer speeds at up to 275Mbps. SanDisk says it is ideal for capturing and transferring 4K video. The card is robust and is waterproof, shockproof, and temperature proof. The card will be sold in 64 GB and 128 GB sizes for $179.99 and $299.99, respectively. SanDisk said the card will become available during the second quarter.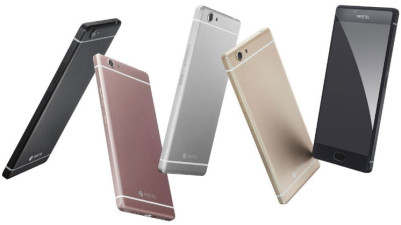 Freetel today announced the REI, a metal-clad Android smartphone that will be sold unlocked in the U.S. later this year. The REI, part of Freetel's Samurai series, features an aluminum shell with diamond-cut side edges and a 5.2-inch full HD screen. The phone is powered by an unspecified octa-core CPU with 2 GB of RAM and 32 GB of storage. The main camera sensor rate 13 megapixels and the front camera rates 8 megapixels. The REI runs Android 6.0 Marshmallow and packs a 2,800mAh batter. Freetel says it will be available online during the second quarter. Freetel is looking to expand its lineup in the U.S. and already has several other models in deck. It hopes to score distribution deals with online retailers, MVNOs, and, eventually, carriers. Freetel didn't say how much the REI will cost.
Qualcomm today announced that it will use technology from NXP to help bring NFC-based mobile payments across more phone makers. Specifically, Qualcomm plans to add NFC and embedded secure elements *(eSE) across its Snapdragon 800, 600, 400, and 200 series processors. Together, the processors, NFC, and eSE solution will let phone makers validate mobile payments and mobile transit passes. Qualcomm and NXP believe the new platform can help speed up the adoption of NFC-based mobile transactions in handsets from entry-level to high-end.
Facebook has announced the Telecom Infra Project, an initiative that it hopes will bring various telecom players together to reimagine connectivity. Facebook's initial partners in the endeavor include Intel, Nokia, Deutsche Telekom, and SK Telecom, all of which have agreed to work together to rethink networking technologies and how they might be used to push connectivity to more places around the world. Members will collaborate on basic access, backhaul technology, and core/management methods in an open and flexible fashion that Facebook says will "result in significant gains in cost and operational efficiency for both rural and urban deployments." The Telecom Infra Project is initially targeting areas that are currently unconnected.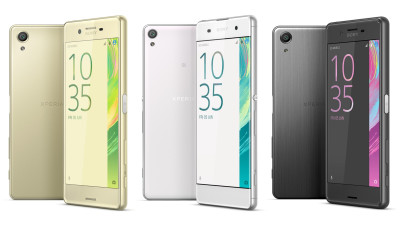 Today Sony announced the Xperia X series at Mobile World Congress in Barcelona. The new phones focus on performance in two core areas: camera and battery. The first three phones in the X series are the Xperia XA, Xperia X, and Xperia X Performance. The new-generation camera in the X and X Performance sports predictive hybrid autofocus. The X series battery lasts two days and includes adaptive charging tech from Qnovo that extends battery lifespan up to 2x.
The Xperia X is the base model with a Qualcomm Snapdragon 650 processor and 5-inch full HD display. It also sports a 23-megapixel main camera and 13-megapixel front camera. A fingerprint sensor, memory card slot, and NFC are also included.
The Xperia X Performance steps up to a top-end Snapdragon 820 processor, faster LTE and a waterproof design, but it otherwise identical to the X.
The Xperia XA is a lower-range phone with a 5-inch display that is 720p instead of full-HD. However the XA has a bezel-free design that makes the phone exceptionally narrow. The XA runs on a MediaTek processor and its cameras are 13 megapixel, and 8 megapixel in the front. It does not have a fingerprint reader but does have NFC and a memory card slot.
All three models have similar designs using curved-edge front glass and metal back and/or side elements. The phones will ship this summer, although pricing and regions have not yet been announced.
Verizon Wireless today provided a snapshot of its progress in testing 5G wireless technology. The company has performed trials both in the lab and real-world environments, including residential and commercial areas, with partners Ericsson, Intel, Nokia, Samsung, and Qualcomm. Verizon's 5G Technology Forum is examining millimeter and centimeter wave spectrum, beamforming, beam tracking, massive MIMO, wideband spectrum, and various antenna designs to help determine which prove best. So far, its testing delivers multi-gigabit speeds and single-millisecond latency. Verizon and its parters are testing various technologies in several spectrum, bands, including those proposed by the FCC as ideal for 5G. The International Telecommunications Union has not yet defined what the 5G standard will be. Companies such as Verizon are hoping their own tests are able to eventually contribute to the standard.
MediaTek today announced the Helio P20 system-on-a-chip for phones and the MT2511 for wearables. The Helio P20 targets sub-flagship devices. It runs eight ARM Cortex A53 cores clocked at speeds up to 2.3 GHz and it is paired with LPDDR4X RAM. The SoC was made with MediaTek's 16nm process and includes a Mali T880 GPU at 900 MHz. The SoC also packs a Cat 6 LTE modem with support for 2x20 MHz carrier aggregation for download speeds up to 300Mbps. The P20 consumes 25% less power than the Helio P10. The P20 uses the same image signal processor found in MediaTek's high-end Helio X10 chip, and can handle large-megapixel cameras and high-definition video. The Helio P20 will ship in the second half of 2016. The MT2511 is an improved biosensor for fitness-based wearables. It can capture ECG and PPG signals at the same time and uses such a small amount of power than it can track heart beats through the night to measure resting heartrates. MediaTek claims the MT2511 is so accurate, it can also capture EMG, EEG, pulse oximetry, and blood pressure signals. MediaTek envisions the MT2511 will be useful in the health industry. MediaTek didn't say if the MT2511 will also be compatible with smartwatches.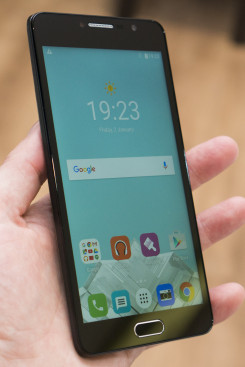 Pop is Alcatel's main line of affordable phones. The Pop 4 series breaks little major ground, although the top-end model of the range — the Pop 4S — sports a fingerprint reader. We spent some time checking them out. Read on for our impressions.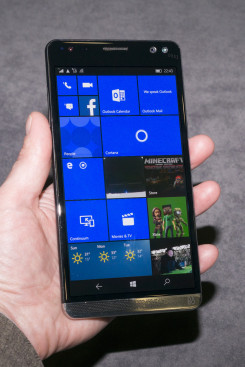 HP is jumping back into phones at a completely unexpected time. HP made quite a few iPAQ Windows smartphones back in the day (2004-2009, to be precise.) Then they bought Palm and infamously drove that into the ground. (RIP, webOS.) But now HP is jumping back into the fray with yet another Windows smartphone: the Elite x3 with Windows 10. This huge 6-inch phablet sets itself apart with not only Windows 10 with Continuum, but the ability to run old-school x86 Windows apps (not just Windows Universal apps like the Lumias.) It also has serious security features. In other words, this is a phone aimed squarely at serious enterprise customers. We checked it out. Read on for our first impressions.
Nokia CEO Rajeev Suri today reiterated that the company would like to return to the phone business, but said it is in no rush. Speaking at the Mobile World Congress trade show, Suri noted that Nokia will not manufacture its own handsets, but will instead license its brand to an outside manufacturer. The company wants to play a role in designing the phones to ensure the Nokia brand is well represented, but so far is still just looking. "For us the business model is one of no traditional manufacturing, no channel or nothing we are just basically licensing our brand," said Suri. "The partner will have to pay us an IP license for it and royalty on the brand use, and we want to be in a position to design the devices in question with appropriate control measures should the partner not work to our standard. This takes time. We need to find the right partner." Suri had originally said such a deal might be struck late this year, but stepped back from that timeline, suggesting Nokia may not re-enter the phone market until 2017 or beyond. Nokia sold its handset business to Microsoft, which divested the manufacturing facilities. Nokia no longer has the capacity to manufacture phones. Its primary focus remains its telecommunications and networking business.
Samsung's 2016 flagship smartphones are updates to last year's models. Each features modern specs and brings water resistance to the table, as well as support for memory cards. Samsung argues the Galaxy S7 and S7 Edge are a lot more than minor upgrades. Are those claims accurate? Here are Phone Scoop's first impressions of these new phones.
Samsung today said consumers in select countries, including the U.S., who preorder the Galaxy S7 or S7 Edge will receive a free Gear VR headset. Samsung didn't say how long the promotion will be available. Many U.S. carriers have also announced pricing for the pair of phones. The Galaxy S7 costs approximately $670 to $700, depending on carrier, while the larger S7 Edge has a much higher price point between $780 and $800, depending on carrier. Monthly payments for the phones range from about $30 to more than $40, depending on the terms. So far, AT&T, Cricket Wireless, Sprint, T-Mobile, U.S. Cellular, and Verizon Wireless have all said they'll sell the new handsets from Samsung. The device goes on sale March 11, but preorders start February 23.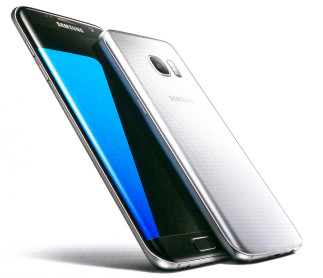 Samsung today announced the Galaxy S7 and S7 Edge, upgrades to last year's designs that make under-the-hood refinements and add several new features. The GS7 and GS7 Edge maintain the glass-and-metal design of the GS6, but update the chassis to provide protection from water and other liquids. The GS7 has a 5.1-inch quad HD screen, while the GS7 Edge has a somewhat bigger 5.5-inch screen at the same resolution. Samsung added an "always on" function to the screen, similar to that of LG's G5 and Motorola's Moto X for displaying notifications. Samsung admitted it made a mistake with last year's handset by bringing back support for expandable storage in the GS7. The phones ship with 32 GB included, but support memory cards up to 200 GB. Samsung reduced the camera's pixel count to 12-megapixels, but increased the pixel size by 95% for better low-light performance. The main camera has a lens at f/1.7, and Samsung changed the sensor from the 16:9 aspect ratio to the 4:3 aspect ratio. The front-facing camera captures 5 megapixels. The GS7 has a 3,000mAh battery, while the GS7 Edge packs a 3,600mAh power cell with rapid and wireless charging. The phones rely on Samsung's octa-core Exynos processor with 4 GB of RAM. Samsung decided to stick with a micro USB port, rather than update to the newer USB Type-C port. The phones run Android 6.0 Marshmallow and include refreshed apps and services from Samsung. For example, the S7 Edge has the new Edge Panel content for expanded content. The Samsung Galaxy S7 and S7 Edge will be sold by all four major U.S. carriers. Preorders start February 23 and others will ship March 11. Pricing was not revealed.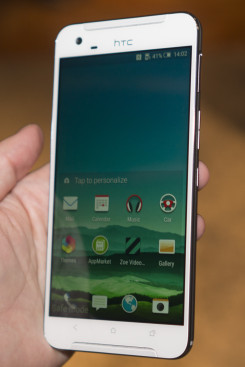 ..HTC's One series is growing with the One X9, a high-end but not-quite-flagship phone announced today at MWC in Barcelona. It's a lot like the recently-launched One A9, but a bit larger. The One A9 was well-received, but looked a lot like the iPhone. The One X9 addresses that point, and bumps up the screen size to 5.5" for phablet overs. One major sticking point is that it's not entirely clear if there will be a U.S. version. Regardless, we spent some with it. Read on for our report on what it's like in person.
HTC's Desire series has been updated for 2016 with three new models. Smartly, HTC has designed just two bodies based on screen size, but is offering that smaller style with both entry-level and mid-range guts. The new Desires will feel familiar to anyone that's seen a Desire from the last two years, yet they have some interesting new innovations in both technology and design. Read on for our hands-on impressions of the Desire 530, 630, and 825.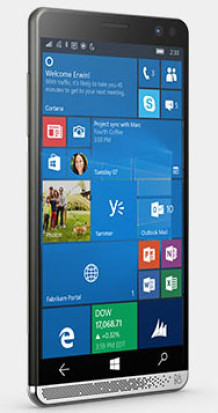 HP today announced the Elite x3, a Windows 10 Mobile handset that can take advantage of Continuum to stand in as a laptop or desktop computer. It is a ruggedized handset that meets mil-spec 810G for protection against abuse and IP67 for protection from water and dust. It is compatible with a 12-inch screen/keyboard accessory to serve as a laptop, or can plug into a monitor, keyboard, and mouse to serve as a full desktop. The Elite x3 is a phablet boasting a 5.96-inch quad HD screen with Gorilla Glass 4. The phone is powered by Qualcomm's Snapdragon 820 processor (2.15 GHz octa-core) with an Adreno 530 GPU and support for Quick Charge 3.0 for rapid charging. The Elite x3 boasts a 16-megapixel main camera at f/2.0 and an 8-megapixel user-facing camera. It runs Microsoft's mobile operating system complete with Office and built-in security tools for business users. Other hardware features include 4 GB of RAM, 64 GB of storage, and support for external memory cards; full suite of wireless radios, including LTE, Bluetooth, GPS, and WiFi; as well as a built-in 4,150mAh battery that supports wireless charging. HP didn't say when the Elite x3 will go on sale, nor what it and its accessories may cost.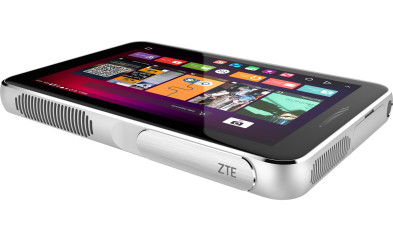 ZTE today announced the S Pro Plus smart projector, its third-generation Android/projector combination device. The S Pro Plus has an 8.4-inch, 2560 by 1600 display that runs Android 6.0 Marshmallow. The projector can push a 2K picture at sizes up to 300 inches, though it is optimized for 120 inches. The projector is accompanied by 2.4W Harmon speakers. The chassis measures about one-inch thick, which is much slimmer than previous models. The 12,100mAh battery allows it to project hours of HD content. The projector is fully wireless, with LTE, WiFi, and Bluetooth. The tablet/projector is powered by a Snapdragon 801 processor with 3 GB of RAM and expandable storage up to 2 TB. The ZTE S Pro Plus will go on sale by summer. ZTE didn't reveal pricing.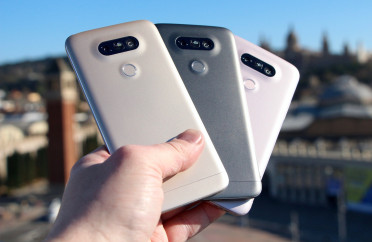 LG revealed the G5 today and it marks an impressive change of direction for the company in terms of design, materials, and functionality. The new metal chassis is impressive and so is the modular hatch that supports a handful of accessories. LG says it didn't want to build a me-too slab, and that's exactly what it's done. Here are Phone Scoop's first impressions of the G5.