Hands On with HP's Elite x3
Article Comments 1
Feb 21, 2016, 7:09 PM by Rich Brome @rbrome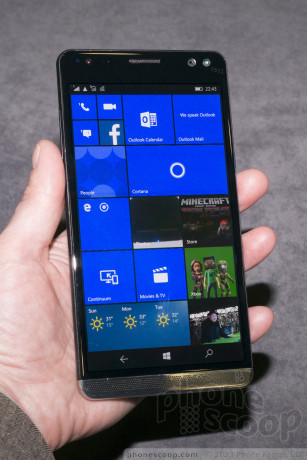 HP is jumping back into phones at a completely unexpected time. HP made quite a few iPAQ Windows smartphones back in the day (2004-2009, to be precise.) Then they bought Palm and infamously drove that into the ground. (RIP, webOS.) But now HP is jumping back into the fray with yet another Windows smartphone: the Elite x3 with Windows 10. This huge 6-inch phablet sets itself apart with not only Windows 10 with Continuum, but the ability to run old-school x86 Windows apps (not just Windows Universal apps like the Lumias.) It also has serious security features. In other words, this is a phone aimed squarely at serious enterprise customers. We checked it out. Read on for our first impressions.
Advertisements article continues below...
The Elite x3 is a high-spec, ambitious device. We're talking Qualcomm Snapdragon 820 processor, 6-inch quad-HD AMOLED display, 16-megapixel camera, 4 GB of RAM, and 64 GB of storage. The huge battery rates 4,150 mAh and it has wireless charging to boot.
For security, there's an iris scanner at the top, and the final shipping will have a fingerprint reader on the back (this early prototype doesn't has that yet.)
Somehow, even with all of that packed in there, this thing is remarkably thin and light. I'm not sure how they did it. They even claim it will be water-resistant and MIL-SPEC 810G rugged. I would quite frankly be shocked if the final version maintains that rugged rating, as the exposed curved-edge front glass and thin profile seem to make that impossible. But perhaps they have more confidence in Gorilla Glass 4 than I do.
The early prototype had some rough areas, like a tricky card tray, but overall looked pretty good for something in such early pre-production. Iy will come out this summer, so they have some time to refine it. The screen is gorgeous. The buttons work well.
The x3 fits into an actual desk stand dock to become a desktop PC. The dock is very heavy, which is actually nice for something designed to stay put on your desk. But it means the dock is not great for use on a business trip (there's a separate tablet-like accessory for that.)
The dock naturally uses USB Type-C to connect to the phone, just like the Microsoft Lumias with Continuum.
The neatest trick is HP's "Workspace" app that runs inside Continuum. The claim is that it lets you run x86 apps, as in older Windows apps that haven't been updated to Windows Universal apps yet. That would be quite a feat, as x86 simply can't run on ARM chips like the Qualcomm 820.
So how does it do it? In a word: remotely. It's actually a virtualization service. So while it looks like you can run the apps in desktop mode and keep them on your phone, in actuality they are stored and running on an HP server in the cloud, and you're simply running them remotely over the network. Naturally, this requires a solid LTE signal to work well. But it's a neat trick that may work well for many companies.
gimme gimme gimme
Me wants this.