MWC 2016
The world's largest annual mobile event - Mobile World Congress - takes place the last week of February. We're on the ground in Barcelona to bring you all of the week's news. Tune in here for our full coverage, including hands-on with new Samsung Galaxy S7 and LG G5, plus new phones from Huawei, Alcatel, ZTE, Sony, and more.
Check out our wrap-up video summarizing the big news of the show.
Also, follow us on Twitter for up-to-the-second news and extras:
All LG Samsung Verizon Alcatel more... Discuss
When Samsung's Galaxy S7 and S7 edge were announced this week, many people wondered why the phones have a micro-USB port instead of the newer USB Type-C connector. The competing LG G5 and a growing number of phones at all price points this year include Type-C. When asked, Samsung Director of Product Marketing Shoneel Kolhatkar indicated that compatibility with the existing ecosystem of Samsung accessories was the reason, but particularly Gear VR, the current version of which is built in a such a way that it can only work with micro-USB. USB Type-C connectors are reversible, (like Apple's Lightning connector,) and support much faster data and more power for charging.
---
Samsung today announced the Samsung Enterprise Device Program in order to help companies buy, secure, and manage mobile devices. The program is kicking off with the new Galaxy S7 and S7 Edge handsets. The company plans to work with businesses' purchasing departments and will allow its customers to buy the same model over and over again up to two years after the phone's initial release. Samsung believes this will help companies maintain consistent fleets of devices. Samsung is also promising its business customers monthly security updates via KNOX, and mobile device management tools via Android for Work. The Enterprise Device Program is meant to help Samsung better compete with Apple for business customers.
---
Verizon Wireless today provided a snapshot of its progress in testing 5G wireless technology. The company has performed trials both in the lab and real-world environments, including residential and commercial areas, with partners Ericsson, Intel, Nokia, Samsung, and Qualcomm. Verizon's 5G Technology Forum is examining millimeter and centimeter wave spectrum, beamforming, beam tracking, massive MIMO, wideband spectrum, and various antenna designs to help determine which prove best. So far, its testing delivers multi-gigabit speeds and single-millisecond latency. Verizon and its parters are testing various technologies in several spectrum, bands, including those proposed by the FCC as ideal for 5G. The International Telecommunications Union has not yet defined what the 5G standard will be. Companies such as Verizon are hoping their own tests are able to eventually contribute to the standard.
---
Samsung's 2016 flagship smartphones are updates to last year's models. Each features modern specs and brings water resistance to the table, as well as support for memory cards. Samsung argues the Galaxy S7 and S7 Edge are a lot more than minor upgrades. Are those claims accurate? Here are Phone Scoop's first impressions of these new phones.
---
Samsung today said consumers in select countries, including the U.S., who preorder the Galaxy S7 or S7 Edge will receive a free Gear VR headset. Samsung didn't say how long the promotion will be available. Many U.S. carriers have also announced pricing for the pair of phones. The Galaxy S7 costs approximately $670 to $700, depending on carrier, while the larger S7 Edge has a much higher price point between $780 and $800, depending on carrier. Monthly payments for the phones range from about $30 to more than $40, depending on the terms. So far, AT&T, Cricket Wireless, Sprint, T-Mobile, U.S. Cellular, and Verizon Wireless have all said they'll sell the new handsets from Samsung. The device goes on sale March 11, but preorders start February 23.
---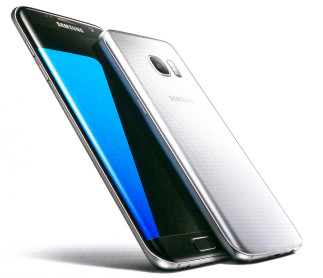 Samsung today announced the Galaxy S7 and S7 Edge, upgrades to last year's designs that make under-the-hood refinements and add several new features. The GS7 and GS7 Edge maintain the glass-and-metal design of the GS6, but update the chassis to provide protection from water and other liquids. The GS7 has a 5.1-inch quad HD screen, while the GS7 Edge has a somewhat bigger 5.5-inch screen at the same resolution. Samsung added an "always on" function to the screen, similar to that of LG's G5 and Motorola's Moto X for displaying notifications. Samsung admitted it made a mistake with last year's handset by bringing back support for expandable storage in the GS7. The phones ship with 32 GB included, but support memory cards up to 200 GB. Samsung reduced the camera's pixel count to 12-megapixels, but increased the pixel size by 95% for better low-light performance. The main camera has a lens at f/1.7, and Samsung changed the sensor from the 16:9 aspect ratio to the 4:3 aspect ratio. The front-facing camera captures 5 megapixels. The GS7 has a 3,000mAh battery, while the GS7 Edge packs a 3,600mAh power cell with rapid and wireless charging. The phones rely on Samsung's octa-core Exynos processor with 4 GB of RAM. Samsung decided to stick with a micro USB port, rather than update to the newer USB Type-C port. The phones run Android 6.0 Marshmallow and include refreshed apps and services from Samsung. For example, the S7 Edge has the new Edge Panel content for expanded content. The Samsung Galaxy S7 and S7 Edge will be sold by all four major U.S. carriers. Preorders start February 23 and others will ship March 11. Pricing was not revealed.
---