MWC 2016
The world's largest annual mobile event - Mobile World Congress - takes place the last week of February. We're on the ground in Barcelona to bring you all of the week's news. Tune in here for our full coverage, including hands-on with new Samsung Galaxy S7 and LG G5, plus new phones from Huawei, Alcatel, ZTE, Sony, and more.
Check out our wrap-up video summarizing the big news of the show.
Also, follow us on Twitter for up-to-the-second news and extras:
All LG Samsung Verizon Alcatel more... Discuss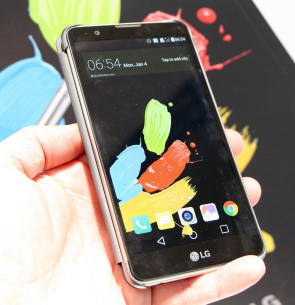 LG has a handful of new phones on display in Barcelona that are not the G5. The Stylus 2, X cam, and X screen round out the middle of LG's profile and are interesting smartphones in their own right. Here is a look at each.
---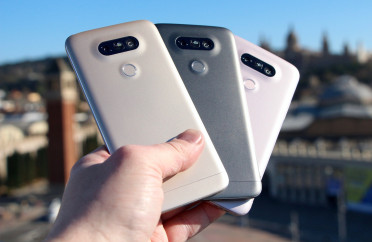 LG revealed the G5 today and it marks an impressive change of direction for the company in terms of design, materials, and functionality. The new metal chassis is impressive and so is the modular hatch that supports a handful of accessories. LG says it didn't want to build a me-too slab, and that's exactly what it's done. Here are Phone Scoop's first impressions of the G5.
---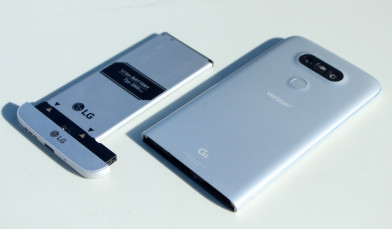 LG today announced its flagship handset for 2016, the G5. The phone represents a re-think from LG, which has altered the design and functionality entirely from earlier G models to help set it apart from competing phones. The G5's stand-out feature is a removable hatch that opens the battery compartment and also allows modular accessories to be added to the phone, such as a camera grip. Other significant changes include a shift from plastic materials to metal, and relocating the volume buttons from the back of the phone to the side. The power button, which doubles as a fingerprint sensor, remains on the rear panel. The G5 has a 5.3-inch quad HD display and is powered by a Snapdragon 820 processor with 4 GB of RAM. The main screen includes an always-on feature similar to the V10, but without a separate screen. It comes with 32 GB of storage, but supports memory cards up to 200 GB. LG bestowed the G5 with dual rear cameras. The main shooter rates 16 megapixels at f/1.8 and a normal 75-degree field of view. The second camera rates 8 megapixels and has a wider, 135-degree field of view. Both cameras are assisted by laser focus and can capture 4K video. The user-facing camera has an 8-megapixel sensor and captures full HD video. Other hardware features include a 2,800 mAh battery with Quick Charge 3.0, USB Type-C, Bluetooth 4.2, GPS, NFC, WiFi, and of course LTE. The phone runs Android 6.0 Marshmallow and LG toned its user interface skin way back. The LG G5 comes in four colors (silver, titanium, gold, pink) and will be sold by major U.S. carriers come April. Pricing was not revealed.
---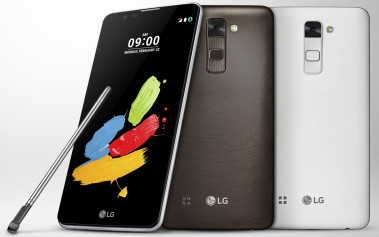 LG today showed off another new handset ahead of Mobile World Congress, the Stylus 2, a second act for last year's G4 Stylus. LG says the new stylus pen is more accurate thanks to a nano coating at the tip. Further, the accompanying software is more refined. For example, features such as Pen Pop toggle a popup menu, while Pen Keeper alerts users to a potentially lost stylus, and Calligraphy Pen lets users scratch notes that are redrawn with high-quality penmanship. The Stylus 2 has a 5.7-inch 720p HD screen and measures 7.4mm thick. The handset boasts a metallic frame containing a 3,000mAh removable battery and memory card slot. The phone is powered by a 1.2 GHz quad-core processor with 1.5 GB of RAM and 16 GB of storage. The rear camera has a 13-megapixel sensor and the front camera has an 8-megapixel sensor. LG didn't call out any special features for the cameras. The device will ship with Android 6.0 Marshmallow. LG did not reveal pricing nor availability for the Stylus 2. More details will be made available during the MWC trade show in Barcelona.
---
LG has decided to delay the official debut of LG Pay, which was expected to mark its arrival at this month's Mobile World Congress trade show. "LG Electronics has delayed the official launch of LG Pay to the second quarter of this year to help the new LG flagship smartphone — G5 — receive more media attention," said an LG spokesperson to the Korea Times. LG denied the delay had anything to do with its progress in signing up partners for LG Pay. The company has already scored two deals with South Korean credit card companies. LG has teased the G5's arrival for several weeks now, and today announced the X cam and X screen phones ahead of MWC.
---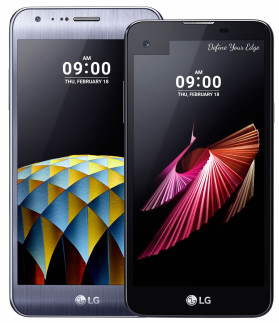 LG today announced two new smartphones that mark the launch of the X Series handsets. LG says rather than offer all the best features in a single device the X Series mid-range phones will focus on providing one advanced feature. The X cam and X screen, the first two phones in the series, dedicate themselves to the camera and screen features, respectively. The handsets were designed with care. The X cam, for example, has curved glass and a profile as thin as 5.9mm, while the X screen has a "glass fiber" exterior.
X cam: The cam is defined by two rear-mounted cameras, one at 13 megapixels and the other at 5 megapixels. LG says this setup allows for creative photo taking. The cam also has a 5-megapixel front camera. Other specs include a 5.2-inch full HD screen, 1.14 GHz octa-core processor with 2 GB of RAM and 16 GB of storage, a 2,520mAh battery, and support for LTE networks.
X screen:The screen's stand-out feature is its secondary, always-on screen. The phone has a small 1.76-inch screen above the main display similar to last year's V10 handset. This second screen can be used to display the time, incoming notifications, app shortcuts, and other info. The X screen also includes a 4.93-inch 720p HD screen, 1.2 GHz quad-core processor with 2 GB of RAM and 16 GB of storage, a 13-/5-megapixel rear/front camera configuration, 2,300mAh battery, and LTE.
Both phones ship with Android 6.0 Marshmallow. LG says it will push the X cam and X screen to Asia, Europe, and Latin America beginning in March, with other regions to follow. LG will share more details during the Mobile World Congress trade show in Barcelona.
---