LG Announces the X Series 'Specialist' Phones
Article Comments
Feb 15, 2016, 7:57 AM by Eric M. Zeman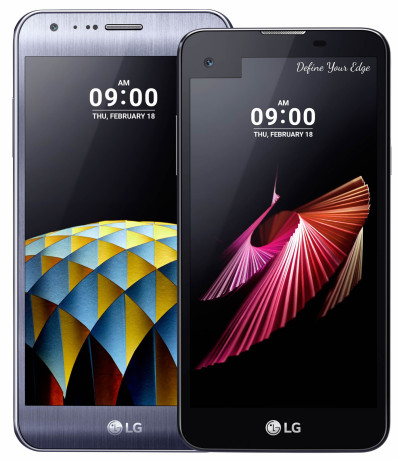 LG today announced two new smartphones that mark the launch of the X Series handsets. LG says rather than offer all the best features in a single device the X Series mid-range phones will focus on providing one advanced feature. The X cam and X screen, the first two phones in the series, dedicate themselves to the camera and screen features, respectively. The handsets were designed with care. The X cam, for example, has curved glass and a profile as thin as 5.9mm, while the X screen has a "glass fiber" exterior.
X cam: The cam is defined by two rear-mounted cameras, one at 13 megapixels and the other at 5 megapixels. LG says this setup allows for creative photo taking. The cam also has a 5-megapixel front camera. Other specs include a 5.2-inch full HD screen, 1.14 GHz octa-core processor with 2 GB of RAM and 16 GB of storage, a 2,520mAh battery, and support for LTE networks.
X screen:The screen's stand-out feature is its secondary, always-on screen. The phone has a small 1.76-inch screen above the main display similar to last year's V10 handset. This second screen can be used to display the time, incoming notifications, app shortcuts, and other info. The X screen also includes a 4.93-inch 720p HD screen, 1.2 GHz quad-core processor with 2 GB of RAM and 16 GB of storage, a 13-/5-megapixel rear/front camera configuration, 2,300mAh battery, and LTE.
Both phones ship with Android 6.0 Marshmallow. LG says it will push the X cam and X screen to Asia, Europe, and Latin America beginning in March, with other regions to follow. LG will share more details during the Mobile World Congress trade show in Barcelona.
No messages