Hands On with Panasonic's Toughpad Phone
Article Comments
Feb 22, 2016, 12:14 PM by Rich Brome @rbrome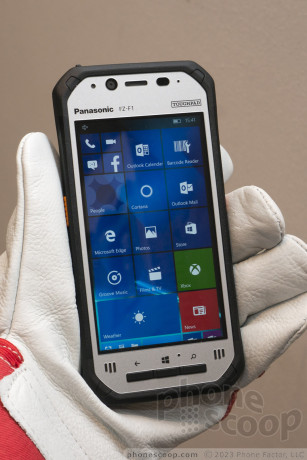 Panasonic has a new rugged smartphone for field workers. It's big, tough, and scans barcodes like a champ. It's not for consumers, but if your company has a warehouse or delivery people, this phone is tailor-made for those employees. We checked it out. Read on for more info on what makes these phones special.
Advertisements article continues below...
There are two reasons the Toughpad probably isn't for you. First, it costs in the neighborhood of $1500. Second, it has a really massive hump on the back. This isn't going in your pocket, probably not even your cargo pants. But again, this phone is for people who need to scan a lot of barcodes, which is what the big hump is all about.
The new Toughpad FZs come in two base versions: the FZ-N1 with Android, and the FZ-F1 with Windows 10. Otherwise, they are the same.
The big hump does barcode scanning, using lasers, lights, and a special imager. There's also a regular camera and flash in the same hump area. Part of the reason it's so big is that the scanner is mounted at an angle, for better ergonomics. The user can hold the phone naturally with the screen pointed at their face, while also clearly seeing what they're aiming at to scan. It's a good setup for people who do a lot of scanning.
These Toughpads are also rugged and waterproof, and have insanely bright screens for use outdoors. The screen also works with gloves and when wet. There are also a couple of stylus options for workers that need to collect a lot of signatures.
There are a number of other accessories, such as a hand grip strap and several charging dock options.
There's also an extended battery option. The standard battery is 3,200 mAh; the extended model is double that, clocking in at a whopping 6,400 mAh.
$1500 is a lot of money for a phone. Fortunately, it includes a three-year warranty and free overnight repair service if anything goes wrong.
No messages