Hands On with Sony's Xperia X Series
Article Comments 4
Feb 22, 2016, 5:24 AM by Rich Brome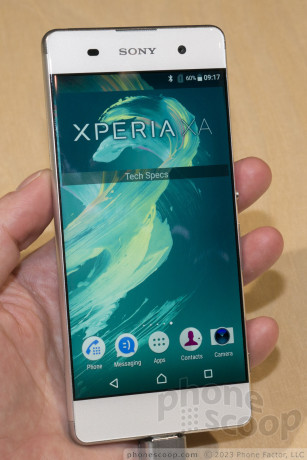 The X Series is an interesting new range of phones from Sony. Although they all look similar, the various specs cover a surprisingly wide range of the market from affordable to high-end, the models hit on a number of current trends. They look like excellent entries from Sony, but how are they in person? Read on for our impressions.
Article
Sony wouldn't comment on how the X series relates to the Z series and other models in Sony's existing lineup. Does it replace them all with just these three models? Sony wouldn't say, but the company is struggling in the phone space, and cutting the number of models is a good way to cut costs. The X series covers wide range of features and price points, so it could be a full lineup by itself. After trying out the X series, I can say I was impressed; they might just be strong enough to carry the company through most of 2016. That might be the smartest move for Sony.
The Xperia X is a 5-inch phone that is well-spec'd, yet nice and compact. It's thin, with that typical high-end Sony feel. The front glass follows the trend of having curved edges, which helps the phone feel silky smooth in hand. It's a joy to hold. The sides may not be metal (the antennas have to go somewhere), but the back is metal with a matte finish that repels fingerprints and feels nice.
Like the Z5 series, the X has a fingerprint reader on the side, integrated with the lock button. Just pick up the phone naturally to automatically wake and unlock it, which is the way all phones should work these days. Once you get used to it, there's no going back.
The volume button on the side is annoyingly low. If you adjust ringer or call volume often, you might not like it. I couldn't find a way to reach it that didn't feel awkward and uncomfortable. There is a camera button, though, in the right place for a camera button when held sideways. It's a two-stage button that you can press half-way to lock focus. All of the buttons are plastic, but feel good and work well.
The camera clocks in at an impressive 23 megapixels, and is a new generation with predictive hybrid auto-focus that can intelligently follow subjects as they move around, to keep them in focus.
The X also has a Snapdragon 650 processor, NFC, and memory card slot.
The X Performance is practically identical to the X, but with a top-end Snapdragon 820 processor inside. That beefier processor supports faster LTE. The X Performance is also waterproof, although the design is exactly the same as the X. The only way to tell them apart is that the X Performance has a brushed metal back instead of plain matte.
The XA is a very interesting little phone. And I do mean little. It's one the of the smallest phones with a 5-inch display I've ever held. There's almost no bezel on the sides, so it sinks right into your hand for a firm grip and excellent one-handed experience. Just a few mm shaved from the sides really goes a very long way.
The XA also has a premium design similar to the X, with metal sides and curved-edge glass on the front. It looks and feels far, far more expensive than it is. It's a great bit of hardware.
And yet, one look at the specs, and you can see that the XA is in fact a much lower-end phone. It has a MediaTek processor, 13-megapixel rear camera, and 8-megapixel front camera. The display also bumps down from full HD to 720p HD. There is a memory card slot and NFC, but no fingerprint reader.
Sony's software is pretty standard Android in terms of notifications and most key parts of the interface. The advanced camera app is where Sony puts most of its software energy, and it's a very good app. Sony also cares deeply about its "Triluminos" displays, and you can tweak the white balance of the display to your liking. (Never again worry about your display being too yellow or too blue.)
Again, these are impressive phones that might hit a sweet spot for a lot of people. The only thing missing here is a phablet; if you need a 5.5- or 5.7-inch screen, you won't find one here. Otherwise, the X series had you covered. Look for them this summer.
Am I the only one who hates cuved glass fronts?
I really really dislike the curved glass on the front of phones, it makes putting a glass screen protector much harder as it can't go all the way to the edges :-\
I hate to "break" it to you, but screen protectors are pretty much useless. Modern Gorilla Glass (etc.) is basically scratch-proof, and that's all screen "protectors" protect against. Screen protectors do almost nothing to prevent breakage.