Hands On with HTC's One X9
Article Comments
Feb 21, 2016, 1:00 PM by Rich Brome @rbrome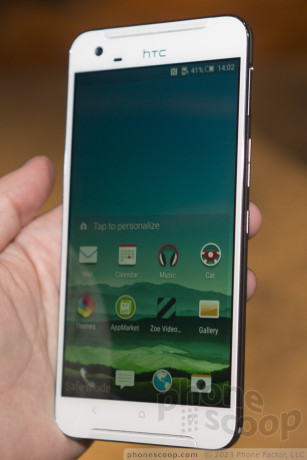 ..HTC's One series is growing with the One X9, a high-end but not-quite-flagship phone announced today at MWC in Barcelona. It's a lot like the recently-launched One A9, but a bit larger. The One A9 was well-received, but looked a lot like the iPhone. The One X9 addresses that point, and bumps up the screen size to 5.5" for phablet overs. One major sticking point is that it's not entirely clear if there will be a U.S. version. Regardless, we spent some with it. Read on for our report on what it's like in person.
Advertisements article continues below...
It's kind of wild how much the One X9 looks like the One A9, and yet somehow looks completely different. If you took a One A9 and said "make it look less like an iPhone and more like an HTC Butterfly", the X9 would be the exact result.
The X9 keeps the best parts of the One A9, including smooth front glass with curved edges, a unibody metal shell, and a memory card slot. You'll also find the same 13-megapixel camera with advanced OIS and RAW capture. The excellent side buttons also carry over, including the great "toothed" lock button.
Unfortunately, there's no fingerprint sensor to be found, but HTC did being back BoomSound stereo speakers (yay!), and even threw in some Dolby sound enhancement.
The phone looks and feels great. The unibody metal design feels thin yet smooth and solid. Everything feels very high-quality. It's a very touch-able phone.
The full-HD screen looks good. Even at 5.5 inches, full HD still looks pretty sharp.
The One X9 announced here at MWC is powered by a MediaTek Helio X10 processor. Between that and the Butterfly-inspired design, I'm thinking the X9 is aimed at markets other than the US.
On the software side, the One X9 runs Android 6.0 M and has the familiar HTC Sense design seen on the A9. One curious feature I noticed is the ability to choose whether the phone has an app drawer (app menu) or not. A number of manufacturers now customize Android to put all your icons on the home screens and not have an app drawer at all. HTC gives you the option, which is a nice touch. HTC reps on hand weren't sure if this is a new feature or an Asia-specific feature. I'd love to see it standard in HTC Sense.
No messages