Hands On with Alcatel's Pop 4 Series
Article Comments
Feb 21, 2016, 11:00 PM by Rich Brome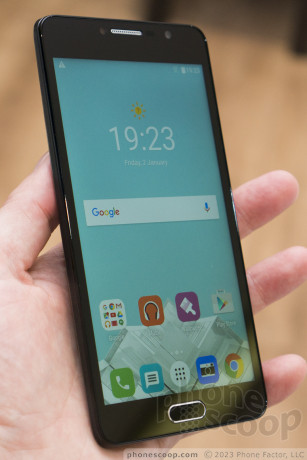 Pop is Alcatel's main line of affordable phones. The Pop 4 series breaks little major ground, although the top-end model of the range — the Pop 4S — sports a fingerprint reader. We spent some time checking them out. Read on for our impressions.
Article
Although the Pop 4 series may look metal in the right light, they're all plastic, and that's evident when you pick them up. The designs aren't ground-breaking but they're classic styles that are inoffensive and practical.
The Pop 4S is the high-end model in this range of low-end phones. Its notable extras include a fingerprint reader in the front home button, a dual-tone warm LED flash on the rear, and a selfie flash that's partially hidden (you can see it, but it's not nearly as obvious as the selfie flashes on other phones.) The side buttons are also better and the design feels a bit more premium. You can tell this phone went though some rounds of user testing and refinements that cheaper phones do not.
The 4S has a 13-megapixel main camera and octa-core MediaTek processor. The 5.5-inch display sports full HD resolution.
The Pop 4 and Pop 4+ are quite similar. The designs feels the same, with sharp corners between the sides and back, and thin side keys that aren't very comfortable to use (although they work well.) They both have a selfie flash, which is a nice little extra. They both use a Qualcomm Snapdragon 210 processor.
The main difference is that the Pop 4+ has a 5.5-inch display and more memory. The Pop 4 has a 5-inch screen and just 16 GB of storage with 1 GB of RAM.
All three models have decent HD screens that are bright and crisp enough for the price point. (Not amazing, but nothing to complain about, either.) They all have 4G LTE and ship with Android 6.0 (Marshmallow).
No messages