MWC 2015
All Liveblogs Samsung Microsoft Nokia more... Discuss 2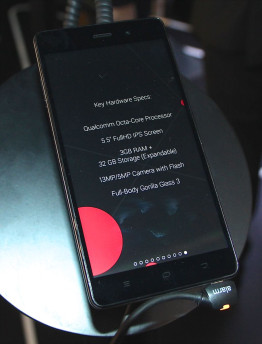 The Blackphone is a smartphone for corner office types who absolutely require encrypted, secure communications. Silent Circle's second-generation handset is a handsome piece of hardware. Here are our impressions.
The Car Connectivity Consortium today announced that the Samsung Galaxy S6 and S6 Edge, and the HTC One M9 support the MirrorLink standard for connecting to cars. MirrorLink is a platform-agnostic tool that allows smartphones to push apps and content to in-dash consoles. It competes with Google's Android Auto and Apple's CarPlay. With MirrorLink on board, the GS6, GS6 Edge, and One M9 will be able to connect to the infotainment systems of supported cars.
YotaPhone plans to launch its unique dual-screen YotaPhone 2 in the U.S. this spring via crowd-funding site Indiegogo, according to Matthew Kelly, YotaPhone's Managing Director for Americas. The YotaPhone 2 is a high-end Android phone with a large e-paper display on the back that uses no power when displaying static images and graphics, greatly extending battery life when used often instead of the traditional front display. It is compatible with both T-Mobile and AT&T networks, including LTE. It will sell for approximately $600. As usual for Indiegogo, the company will offer incentives to early backers. Those incentives have not been nailed down, but may include a bumper case or even a discount on the phone. After a successful Indiegogo launch, the company plans to expand availability to third-party retailers such as best Buy. YotaPhone is hard at work on its software upgrade to Android 5.0 (Lollipop), which should be available by the time units start shipping in the U.S., or shortly thereafter. The software update will also include an overhauled 2.0 version of the API for third-party app support of the e-paper screen. The company will also launch a white version of the YotaPhone 2, which has a white back and sides, but keeps the black face. The white color is expected by late summer.
YotaPhone is planning a cheaper version of its YotaPhone 2 dual-screen phone that will be called the YotaPhone 2c, according to Matthew Kelly, YotaPhone's Managing Director for Americas. In order to reach a lower price point, the new model will bring some specs down to typical mid-range level, including the front color display. The 2c will keep the same large e-paper touch screen on the back as the YotaPhone 2. The e-paper display uses no power to display static information and graphics, greatly extending battery life when used often instead of the traditional front display. The standard YotaPhone 2 normally sells for about $600. The company is also working on a YotaPhone 3 that it hopes to debut at CES in ten months.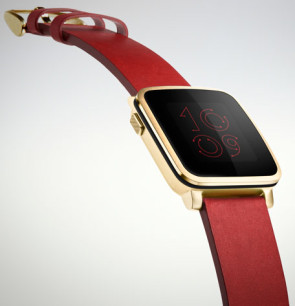 Pebble today followed the Pebble Time smartwatch with the Pebble Time Steel. The steel version of the Time offers all the same features, but uses a CNC-finished 316L stainless steel casing, includes a premium leather or stainless steel strap, and provides up to 10 days of battery life. Like the Pebble Time, the Pebble Time Steel is available through Kickstarter. Early pledges can reserve one for $250. It will ship in July.
Samsung today announced two new components that will find their way into high-end phones later this year. The first is an 8-megapixel RWB (red-white-blue) image sensor based on ISOCELL technology. Samsung says it provides dramatically improved low-light performance by reducing noise and keeping colors more accurate when compared to back-side illumination sensors. Samsung believes it is ideal for user-facing cameras. Samsung also debuted a fourth-generation NFC radio that improves RF performance by 100% when compared to its predecessor. Samsung says this allowed it to reduce the size of the antenna. It can be attached to a smartphone battery without an extra booster integrated circuit. Together, these benefits will let smartphone makers add the NFC radio to their phones without compromising design. The ISOCELL camera module is expected to go into production during the second quarter, but the NFC radio is already being manufactured at volume.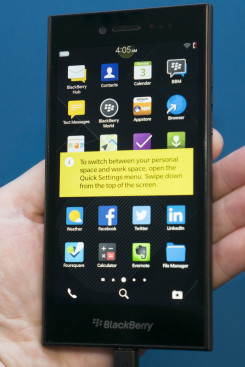 BlackBerry's strategy under its new CEO John Chen has been to dramatically cut down the number of phones the company pumps out. So a new all-touch phone like the Z10 is a big deal. That describes the Leap, although not completely. It's very much like the Z10, but also much much lower-end. We spent some time with it. Read on for our impressions.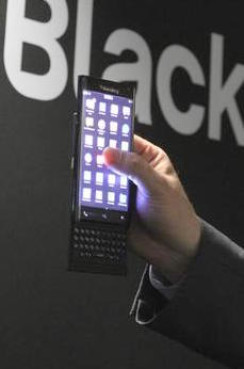 BlackBerry today discussed its hardware roadmap for 2015 at an event in Barcelona. The company promised an "innovative" new design with a dual-curve display, large touch screen, and slide-out keyboard. The company is also planning a new standard keyboard phone, presumably to replace the Q10. Finally, the company is working on a new Porche-designed phone, in line with its existing Porche versions of its flagship phones. The company did not discuss timing for any of the new phones. The company also announced its Leap phone at the same event.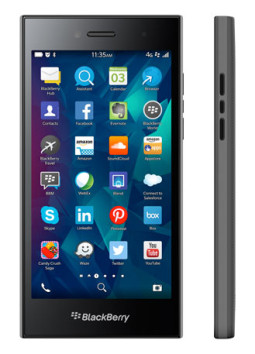 BlackBerry today announced the Leap, a new smartphone with standard slab touch screen form factor. It's much like the Z10 that launched BlackBerry 10, but with a larger 5-inch, 720p HD display. It includes LTE, an 8-megapixel main camera, 2-megapixel front camera, memory card slot, and a 2,800 mAh sealed battery. It's powered by an older Qualcomm Snapdragon S4 MSM8960 processor, running at 1.5 GHz. It will include the Amazon Appstore for compatible Android apps. It's running BlackBerry 10.3.1 and will cost $275. It will come to Europe, initially.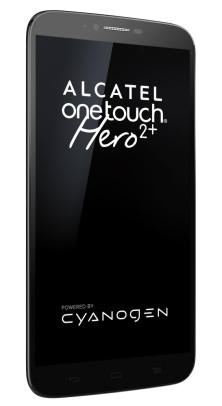 Alcatel OneTouch today announced the Hero 2+, a phablet running Cyanogen, which is a modified version of Android. The Hero 2+ is a refreshed version of last year's Hero 2. The The Cyanogen 11 operating system is based on Android 4.4.4 KitKat. It includes Cyanogen's Privacy Guard software, which lets users protect their information, as well as encrypt and remotely lock/wipe their device. Cyanogen has supplied its own set of themes and wallpapers to the user interface in addition to camera software and other tools. The phone has a 6-inch full HD display with a built-in stylus. It is powered by a 2.0GHz octa-core Cortex A7 processor from MediaTek paired with 2GB of RAM and 16GB of storage. The main camera captures 13 megapixels and the user-facing camera captures 5 megapixels. Both can film full HD video. Alcatel plans to sell the phone directly to consumers across North America through its e-commerce web site. The phone will be sold unlocked for $299. Alcatel expects it to go on sale during the second quarter.
MediaTek today announced the MT3188, a multi-mode wireless charging circuit for mobile devices. With the MT3188, handset makers and other OEMs can design devices that support resonant wireless charging and inductive wireless charging thanks to this single, inexpensive circuit. MediaTek says the chip is already in production and should reach consumer devices during the first half of the year. Building support for all the wireless charging standards makes it easier for consumers, who will have a much greater choice when it comes to pairing handsets with wireless charging pads or products.
Intel today revealed its roadmap for 2015, which includes three new Atom mobile processors called the x3, x5, and x7, in addition to a new LTE modem. The Atom x3 is a system-on-a-chip complete with a modem and is meant for volume devices. There will be versions supporting 3G and LTE 4G. The 64-bit processor is ideal for smartphones, phablets, and tablets, says Intel. It can support Android and Windows, and camera configurations as large as 13 megapixels / 5 megapixels. The x3 will be available in dual- and quad-core variants with Mali graphics chips. The Atom x5 and x7 are meant for more powerful machines and are capable of running both Android and the full desktop version of Windows. These SoCs use Intel's 14nm processes and support 64-bit computing. They can handle up to Cat 6 LTE and Intel Gen 8 graphics. The x7 offers improved 3D performance for gaming, too. Intel expects to see the Atom x3, x5, and x7 reach consumer devices during the first half of the year. Last, Intel announced the XMM 7360 LTE modem. It supports carrier aggregation and LTE downlink speeds up to 450Mbps. It supports 29 different cellular bands, LTE Broadcast, VoLTE, and dual-SIM devices. It uses envelope tracking to improve power efficiency. The XMM 7360 can be prepackaged with Intel's WiFi, GPS/GLONASS, and NFC connectivity options. Intel expects to see devices with the XMM 7360 reach consumers during the second half of the year.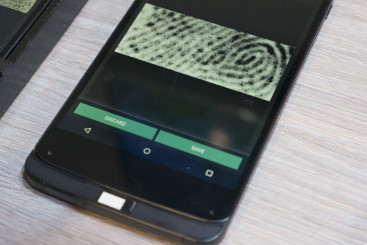 Qualcomm has invented an entirely new fingerprint-scanning technology to secure your phone, and it's really quite interesting. Now that your phone is your wallet, this is a crucial technology. We met with them to discuss the details, and tried a demo. Read on for what we learned.
Google today said the company will announce Google-branded wireless service at some point in the coming months. The comments were made by Google's Sundar Pichai, who was speaking at the Mobile World Congress trade show in Barcelona. Pichai says Google hopes to use the service to highlight newer technologies, not compete with incumbent companies. Google will work with wireless carrier partners to offer the service, rather than create a network of its own. Various reports have suggested that Google is prepared to partner with Sprint and T-Mobile, but Google still hasn't confirmed any details.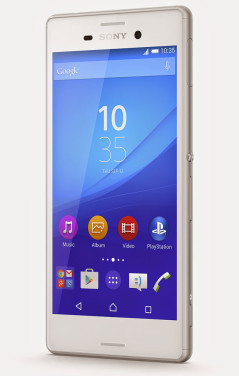 Sony today announced the M4 Aqua, a mid-range handset for the active users. The M4 uses Sony's OmniBalance design language and mixes metals, plastics, and tempered glass. The phone is waterproof despite having an open headset jack and microUSB port. Some features include a 13-megapixel main camera with f/2.0 aperture and Sony's Superior Auto mode. The user-facing camera rates 5 megapixels. The phone is powered by the Qualcomm Snapdragon 615 processor, which has eight cores and 64-bit computing. Sony says the battery is good for two days of use. The M4 Aqua runs Android 5.0 Lollipop. The deice will reach more than 100 carriers in 80 countries beginning this spring. Pricing will be about $335. U.S. carriers have not yet voiced support for this handset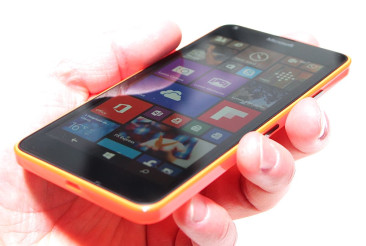 Microsoft debuted another pair of mid-range handsets in the long buildup to Windows 10. The Lumia 640 and 640 XL are worthy update to the 635 and 1320, but they leaving us aching for a new flagship from Microsoft.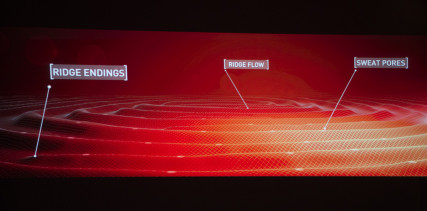 Qualcomm today announced Snapdragon Sense ID, a new fingerprint scanning technology that makes a 3D map of a fingerprint using ultrasonic technology. It's designed to integrate into phone bezels. It works through multiple materials, such as metal or glass. It's designed to be unaffected by things like dirt, oil, and hand lotion that can affect other fingerprint technologies. Qualcomm claims it's more secure than capacitive technologies, due to its more detailed mapping of finger detail. The company also claims it allows a wider variety of phone designs and form factors. It can be designed into any phone using an existing or future Qualcomm chipset with secure element technology. Qualcomm expects the technology to reach the market in the second half of this year.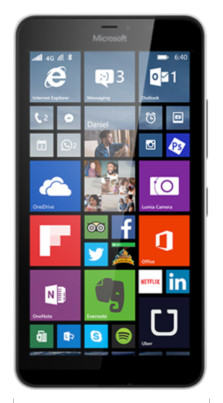 Microsoft today announced the Lumia 640 XL, a larger version of the Lumia 640. The screen is stretched to 5.7 inches, the camera is improved to 13 megapixels, and the battery is slightly bigger, as well. It includes Microsoft's standard set of productivity apps and supports LTE 4G. It will ship with Windows 8.1, but can be upgraded to the full version of Windows 10. The Lumia 640 XL will be available in April from AT&T, T-Mobile, and MetroPCS in the U.S. Microsoft said it will include a one-year subscription to Office 365, 1TB of OneDrive storage, and 60 Skype world minutes. The price will be approximately $245.
Microsoft today revealed more features specific to the smartphone version of Windows 10. For example, Skype integration will return to the native messaging application. The device will expand the number of tools available in the action center from four to 12, and newly-installed apps will appear at the top of the app menu listing. The company talked up the Project Spartan browser, which Microsoft says will adapt to whichever type of device on which it is running. One new feature is a Reading List view, which simplifies the layout of web articles to make them easier to read. Project Spartan is a universal app, meaning it runs similarly across all Windows devices. The company also demonstrated how HERE Maps works on the Surface and can easily transition to other form factors, such as PCs and smartphones. Reminders set in Cortana will sync across all Windows 10 devices, no matter which device was used to create the Cortana reminder. Further, Cortana's Notebook feature will be better at making suggestions based on the user's interests. Microsoft also spent some time showing off the email application, which makes it easy to flag or archive messages, set calendar appointments, highlight and select text, as well as loop in colleagues for threaded conversations. Windows 10 is available as a technical preview to select Lumia devices, but isn't expected to reach all phones until later this year.
Microsoft today said it has a range of new Windows 10 handsets prepared for debut later this year, including a new flagship device scheduled for mid-year. Microsoft hasn't released a flagship Lumia phone in over a year.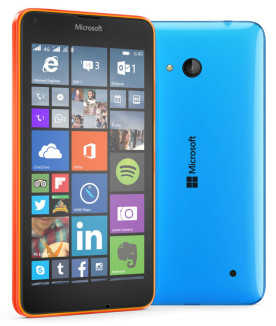 Microsoft today announced the Lumia 640, a new Windows Phone. It has colorful and interchangeable rear shells. It includes Microsoft's standard set of productivity apps and supports LTE 4G. The 2,500mAh will last all day, says Microsoft. The phone has a 5-inch HD screen and supports single- and dual-sim configurations. The camera captures 8-megapixle image. It will ship with Windows 8.1, but can be upgraded to the full version of Windows 10. The Lumia 640 will be available in April. The price will be approximately $178.
MediaTek today announced CrossMount, a new standard that lets devices such as phones, tablets, PCs, and TVs make specific hardware and/or software components available to other nearby devices via Wi-Fi. One example is your smartphone making its sound output available to your TV, so you could use your smartphone and earbuds as wireless headphones for your TV. The smartphone could also make its camera available to a smart TV, for video conferencing. CrossMount is based on UPnP technology, and works over Wi-Fi Direct, or over a Wi-Fi network. MediaTek is forming an alliance to drive industry-wide support for the standard. The company is aiming to have Android-based devices supporting CrossMount on the market by the end of the year.
ZTE today announced the Grand S 3, their new flagship phone for China. The most innovative feature of the phone is new technology that uses the front camera to actually scan your retina for security a step above fingerprints, according to the company. It gets a good look inside your eye by turing most of the screen white to illuminate the inside of your eye, while having you look at a green line that bounces up and down, to help the camera see a larger vertical section of your retina. It requires an 8-megapixel front camera to work well. In demos, it took around two seconds to unlock the phone this way. The same technology could be used anywhere fingerprints are currently used in mobile, such as adding security to mobile payment apps. ZTE indicated it may bring the feature to phones around the world in the future, including the U.S.
Samsung and BlackBerry today announced that Samsung's Knox enterprise security service will adopt BlackBerry's WorkLife and SecuSUITE services. The WorkLife tool will let Samsung device owners keep their work and personal data separate on the device. Businesses will be able to access, control, and secure work data stored on smartphones, but won't be able to access personal files, photos, and so on. The SecuSUITE service offers encrypted and protected voice and SMS communications for those who work in high-security settings. Samsung believes offering these two BlackBerry services will entice more businesses to equip employees with its smartphones and tablets. The Samsung Galaxy S6 and S6 Edge will be the first two smartphones compatible with these new business tools.
BlackBerry today announced the BlackBerry Experience Suite, a package of software that will help businesses manage their Android, iOS, and Windows smartphones and tablets. The suite will take form in three distinct services: Productivity, Communications and Collaboration, and Security. "We want to empower all mobile professionals in order to supercharge their productivity and allow them to work across all their devices in an effortless and secure way," said BlackBerry. BlackBerry plans to sell these three products separately or together to corporations. BlackBerry plans to ship the BlackBerry Experience Suite later this year.
BlackBerry today announced updates to the Android and iOS versions of BBM. Both versions gain access to two new services: no ads and custom PINs. People who'd like to use BBM with no ads can do so for $0.99 per month. People who'd like to generate their own, personal PIN code can do so for $1.99 per month. Android and iOS users will also be able to share photos within BBM group chats. The Android version of BBM adds support for Android Wear, so smartwatch wearers can receive BBM notifications on their wrists. The iOS version of BBM gains support for TouchID, which will allow users to secure their BBM chats with their fingerprint. BBM is free to download from the iTunes App Store and Google Play Store.
SanDisk today announced a new microSDXC memory card for mobile devices that offers a capacity of 200GB. SanDisk claims it is the highest-capacity microSD card made. The company said 200GB is good for 20 hours of full HD video content. It can write at up to 90Mbps. The card will be available during the second quarter for $399.99. The card has a 10-year warranty. When asked about compatibility with today's devices, SanDisk told Phone Scoop that most microSDXC-compatible devices should be able to interact with the card. SanDisk also announced a USB device meant to help smartphone owners transfer data more easily between their phone and computer. The new Dual USB Drive with Type C connector has a standard USB 3.0 plug for PCs on one end and a Type C connector on the other. It will work with future devices that adopt the Type C connector. There aren't any smartphones with Type C connectors yet, but there should be later this year. The Type C connector is reversible and can be inserted into a phone either way. It is also faster and capable of delivering power. SanDisk's Type C USB adapter has a capacity of 32GB and costs $39.99.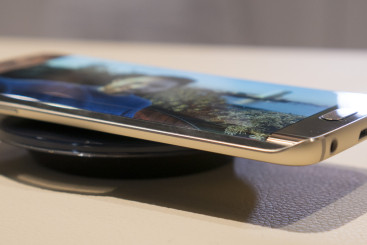 Samsung trotted out two versions of its flagship smartphone for 2015 and took them in a new direction with respect to design. The Galaxy S6 and S6 Edge boast the highest quality materials and build we've seen from Samsung. Here are our first impressions of these two phones
Samsung today announced the Galaxy S6 and Galaxy S6 Edge, two Android smartphones that marry high-quality design with leading specs. The devices are made with a mix of metal and glass materials, with the GS6 Edge offering a curved display on two sides. According to Samsung, the display is protected by Corning Gorilla Glass 4 and comes in several jewel tones with names like black sapphire, white pearl, blue topaz, and gold platinum. Aside from the display, all specs are shared between the two phones. The GS6 and GS6 Edge measure 6.8mm and 7.0mm thick, respectively. The Super AMOLED display measures 5.1 inches across the diagonal and includes 2560 x 1440 pixels (quad HD). Samsung says it has enhanced brightness for better outdoor viewability. The 16-megapixel main camera boasts optical image stabilization, auto HDR, and a Quick Launch feature that starts the camera app in less than a second. The user-facing camera rates 5-megpaixels; both have an aperture of f/1.9 for better low-light performance. Samsung is relying on its own technology to power the GS6 and GS6 Edge. It ships with an octa-core processor with a quad-core bank of processors clocked at 2.1GHz and a second quad-core bank clocked at 1.5GHz. The processor is paired with 3GB of LPDDR4 memory and UFS 2.0 flash for faster storage performance. The phone includes a 2,600mAh battery that supports both the WPC and PMA wireless charging standards, in addition to quick charging. Samsung says it has upgraded its KNOX security platform to better protect the device, added a Find My Device tool and remote wipe/remote reactivate tools, and improved the fingerprint scanner. The security tools will help when Samsung launches Samsung Pay, a mobile payment service planned for the second half of the year. The device will be preloaded with several Microsoft applications, including OneDrive (115GB of free storage) and OneNote. Other specs include Category 6 LTE, dual-band WiFi, Bluetooth 4.1, ultra power-savings mode and Android 5.0 Lollipop. The Galaxy S6 and Galaxy S6 Edge will be available globally starting April 10 with 32GB, 64GB, and 128GB internal storage options.
Samsung today announced Samsung Pay, a mobile payment service that it claims will be readily available at tens of millions of retail locations around the world. The service can use either NFC or MST (magnetic secure transmission), technology it recently acquired via its purchase of LoopPay. The MST tech allows Samsung Pay to work at most credit card terminals, unlike solutions based solely on NFC, which require special terminals. According to Samsung, its mobile payment service will use something called tokenization to hide customer's credit card numbers and protect transactions. Samsung is working with MasterCard and Visa, and has the support of financial institutions such as American Express, Bank of America, Citi, JPMorgan Chase, and U.S. Bank. Samsung Pay will initially launch in the U.S. during the summer months and will reach select markets in Europe and Asia later this year. It will only be available to the Galaxy S6 and Galaxy S6 Edge.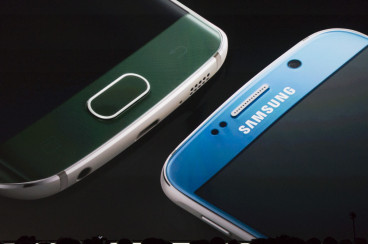 It's zero secret what Samsung is "revealing" today, but plenty of details remain unconfirmed. We're live at Samsung's Unpacked event at MWC in Barcelona for the launch of the Galaxy S6. Samsung itself has promised a new design with a metal body. Leaks point to a version with a screen that curved slightly at the side edges. We'll bring you every detail as it happens on stage.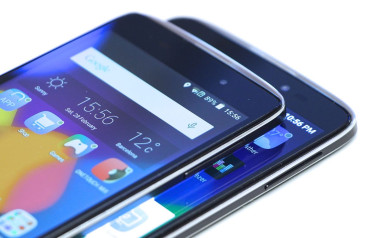 Alcatel's new flagship Android smartphones impress with their features, build quality, and cost. Here are Phone Scoop's first impressions of these mid-market killers.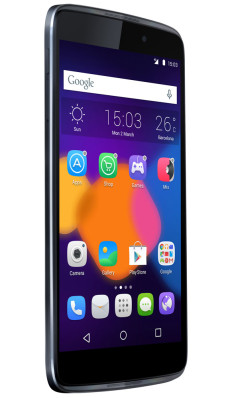 Alcatel OneTouch today announced the Idol 3, its global flagship series for 2015. The Idol 3 series encompasses two handsets, one with a 4.7-inch display and another with a 5.5-inch display. The phones share many features, such as the design, which features a thin-and-light look with a polycarbonate edge polished to a chrome-like finish and a back cover that mimics brushed metal. The Idol 3 packs stereo JBL speakers with Clarify processing, and each has its own dedicated 1.2W amplifier for full sound. The phones are reversible, meaning they can be held in any orientation and the user interface will rotate accordingly. The main camera uses a Sony sensor that rates 13 megapixels. It includes a variety of modes and video-capture options. Connectivity options include LTE and HSPA+, Bluetooth 4.1, FM radio, GPS, and WiFi. The Idol 3 devices support microSD cards up to 128GB.
Idol 3 (5.5): The larger of the two has a full HD screen and octa-core Snapdragon 615 processor with 2GB of RAM and 16GB of internal storage. The processor includes four cores at 1.5GHz and four cores at 1.0GHz. This phone has an 8-megapixel user-facing camera with wide-angle lens, and a 2,910mAh battery. The retail price is $249.
Idol 3 (4.7): This model is more compact and includes a 720p HD screen. It features a 1.2GHz quad-core Snapdragon 400 processor with 1GB of RAM and 16GB of internal storage. The phone has a 5-megapixel user-facing camera and a 2,000mAh battery. The retail price is $199.
Alcatel said the Idol 3 handsets will go on sale globally during the second quarter of the year. Both will be made available unlocked (compatible with GSM networks) through Alcatel's e-commerce web site in the U.S. The company said it is talking to U.S. carriers about distribution deals, but doesn't have any plans in place just yet.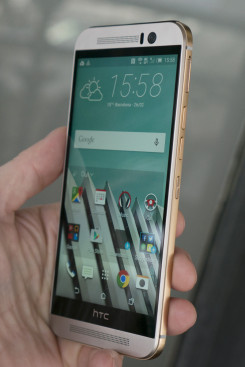 HTC's flagship One phones are iconic and well-regarded. The already refined design has been refined further for 2015, representing a relatively modest update. While it looks very similar to last year's M8 version, the new One M9 upgrades nearly everything. It packs in a kitchen sink worth of features, earning its flagship status easily. We take a look at what's new in this hands-on preview.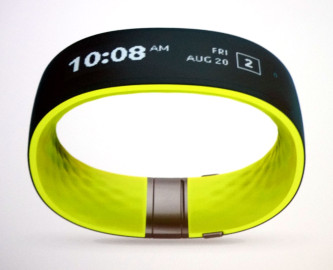 HTC today announced the Grip fitness band in conjunction with Under Armour. The Grip is part of HTC's growing Re series of connected devices. The Grip is a rubber band with a curved white OLED display and GPS for tracking outdoor fitness activity. It links to Under Armour's UA Record app to log and analyze detailed workout data. The Grip also connects to phones to display notifications and control music. It includes a canned text message reply function, configurable from the phone app. The Grip works with both Android and iOS. It is available in three sizes and is rated IP57 for water resistance. It will be available in the U.S. this spring. HTC also announced the Vive, a high-end VR headset. As it must be tethered to a PC, it's HTC's first truly non-mobile product. HTC has partnered with Valve for content for the Vive.
HTC today announced the One M9, its latest flagship phone. It retains the 5-inch full-HD screen of last year's One, but upgrades most other features, including a 20-megapixel main camera with a sapphire lens and the ability to shoot 4K video. Downloadable camera plug-ins will include a RAW mode option. The front camera now uses an UltraPixel sensor, and the processor is an octa-core Snapdragon 810. Other specs include 3 GB of RAM, 32 GB of internal storage, a memory card slot, an IR port, and BoomSound dual front speakers. The battery is slightly larger. The design is similar to last year's One M8, including unibody metal construction with a curved back and fine brushed finish. The design has been tweaked with sharper rear corners, a smoother front, and a unique two-tone anodized finish in the silver/gold color option. It will also be available in a dark gunmetal grey, all gold, and pink. The One M9 starts shipping in Taiwan in mid-March, and will come to all four major U.S. carriers soon after.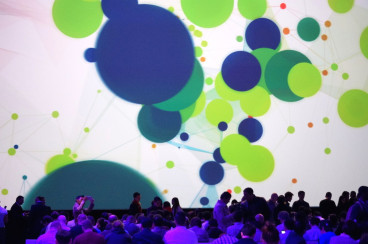 We're live-blogging HTC's press conference in Barcelona at MWC 2015. Rumors abound of a new flagship One phone. Tune in to find out!
MediaTek today made several announcements and showed off new chips for smartphones and tablets. The company revealed the MT6753, a 64-bit octa-core mobile system-on-chip for smartphones. It features up to 1.5GHz ARM Cortex-A53 processors paired with a Mali-T720 GPU with support for the Open GL ES 3.0 and Open CL 1.2 APIs for improved gaming. The chip can handle 1080p HD video capture, 16-megapixel cameras, and full HD displays. It can support LTE, HSPA+ and CDMA EVDO modems. MediaTek expects the MT6753 to reach consumer devices during the first half of the year. The company also showed off the MT8173 for tablets, a 64-bit big.LITTLE system-on-a-chip that combines two Cortex-A72 CPUs and two Cortex-A53 CPUs. The MT8173 offers up to 2.4GHz clock speeds and supports OpenCL. MediaTek said the MT8173 will reach consumer tablets during the latter half of the year.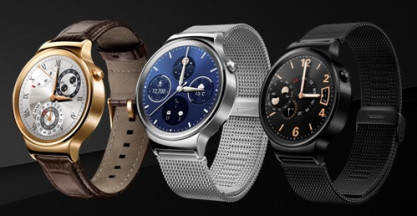 Huawei today announced the Huawei Watch, an Android Wear watch with a round face and thin bezel. It does not have the black bar at one edge like the Moto 360. The AMOLED display measures 1.4 inches, with 400 x 400 pixels for 286 ppi density. The Watch includes 4 GB of memory for storing music. On the fitness side, it includes a heart rate monitor and six-axis motion sensor. It is forged from stainless steel and will be available in gold, silver and black. It will be sold in the U.S., although timing was not announced.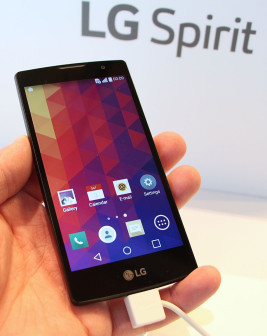 LG used Mobile World Congress 2015 to kick off its new range of mid-tier devices. The Magna, Spirit, Leon, and Joy bring LG's high-end design aesthetic to affordable price points. They would do well for both pre-paid and post-paid carriers. Here are our first impressions.