Hands On with the HTC One M9
Article Comments 5
Mar 1, 2015, 10:42 AM by Rich Brome
updated Mar 2, 2015, 8:53 AM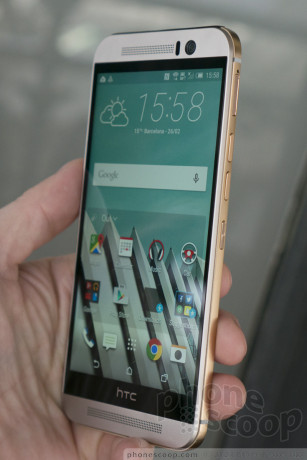 HTC's flagship One phones are iconic and well-regarded. The already refined design has been refined further for 2015, representing a relatively modest update. While it looks very similar to last year's M8 version, the new One M9 upgrades nearly everything. It packs in a kitchen sink worth of features, earning its flagship status easily. We take a look at what's new in this hands-on preview.
HTC's acclaimed One series broke new ground when it debuted two years ago with its clean design, unibody metal construction, and curved back. HTC schooled its competition with these design principles then, and they took notes. Metal has since cropped up in an increasing number of phone designs, finally landing in Samsung's flagship this week. LG and Motorola were quick to copy the curved-back design. A metal phone with a curved back oozes quality, with superior ergonomics. That's why HTC is sticking with this winning formula in the new One M9.
Hardware
Last year's One was rounded between the back and sides in a way that felt comfy, but didn't make the phone easy to grasp firmly. Without a case, it had a tendency to slip out of your hand. This year's model fixes that with a sharp corner that, paired with the shape, makes it quite easy to grip the phone. It also lends a feeling of precision to the metal body, like you're holding a finely-crafted tool.
The sharp corner is also where the solid metal body changes color, at least on the silver/gold variant. HTC developed a special anodization process to achieve this unique effect. On all color variants, the metal has an extra-fine brushed finish that looks and feels fantastic, protected by an anti-scratch coating.
It will come in four colors initially, including gold, dark grey, pink, and that two-tone silver/gold.
Last year's One suffered from annoying fit and finish issues where the various front bezel parts met (or didn't.) HTC took steps to address that in the new M9 by forming the bezel around the display as one part. It looks and feels much better. Nearly everything about the fit and finish of the M9 is superb. My only niggle is with the SIM and memory card trays, which are more noticeable - but look and by touch - than they should be.
All of the buttons look and feel good. The lock button has packed up and moved down to the side, a common and welcome change these days. The keys could have more travel, but they're decent. The spun texture on the lock button looks and feels nice.
The processor is a Snapdragon 810 with eight cores. It's the new king of the mountain in phone processors, and it provides predictably blazing performance for the M9. A healthy 3GB of RAM helps here, too.
Cameras have long been a relatively weak spot for HTC. HTC's UltraPixel sensor was always a brilliant idea on paper, but delivered sub-par results in too many situations. Perhaps it was the lens, or perhaps the software driving it; a good sensor alone doesn't guarantee good photos.
HTC tried to improve camera quality this year by using a 20-megapixel Sony sensor in the main shooter. Sony uses the same sensors in their phone, with impressive results. Unfortunately, it's not clear that HTC has cracked the rest of the camera formula. The pre-production phones I tried delivered photos that were, to be frank, disappointing. In good light the photos could be very nice. But in remotely low light, noise was out of control and white balance was all over the place. HTC has promised new, improved camera software between now and when the phones start shipping in a few weeks, but they have a lot of ground to cover to get to a good place. We look forward to reviewing the final versions, and we'd be delighted to report vastly improved quality, but I can't help but to be skeptical.
The M9 actually still has an UltraPixel sensor, it's just been moved to the front, reporting for selfie duty. This is actually a great place for it, as it delivers vivid low-light performance that's ideal for selfies. I was impressed with the front camera on the M9, at least for the situations it's designed for.
The hardware of the M9 also includes a memory card slot (32 GB of memory is built in, and that's the only option there.) NFC and an infrared remote control are included as well. HTC's excellent BoomSound stereo speakers are included, naturally. They've been enhanced with Dolby "surround sound" this year, a silly gimmick, if you ask me. The battery is a tad larger, although it's still sealed inside. Everything else you'd expect in a flagship is also present, such as 802.11ac Wi-Fi, Bluetooth 4.1, and MHL for plugging in your HDMI TV. There are also a zillion ways to stream video and audio via the HTC Connect feature, including standards like Miracast, DLNA, and AllPlay.
HTC is once again making its cute DotView cases available for this model. They now come with a clear back, to show off the pretty metal, but they still get in the way when taking a photo.
Software
The software is of course Android 5.0 ("Lollipop") with HTC's Sense tweaks. The look and feel of the graphics is very much HTC, but also totally in line with Google's Material Design principles. It feels clean and modern, with just the right amount of motion. It's one of the most attractive Android skins out there.
The lock screen retains the handy habit of displaying the four icons you've pinned to your home screen app dock, automatically making them lock screen shortcuts. This is so useful I'm shocked it's not copied more often.
I remain skeptical of BlinkFeed, the Flipboard-like social and news feed that's one swipe left of the main home screen. But HTC claims 6.5 million people use it every day, so some of you must like it. It's been enhanced with automatic food and drink recommendations powered by Yelp. These can even surface on your lock screen, which is kind of annoying when they replace notifications you'd probably rather see. Honestly, who would ever prefer to see a Yelp lunch recommendation instead of the fact that your mom called? Maybe you hate your mom; I don't know.
In another example of HTC thinking they know you better than you know yourself, a new home screen widget shows you your most frequently used apps based on location. Some people might find this handy; I know people who swear by similar launcher software. I don't like it personally, but it's just a home screen widget, so it's easy to get rid of if you know what your most-used apps are prefer those icons in a very specific layout.
In the notification shade, the quick settings panel pulls down from the top just as it should in Android Lollipop. HTC has simply made the quick settings a customizable grid. The customizable aspect is appreciated.
There are two areas where HTC has added significant new customization options. The first is Themes. HTC has given users a way to customise not only wallpaper, but interface colors, fonts, and even icon shapes. If you want all of your icons to be hexagons, you can do that, and share your super-hexagonal theme with others through HTC's service.
The other big customization is the ability to change the main Android navigations controls at the bottom of the screen. Instead of Back, Home, and Recent, you can put those in a different order, or add your own like rotation lock, or a button to bring down the notification shade (so you don't have to stretch your thumb all the way to the top of the screen.) LG has had a feature like this for a while, but it's appreciated in Sense nonetheless.
The camera software has all of the usual features like panorama, HDR, smile detection, night mode, and macro mode. One nice touch is a full manual mode with a nifty interface that's both functional and pretty. I did miss having auto-HDR mode, but the HDR mode does deliver impressive results. The ability to save your own set of custom settings to a main mode menu is still there, and still a neat idea.
The camera interface is about average. It could be better in terms of number of nested menus, redundant menus, and number of taps to get something done. For example, there are at least three different settings menus within the camera app, with options split among them in a seemingly arbitrary way. There are at least two main "shooting mode" menus, again for no logical reason that I can discern. It's just not as intuitive nor logical as I'd like. But you'll learn where everything is quickly enough.
Shortly after launch, HTC has promised to offer a RAW mode feature as a downloadable add-on to the camera. This will come by way of a "camera store" for software features like this, which reminds me of the Lens system for Windows Phone. I'm a fan of this. I'm excited for RAW mode. The resulting files will be about 10 MB.
Unfortunately, you won't be able to do anything with them on the phone itself. That's a big missed opportunity. If you could capture in RAW and change the exposure and white balance after the fact, on your phone, that would be amazing. But at least HTC is doing something with RAW, even if you have to use a computer to take advantage.
After you've taken your photos, HTC has their own gallery app, which they've done quite a bit of work on. What stands out are the new and very creative photo-editing tools. HTC has taken the Instagram model and taken it a few steps further. Which is to say that they've pre-packaged some specific, very stylish tools for fancying up your photos, and given you creative control. Like Instagram, the tools are very stylish and very fun to use with your photos. But we're talking about much more than color filters, here. It's easy - and fascinating - to combine two photos in a double-exposure effect. There are also effects that combine two photos using a pattern mask (like a double hexagon) to create something that looks like a stylish album cover. There's much more. You can get very cheesy with it, but it's also surprisingly easy to create extremely polished, stylish works of photographic art. The team that designed this app clearly had fun, and has good taste.
The same holds true for most of Sense Seven. HTC knows modern style. The Sense UI has evolved - in harmony with Android Lollipop - into something very modern, clean, and attractive. Sense still includes too many custom HTC versions of apps - like email - for my taste. But it's much better than it used to be. Most of the new changes are positive ones, and they've kept the best parts of Sense.
In sum, I like the One M9. The camera drivers need a complete overhaul, but that should be fixable in software, if HTC commits to it. If they can pull that off, it could be a near-perfect Android phone.
Resolution fail
I like HTC but they screwed up with this. They are not Apple. 1080p still? Seriously? 2013 called and it wants it's phone back? The S6 will crush them now that Samsung also offers a phone with a premium build quality. Not to mention it will definitely have a better camera than the M9 and a higher resolution screen. Put a fork in HTC cause it's done.
I think the screen looks fantastic. I can't see any pixels at all on the M9. Everything is smooth and crisp.

Quad-HD is nice on a larger phablet device, but on a 5-inch screen like this, it's overkill, IMO.
I believe HTC has a full 1080p display on their phone, not that janky pentile garbage Samsung has.
JJinNYC said:
I like HTC but they screwed up with this. They are not Apple. 1080p still? Seriously? 2013 called and it wants it's phone back? The S6 will crush them now that Samsung also offers a phone with a premium build quality.
...
(continues)
VS S6
I cannot wait to read your reviews on the S6 and see which phone is the one to replace my HTC One M7.

Thanks Rich!