Alcatel OneTouch Aims High with Idol 3 Flagship
Article Comments
Mar 1, 2015, 11:00 AM by Eric M. Zeman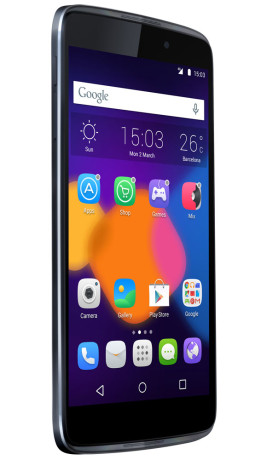 Alcatel OneTouch today announced the Idol 3, its global flagship series for 2015. The Idol 3 series encompasses two handsets, one with a 4.7-inch display and another with a 5.5-inch display. The phones share many features, such as the design, which features a thin-and-light look with a polycarbonate edge polished to a chrome-like finish and a back cover that mimics brushed metal. The Idol 3 packs stereo JBL speakers with Clarify processing, and each has its own dedicated 1.2W amplifier for full sound. The phones are reversible, meaning they can be held in any orientation and the user interface will rotate accordingly. The main camera uses a Sony sensor that rates 13 megapixels. It includes a variety of modes and video-capture options. Connectivity options include LTE and HSPA+, Bluetooth 4.1, FM radio, GPS, and WiFi. The Idol 3 devices support microSD cards up to 128GB.
Idol 3 (5.5): The larger of the two has a full HD screen and octa-core Snapdragon 615 processor with 2GB of RAM and 16GB of internal storage. The processor includes four cores at 1.5GHz and four cores at 1.0GHz. This phone has an 8-megapixel user-facing camera with wide-angle lens, and a 2,910mAh battery. The retail price is $249.
Idol 3 (4.7): This model is more compact and includes a 720p HD screen. It features a 1.2GHz quad-core Snapdragon 400 processor with 1GB of RAM and 16GB of internal storage. The phone has a 5-megapixel user-facing camera and a 2,000mAh battery. The retail price is $199.
Alcatel said the Idol 3 handsets will go on sale globally during the second quarter of the year. Both will be made available unlocked (compatible with GSM networks) through Alcatel's e-commerce web site in the U.S. The company said it is talking to U.S. carriers about distribution deals, but doesn't have any plans in place just yet.
source: Alcatel OneTouch
No messages