HTC One M9 Graced with 20-Megapixel Camera
Article Comments 4
Mar 1, 2015, 10:15 AM by Rich Brome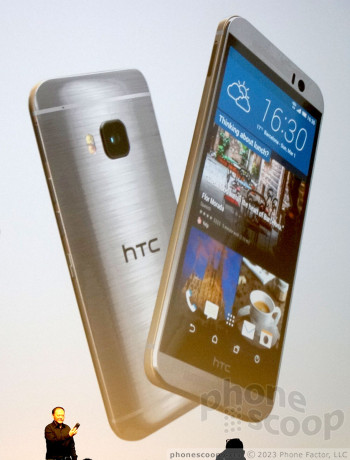 HTC today announced the One M9, its latest flagship phone. It retains the 5-inch full-HD screen of last year's One, but upgrades most other features, including a 20-megapixel main camera with a sapphire lens and the ability to shoot 4K video. Downloadable camera plug-ins will include a RAW mode option. The front camera now uses an UltraPixel sensor, and the processor is an octa-core Snapdragon 810. Other specs include 3 GB of RAM, 32 GB of internal storage, a memory card slot, an IR port, and BoomSound dual front speakers. The battery is slightly larger. The design is similar to last year's One M8, including unibody metal construction with a curved back and fine brushed finish. The design has been tweaked with sharper rear corners, a smoother front, and a unique two-tone anodized finish in the silver/gold color option. It will also be available in a dark gunmetal grey, all gold, and pink. The One M9 starts shipping in Taiwan in mid-March, and will come to all four major U.S. carriers soon after.
source: HTC
Yawn......Was hoping for a smaller design
Same design as the M7 and M8. Still has too much space taken up by the bottom bezel and the speakers. The leaked render where the speakers were minimized and the front facing camera was moved to the center was the way to go. I guess its just not possible to fit everything into a more compact footprint. Sony has figured it out, why not HTC?
Sony has front facing speakers that are as loud as HTC?
What about
Will it still have 'Duo focus'??