MWC 2015
The world's largest annual mobile event - Mobile World Congress - takes place the first week of March. We're on the ground in Barcelona to bring you all of the week's news. Tune in here for our full coverage, including hands-on with new phones from Samsung, HTC, Microsoft, and Alcatel.
Bookmark this page and don't miss a thing!
All Liveblogs Samsung Microsoft Nokia more... Discuss 2
The Car Connectivity Consortium today announced that the Samsung Galaxy S6 and S6 Edge, and the HTC One M9 support the MirrorLink standard for connecting to cars. MirrorLink is a platform-agnostic tool that allows smartphones to push apps and content to in-dash consoles. It competes with Google's Android Auto and Apple's CarPlay. With MirrorLink on board, the GS6, GS6 Edge, and One M9 will be able to connect to the infotainment systems of supported cars.
---
Samsung today announced two new components that will find their way into high-end phones later this year. The first is an 8-megapixel RWB (red-white-blue) image sensor based on ISOCELL technology. Samsung says it provides dramatically improved low-light performance by reducing noise and keeping colors more accurate when compared to back-side illumination sensors. Samsung believes it is ideal for user-facing cameras. Samsung also debuted a fourth-generation NFC radio that improves RF performance by 100% when compared to its predecessor. Samsung says this allowed it to reduce the size of the antenna. It can be attached to a smartphone battery without an extra booster integrated circuit. Together, these benefits will let smartphone makers add the NFC radio to their phones without compromising design. The ISOCELL camera module is expected to go into production during the second quarter, but the NFC radio is already being manufactured at volume.
---
Samsung and BlackBerry today announced that Samsung's Knox enterprise security service will adopt BlackBerry's WorkLife and SecuSUITE services. The WorkLife tool will let Samsung device owners keep their work and personal data separate on the device. Businesses will be able to access, control, and secure work data stored on smartphones, but won't be able to access personal files, photos, and so on. The SecuSUITE service offers encrypted and protected voice and SMS communications for those who work in high-security settings. Samsung believes offering these two BlackBerry services will entice more businesses to equip employees with its smartphones and tablets. The Samsung Galaxy S6 and S6 Edge will be the first two smartphones compatible with these new business tools.
---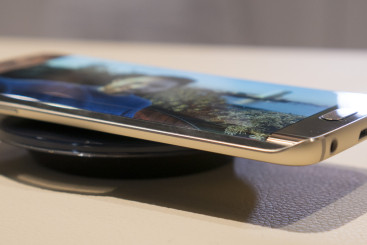 Samsung trotted out two versions of its flagship smartphone for 2015 and took them in a new direction with respect to design. The Galaxy S6 and S6 Edge boast the highest quality materials and build we've seen from Samsung. Here are our first impressions of these two phones
---
Samsung today announced the Galaxy S6 and Galaxy S6 Edge, two Android smartphones that marry high-quality design with leading specs. The devices are made with a mix of metal and glass materials, with the GS6 Edge offering a curved display on two sides. According to Samsung, the display is protected by Corning Gorilla Glass 4 and comes in several jewel tones with names like black sapphire, white pearl, blue topaz, and gold platinum. Aside from the display, all specs are shared between the two phones. The GS6 and GS6 Edge measure 6.8mm and 7.0mm thick, respectively. The Super AMOLED display measures 5.1 inches across the diagonal and includes 2560 x 1440 pixels (quad HD). Samsung says it has enhanced brightness for better outdoor viewability. The 16-megapixel main camera boasts optical image stabilization, auto HDR, and a Quick Launch feature that starts the camera app in less than a second. The user-facing camera rates 5-megpaixels; both have an aperture of f/1.9 for better low-light performance. Samsung is relying on its own technology to power the GS6 and GS6 Edge. It ships with an octa-core processor with a quad-core bank of processors clocked at 2.1GHz and a second quad-core bank clocked at 1.5GHz. The processor is paired with 3GB of LPDDR4 memory and UFS 2.0 flash for faster storage performance. The phone includes a 2,600mAh battery that supports both the WPC and PMA wireless charging standards, in addition to quick charging. Samsung says it has upgraded its KNOX security platform to better protect the device, added a Find My Device tool and remote wipe/remote reactivate tools, and improved the fingerprint scanner. The security tools will help when Samsung launches Samsung Pay, a mobile payment service planned for the second half of the year. The device will be preloaded with several Microsoft applications, including OneDrive (115GB of free storage) and OneNote. Other specs include Category 6 LTE, dual-band WiFi, Bluetooth 4.1, ultra power-savings mode and Android 5.0 Lollipop. The Galaxy S6 and Galaxy S6 Edge will be available globally starting April 10 with 32GB, 64GB, and 128GB internal storage options.
---
Samsung today announced Samsung Pay, a mobile payment service that it claims will be readily available at tens of millions of retail locations around the world. The service can use either NFC or MST (magnetic secure transmission), technology it recently acquired via its purchase of LoopPay. The MST tech allows Samsung Pay to work at most credit card terminals, unlike solutions based solely on NFC, which require special terminals. According to Samsung, its mobile payment service will use something called tokenization to hide customer's credit card numbers and protect transactions. Samsung is working with MasterCard and Visa, and has the support of financial institutions such as American Express, Bank of America, Citi, JPMorgan Chase, and U.S. Bank. Samsung Pay will initially launch in the U.S. during the summer months and will reach select markets in Europe and Asia later this year. It will only be available to the Galaxy S6 and Galaxy S6 Edge.
---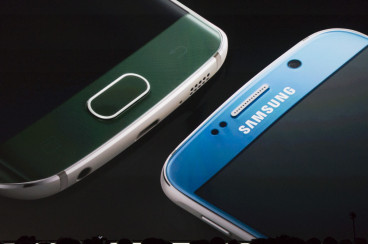 It's zero secret what Samsung is "revealing" today, but plenty of details remain unconfirmed. We're live at Samsung's Unpacked event at MWC in Barcelona for the launch of the Galaxy S6. Samsung itself has promised a new design with a metal body. Leaks point to a version with a screen that curved slightly at the side edges. We'll bring you every detail as it happens on stage.
---