Samsung's Galaxy S6 and S6 Edge Tout Metal and Glass Designs
Article Comments 4
Mar 1, 2015, 12:33 PM by Eric M. Zeman
updated Mar 1, 2015, 5:31 PM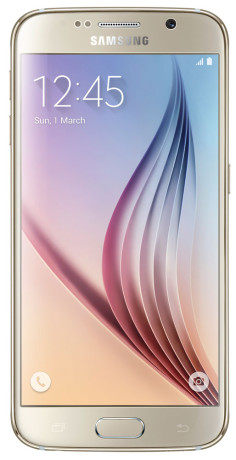 Samsung today announced the Galaxy S6 and Galaxy S6 Edge, two Android smartphones that marry high-quality design with leading specs. The devices are made with a mix of metal and glass materials, with the GS6 Edge offering a curved display on two sides. According to Samsung, the display is protected by Corning Gorilla Glass 4 and comes in several jewel tones with names like black sapphire, white pearl, blue topaz, and gold platinum. Aside from the display, all specs are shared between the two phones. The GS6 and GS6 Edge measure 6.8mm and 7.0mm thick, respectively. The Super AMOLED display measures 5.1 inches across the diagonal and includes 2560 x 1440 pixels (quad HD). Samsung says it has enhanced brightness for better outdoor viewability. The 16-megapixel main camera boasts optical image stabilization, auto HDR, and a Quick Launch feature that starts the camera app in less than a second. The user-facing camera rates 5-megpaixels; both have an aperture of f/1.9 for better low-light performance. Samsung is relying on its own technology to power the GS6 and GS6 Edge. It ships with an octa-core processor with a quad-core bank of processors clocked at 2.1GHz and a second quad-core bank clocked at 1.5GHz. The processor is paired with 3GB of LPDDR4 memory and UFS 2.0 flash for faster storage performance. The phone includes a 2,600mAh battery that supports both the WPC and PMA wireless charging standards, in addition to quick charging. Samsung says it has upgraded its KNOX security platform to better protect the device, added a Find My Device tool and remote wipe/remote reactivate tools, and improved the fingerprint scanner. The security tools will help when Samsung launches Samsung Pay, a mobile payment service planned for the second half of the year. The device will be preloaded with several Microsoft applications, including OneDrive (115GB of free storage) and OneNote. Other specs include Category 6 LTE, dual-band WiFi, Bluetooth 4.1, ultra power-savings mode and Android 5.0 Lollipop. The Galaxy S6 and Galaxy S6 Edge will be available globally starting April 10 with 32GB, 64GB, and 128GB internal storage options.
Memory card and removable battery
So did they take out the removable battery and memory card slot. Those reasons are why I stayed with Samsung. They were the only ones that still did memory card slots and removable batteries.
It is a peculiar move for sure. And to not include waterproofing/resistance... both strange not to see included.
Say goodbye to keeping Samsung then. They took away both the removable battery and memory card slot. It's the "Applization" of all smart phones. Instead of wanting to differentiate themselves from Apple, these manufacturers are copying or even clon...
(continues)
The new HTC phone includes an SD card slot, though I'm not sure about the battery. But I'll wait and see what happens with the Note 5. If Samsung doesn't bring the battery and memory card back, hopefully ASUS will finally have a compelling device in t...
(continues)