MWC 2019
All Samsung LG Sprint AT&T more... Discuss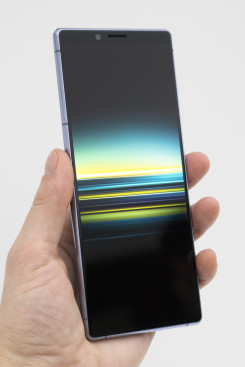 Sony's new phones for 2019 have an unusual display aspect ratio that makes them unusually tall. The Xperia 1 and 10 Plus are a normal width, but much taller than other phones, thanks to extra-tall displays plus a "forehead". The Xperia 10 is a similar shape but smaller, giving it a normal height but narrow width. That makes my impressions of the 10 much different than the other two. Read on for my full hands-on first impressions.
Motorola VP of Global Product Dan Dery confirmed this week that the company is working on folding phones and has "no intention of coming later than everybody else in the market". In an interview with Engadget, Dery also confirmed that the company is working on devices that fold inward, protecting the display, as well as potential dual-hinge devices.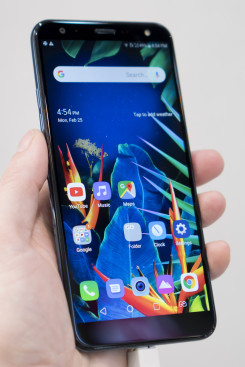 LG's more affordable phones aren't always exciting, but US carriers love them, and sell plenty to US consumers. LG has three new ones this year, the smallest and most of affordable of which is the K40. It's basically a replacement for the K30. Improvements include a larger, taller display and batter cameras. It also adds a dedicated Google Assistant button and AI Cam automatic scene detection. What's it like in person? We checked it out.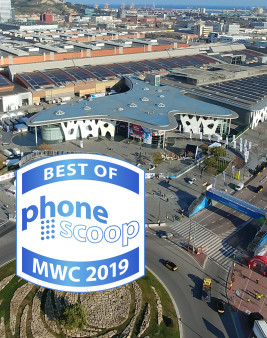 Each year, we trek to Barcelona to check out the mobile industry's latest and greatest at the industry's largest trade show: MWC. It's not all great, so after seeing it all in person, we pick out the real winners for our Best of MWC awards. This year, a lot of exciting phones were announced, including the first commercial 5G and foldable phones. Four of them really stood out.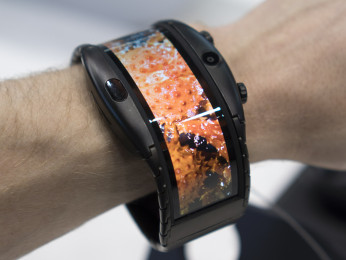 Nubia has a new smartwatch (actually, a full wrist-phone) with a flexible display that wraps all the way around your wrist. The flexible display aspect is actually pretty great, and works well. The rest of the product, not so much, but it's worth checking out just to see a glimpse of what's definitely coming now that flexible displays are coming to market. Check out our hands-on video to see it in action.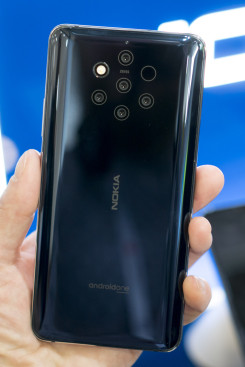 Nokia's new flagship phone has a crazy array of five cameras on the back, which use technology from Light to produce images with impressive quality and unique features. It's also a nice flagship phone in its own right, finally bringing the Nokia brand back to the high end of the market. What does it feel like to hold? What's it like to use the camera? We checked it out.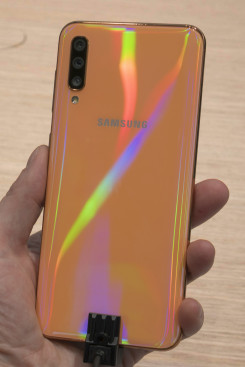 Samsung is going in a new direction with its A series of mid-range phones. Previous models married an understated but very premium design with popular features like Samsung Pay, with mid-range specs and prices. With the A30 and A50, Samsung is getting more adventurous with both the design and the features. They have dazzling prismatic finishes and surprising features like in-display fingerprint reader and 25-megapixel cameras. Now that everyone can make "premium" metal-and-glass designs at almost any price point, Samsung is experimenting with a material it calls "Glasstic" for the back. How is it? We checked 'em out.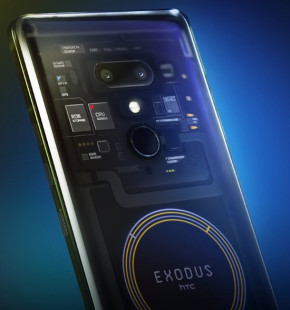 HTC's blockchain-focused phone — the Exodus 1 — will be available to buy for $699 in the US, starting in March. The Exodus 1 was initially available to buy only using cryptocurrencies BTC, ETH, or LTC. The company is also extending its Zion digital wallet with an API, which will be integrated with the Opera browser. Users can interact, transact with, and login to web services directly using their private keys held securely on their device. This includes micro-payments to content sites, for example. The Exodus 1 lets users store and track cryptocurrencies. The phone, essentially identical in hardware to the HTC U12+, has a Snapdragon 845 processor, 6 GB of DDR4x RAM, 128 GB of UFS2.1 storage, Cat. 18 LTE, a 3,500 mAh battery, 6-inch quad-HD display, and IP68 water resistance. It supports US LTE networks with bands 2/4/5/12/13/41/66, plus other global LTE bands, WCDMA, and GSM.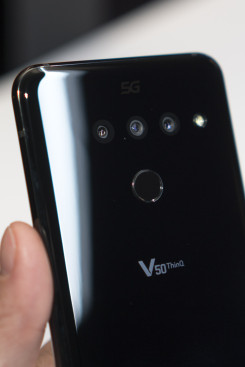 LG's V50 ThinQ is the first 5G phone for Sprint, and the first phone in the US to use 5G on low-frequency bands that provide broad coverage. LG took the V40 and somehow added both 5G and a larger battery, without making it any bigger. It keeps the V40's triple cameras, and other hallmark features of the V-series like wireless charging, 3.5mm audio jack... and memory card support. LG didn't leave anything out. There's also a sleek new design. How is it? We took it for a quick spin.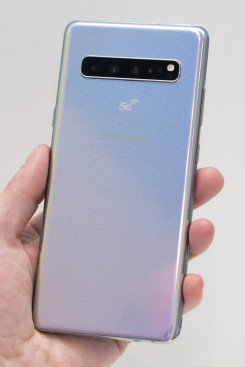 The Samsung Galaxy S10 5G might as well be synonymous with 5G at the moment. Every major US carrier will offer it as one of their first 5G phones. It has almost everything the S10+ has, and more, including the hot new tech of 2019: ToF depth sensors, front and back. It's larger than the S10+. There are a few things you should know about it, though, and a few things that surprised me when I finally got my hands on it. Read on for full first impressions.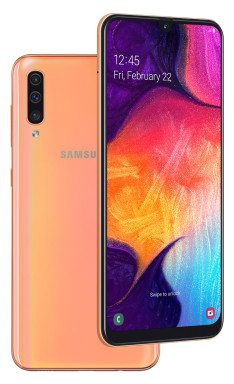 The Galaxy S10 isn't Samsung's only new phone with an in-display fingerprint reader; the Galaxy A50 also has this new technology. Samsung announced two new A-series phones today: the Galaxy A50 and Galaxy A30. Both phones appear similar on the outside, and in fact have the exact same 6.4-inch full-HD+ Super AMOLED display with small notch, same dimensions, and same 4,000 mAh battery. Both phones also have 15W fast charging, dedicated wide-angle camera on the back, Samsung Pay, memory card slot, and a shiny "3D Glasstic" back.
Galaxy A50: Has an in-display fingerprint reader, 25-megapixel main cameras on both sides, an extra depth camera on the back, and 4-6 GB of RAM. Available in Black, White, Blue, and Coral, all with a prismatic finish.
Galaxy A30: Has a standard fingerprint reader on the back, 16-megapixel main cameras on both sides, and 3-4 GB of RAM. (not shown)
Pricing and launch details were not announced.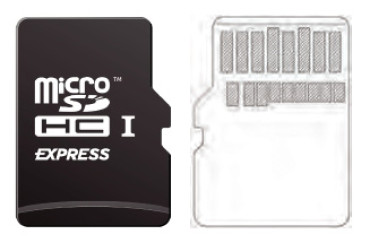 The SD Association today announced microSD Express, a new memory card format that's faster, more efficient, and backward-compatible with today's microSD format. The new cards will be capable of delivering a 985 megabytes per second (MB/s) maximum data transfer rate, and should use less power on average when using the new fast mode. microSD cards will have two rows of contacts; the new second row supports the PCIe 3.1 and NVMe v1.3 specifications for the faster, more power-efficient access, while the first row of contacts will support standard SD access for backward compatibility with devices that don't support microSD Express.
KaiOS, a popular new OS for cheap feature phones, will soon gain two major new features: YouTube and voice typing. The development is the result of KaiOS expanding its partnership with Google. Google Assistant and Google Maps will also be integrated more deeply with KaiOS. The update will roll out later this year.
Google is enhancing its Messages app to automatically notice when a conversation mentions a restaurant, movie, or the weather, and show a card with details about that entity, with options to share those details in the conversation and/or get more info. Google considers this putting its Google Assistant into the Messages app. The new features will roll out for English speakers in the coming months.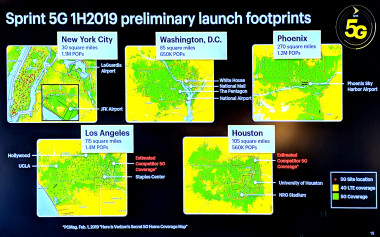 Sprint today released new details of the 5G network it will launch this May and June. Chicago, Atlanta, Dallas, and Kansas City will launch in May, while New York City, Los Angeles, Washington DC, Phoenix, and Houston will launch in June. The NYC, LA, and Phoenix networks will each cover over 1 million people. Los Angeles, Phoenix, Houston, Atlanta, Dallas/Ft. Worth, and Kansas City will all launch with over 100 square miles of 5G coverage, up to 270 square miles for the Phoenix area. The LA network will cover from downtown to the coast, The NYC network will cover most of Manhattan, La Guardia airport, and JFK airport. Ericsson, Nokia, and Samsung are providing the network equipment. Sprint's first 5G phone will be the LG V50 ThinQ, followed by the Samsung Galaxy S10 5G in the summer.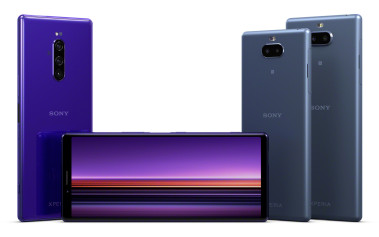 Sony's new phones have unusually tall screens with a 21:9 aspect ratio. The company today announced the Xperia 1, 10, and 10 Plus. The 1 is the new flagship, while the 10 and 10 Plus fill out the mid-range. All three phones ship with Android 9 Pie, support USB-C PD fast charging, and have at least two rear cameras, NFC, Bluetooth 5, memory card slot, and a fingerprint reader.
Xperia 1: The company's new flagship has a 6.5-inch HDR OLED display with 4K resolution (1644 x 3840). It has three rear cameras: standard, wide, and 2x telephoto, all of which are 12 megapixel. The main camera supports 960 fps slow-motion video. It's powered by a Snapdragon 855 processor and 6 GB of RAM. It has a 3,330 mAh battery, water resistance, LTE Cat. 19, USB 3.1, Miracast, and support for PS4 Remote Play.
Xperia 10: This mid-range model has a 6-inch full-HD+ display, 13-megapixel main camera, 5-megapixel depth camera, 2,870 mAh battery, Snapdragon 630 processor, 3 GB of RAM, 64 GB storage, and Cat. 13 LTE.
Xperia 10 Plus: A step up from the 10, it has a larger 6.5-inch display, 3,000 mAh battery, Snapdragon 636 processor, 4 GB of RAM, a better 12-megapixel main camera, and 8-megapixel 2x telephoto camera.
All of the new models have basic support for AT&T and T-Mobile networks, including LTE bands 12, 29, and 66. The 10 and 10 Plus launch today, while the Xperia 1 will be available in "late spring".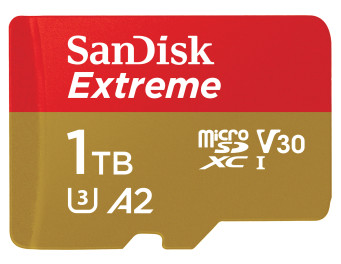 microSD cards will soon be available in capacities up to 1 TB (1,000 GB). SanDisk today announced the 1TB SanDisk Extreme UHS-I microSDXC card, which is both twice as fast, and stores more data, than any previous microSD memory card. The same 2x speed technology will also be available in a 512 GB card. The 1 TB card will run $450, while the 512 GB card will be $200. Both cards ship in April, and are available for pre-oder now.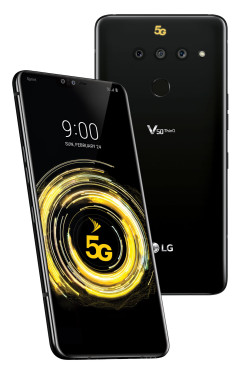 The LG V50 is the same size as last year's V40, but manages to include both 5G and a larger battery. Most other 5G phones this year are noticeably larger than their 4G counterparts. (The V50 is technically 0.7mm taller and 0.4mm thicker (8.3 vs 7.9mm) than the V40, a difference not obvious in person.) The V50's battery rates 4,000 mAh (compared to 3,300 in the V40). The V50 includes three rear cameras (standard, wide, and tele) plus two on the front (standard and wide). Its quad-HD OLED display measures 6.4 inches. A new vapor-chamber cooling system should reduce processor throttling during gaming sessions. Like the smaller G8, it has a Snapdragon 855 processor, 6 GB RAM, 128 GB built-in storage, stereo speakers, IP68 water resistance, fingerprint reader on the back, Quick Charge 3.0, NFC, stereo speakers, and 32-bit Hi-Fi Quad DAC. It has both a memory card slot and 3.5mm audio jack. Sprint will carry the V50 ThinQ first, this spring, followed by Verizon in the summer.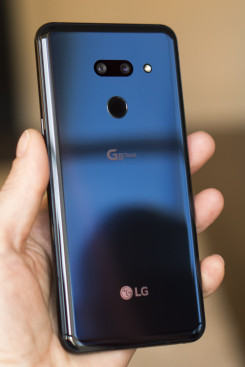 The LG G8 ThinQ has some futuristic new features, like complex mid-air hand gestures and hand vein scanning. Otherwise it's similar to the G7, but makes numerous small upgrades and refinements. How well do the new features work? How does it look and feel in person? What else should you know about this new flagship phone? Read on to find out.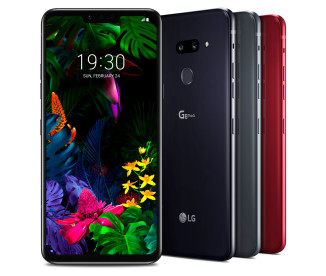 The new LG G8 ThinQ has a 3D depth camera on the front that can sense and recognize detailed hand gestures such as turning a virtual knob in mid-air. The same sensor also provides two different kinds of biometric security: hand vein scanning and 3D face scanning. The sensor also provides a superior selfie portrait mode. LG calls it "Z Camera", referring to "z" as the axis of depth. There's also a fingerprint reader on the back, and all three biometrics (finger, face, and hand) can be active at the same time. The phone uses the whole top half of the display as a speaker, serving as the earpiece during calls, and one of two stereo speakers when watching video. The design is largely similar to last year's G7, but with a sleeker back that puts the standard and wide cameras completely under the smooth glass back. As LG's main flagship phone for 2019, the G8 ThinQ has a 6.1" quad-HD+ OLED display, Snapdragon 855 processor, 6 GB of RAM, 128 GB built-in storage, 32-bit Hi-Fi Quad DAC, IP68 water resistance, and Android 9 (Pie). It has both a 3.5mm audio jack and a memory card slot. The battery rates 3,500 mAh and it supports Quick Charge 3.0. The main camera is 12 megapixels with an f/1.5 aperture, while the wide-angle camera has 16 megapixels and an f/1.9 aperture. A new night mode combines 10 burst shots into one, to reduce noise. It can also apply a bokeh (blurred background) effect to video. The standard portrait mode is adjustable and has studio-effect options. The G8 will be available from major US carriers, including T-Mobile, and national retailers "in the coming weeks", available in black, silver, and red.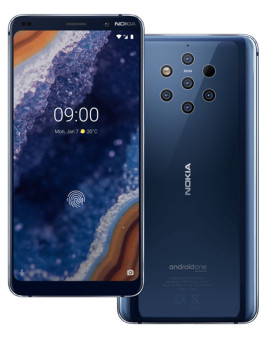 Nokia today introduced five new phones, all of which run a clean version of Android One, with a promise of three years of Android updates. The new range includes a unique new camera-oriented flagship, three very affordable Android models, and one feature phone.
Nokia 9 PureView: A high-end, photography-focused phone with an array of five Zeiss-lens, 12-megapixel cameras on the back developed in cooperation with multi-sensor camera company Light. Three of the sensors are monochrome, to capture more light. It can capture HDR photos with a range of up to 12.4 f-stops. It can also capture detailed depth data, for precise bokeh effects that can be adjusted in Google Photos. At the maximum, it can produce images up to 240 megapixels. It can also produce RAW images that can be edited with Adobe Lightroom on the phone. The glass-and-metal design is 8mm thick, with no camera bump. It's rated IP67 for water resistance, and has an under-display fingerprint reader, 6 GB pf RAM, 128 GB of storage, wireless charging, and a 6-inch QHD OLED display that supports HDR10. It will ship in March, in Midnight Blue, for $699.
Nokia 4.2: This mid-range phone has a premium design with sculpted glass on the front and back, a 5.7-inch HD display with a small notch, NFC, a Snapdragon 439 processor, 13-megapixel camera plus secondary depth camera, fingerprint reader, face unlock, Google Lens and a dedicated Google Assistant button, and a unique lock button that doubles as a notification light. Available in April, in black and pink sand, for $169.
Nokia 3.2: This more-affordable model has a polycarbonate unibody design, large 6.26-inch HD+ display, 4,000 mAh battery for 2-day battery life, 13 megapixel camera, Snapdragon 429 processor, fingerprint reader, face unlock, Google Lens and a Google Assistant button, and a light-up lock button like the 4.2. Available in April, in black and "steel", for $139.
Nokia 1 Plus: A smartphone that sells for just $99. It runs Android 9 Go Edition, has a 5.4-inch display, and compared to the 1, the camera has been upgraded to 8 megapixel auto-focus. Available in red, black, and blue, in early March.
Nokia 210: This $35 feature phone has a candy-bar design, and has a camera, games, and an app store. Available in red, gray, and black.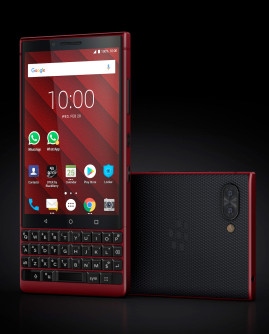 The BlackBerry Key2 will soon be available in a new Red Edition, which comes standard with 128 GB of storage (a step-up option on the standard Key2). The Key2 Red Edition also comes with an exclusive red BlackBerry-branded earbuds. This new edition is otherwise similar to the existing Key2, not to be confused with the lower-end Key2 LE. The Key2 has a metal body, Snapdragon 660 processor, 6 GB of RAM, 3,500 mAh battery, and both standard and telephoto cameras on the back. Naturally it has the signature QWERTY physical keyboard and BlackBerry messaging and security software.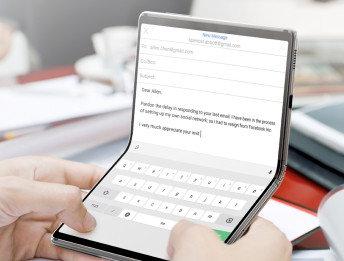 TCL Communication — the company behind Alcatel and BlackBerry phones — is planning to launch one or more foldable phones with a flexible display in 2020, and showed off several of its current concepts at the MWC trade show this week. The company has been actively working on the project for a couple of years already, the result of which is a proprietary, patented hinge design that the company calls DragonHinge. A TCL sister company manufactures the custom flexible AMOLED display. A TCL spokesperson said the company aims to make its foldable phones more affordable than competitors like the Samsung Galaxy Fold. The company also hinted that it's considering launching its foldable phone(s) under the TCL brand, or a new brand, instead of the Alcatel brand which is associated with less-expensive models. Several concepts were displayed, including tablet-style devices — both with and without an outer display — and phones that look like a tall smartphone but fold in half like an old clamshell phone, leaving a small strip of display exposed for notifications. The company is exploring additional new form factors as well, using the same hinge and display technologies.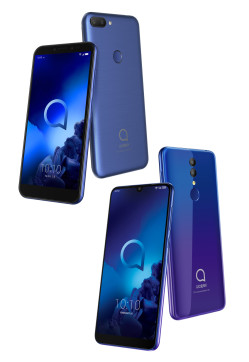 The new Alcatel 1s, 3, and 3L improve the specs of Alcatel's most affordable Android phones with features like more RAM, and taller displays with a notch. Although these specific models aren't coming to the US, such models often come to the US as carrier-exclusive models with minor spec changes.
1s: Similar to the 1x announced at CES, (which came to Cricket as the Onyx,) but with 3 GB of RAM, automatic scene detection in the camera app, an octa-core processor (Spreadtrum SC9863A), and Android 9 (Pie). Like the 1x, it has a 5.5" tall (2:1 ratio) HD display, dual rear cameras, and a fingerprint reader.
3: Has a taller (19.5:9) display thanks to a small notch for the selfie camera. It's also HD and measures 5.9 inches. It comes in two mirrored gradient finishes: blue-purple and black-blue. It's powered by a Qualcomm Snapdragon 439 processor and 3 GB of RAM. It has dual rear cameras, a fingerprint reader, and a 3,500 mAh battery. It also has both a memory card slot and 3.5mm audio jack.
3L: Identical to the 3, but with 2GB of RAM and a textured back. Some versions leave out the fingerprint reader as well. (not shown)
By the end of this year, AT&T's 5G network will use sub-6 GHz radio bands to achieve broad coverage. The Samsung Galaxy S10 5G announced today won't be able to access that part of AT&T's 5G network; it can only access mmWave spectrum being launched only in dense urban areas. AT&T and Samsung are working on a second 5G phone that will be able to access the whole 5G network, to be available by the end of this year. AT&T's press release reads: "In addition to the Galaxy S10 5G, we previously announced that we're working with Samsung to make another 5G smartphone available in the second half of this year. This smartphone will be able to access 5G using sub-6 GHz spectrum broadly available later this year and nationwide in early 2020, as well as access 5G+ over mmWave in dense urban areas when available." Sprint and T-Mobile also plan to launch 5G networks in sub-6 GHz bands. Verizon has thus far only announced plans to launch 5G in mmWave bands, which cannot provide broad coverage.
The Samsung Galaxy S10 series covers a wide range of prices, from $750 up to $1,600 for the best S10+, the Ceramic edition with 12 GB RAM and 1 TB storage. Although Samsung initially announced pricing only for the lowest-memory configuration of each S10 model, US carriers have now revealed additional details and deals, including pricing for the high-memory configurations, and monthly payment options. The pricing of the Galaxy S10 series is remarkably consistent across all US carriers, with up-front pricing being identical, and monthly options working out to an even split of the up-front price across the full term of the payment plans, with no interest. Most carriers are also offering special deals for multiple phones and/or adding lines to existing plans. Read on for full details.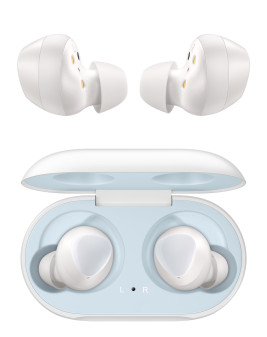 Samsung's new Galaxy Buds are 30% smaller than the Gear IconX they replace, and lighter as well, at just 5.6 grams each. These fully-wireless Bluetooth 5.0 earbuds have adaptive dual microphones that can use an outer microphone for your voice, or automatically switch to an inner microphone when there's excessive background noise. They also support Samsung's Bixby voice assistant, including voice commands that query and control the Buds themselves. The Buds offer 5 hours of calling or 6 hours of music on a single charge. The Buds themselves have a 58 mAh battery, while the charging case has its own 252 mAh battery. The included charging case supports USB-C and wireless charging, so it can charge from the back of the new Galaxy S10 using its Wireless PowerShare feature. The Galaxy Buds will be available March 8th for $129 in either black or white. Customers who pre-order a Galaxy S10 or S10+ will receive the Galaxy Buds for free, while supplies last.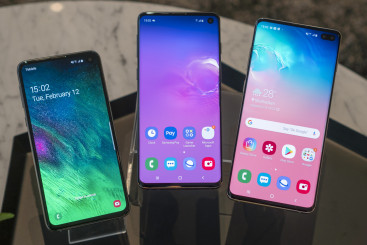 The new Samsung Galaxy S10 isn't just one or two phones, but a series of four phones. We spent some time with the S10e, S10, S10+, and S10 5G. How much smaller is the S10e? What did they leave out to make it cheaper? How huge is the S10 5G? And does the whole lineup live up to the legacy of the Galaxy S line on its tenth anniversary? We have your answers.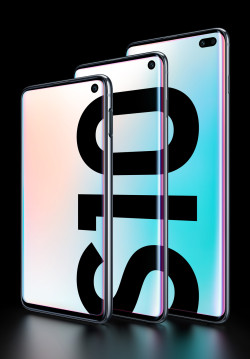 The tenth edition of Samsung's Galaxy S series of flagship phones includes, for the first time, four different models spanning a range of sizes and price points. Samsung announced the Galaxy S10 series today at an event in San Francisco. In addition to the standard S10 and (larger) S10+ that mirror pervious years' offerings, Samsung also revealed a smaller, cheaper S10e, as well as the S10 5G, which is even larger than the S10+. All of the S10 models include the new, top-end Snapdragon 855 processor, Cat. 20 LTE, a new "Dynamic" AMOLED display with hole-punch design and HDR10+, and two-way wireless charging that can charge other phones or accessories. For photography, they all include the same 12-megapixel main camera as the S9 (with dual-pixel and dual-aperture technology), a 16-megapixel wide-angle camera, and a new 10-megapixel, auto-focus front camera that can record 4K video. All models keep the 3.5mm audio jack, as well as IP68 rating for water-resistance. Most S10 models (the S10e excluded) also have an ultrasonic fingerprint reader embedded in the display, a third camera on the back for telephoto shots, an Infinity Edge display that curves at the sides for thinner bezels, heart rate sensor, and a minimum of 8 GB of RAM / 128 GB built-in storage. The S10 5G also adds 3D depth cameras to both the front and back and 25W fast charging. The S10, S10e, and S10+ go on sale worldwide March 8th, with pre-orders available starting tonight at midnight Eastern time. Those models will be available in the US in Prism Black, Prism White, Prism Blue, and Flamingo Pink (which is based on Pantone's color of the year, Living Coral). Pricing will be the same unlocked and at all major US carriers: The S10e will start at $750, the S10 at $900, and the S10+ at $1,000. Variants with added memory will cost more. All four top US carriers will offer all four models. Those who pre-order the S10 or S10+ will receive a free set of Galaxy Buds fully wireless earbuds (normally $129). Samsung is also offering trade-in deals worth up to $550. The S10 5G will be available in the 2nd quarter, first with Verizon before the middle of the year, followed by AT&T, Sprint, T-Mobile, Spectrum, and Xfinity "at a later date this summer." Read on for more details.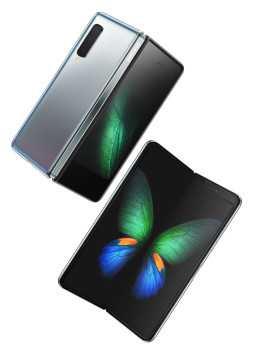 Samsung today announced the Galaxy Fold, the company's first commercial phone with a flexible display that folds in half. Folded, it resembles a thick smartphone with 4.6-inch HD Super AMOLED display; unfolded, it approximates a tablet in size and form factor, with a 7.3" "Infinity Flex" Dynamic AMOLED display. App Continuity allows users to start an Android app on the outer screen, then open the phone and continue uninterrupted on the larger screen. The inner screen also supports up to three apps side-by-side. It's powered by a Snapdragon 855 processor with 12 GB of RAM, and comes with 512 GB of storage. It also supports UFS 3.0 for faster storage access. Its two batteries total 4,380 mAh, and it supports fast wireless and wired charging. It has six cameras and a fingerprint reader on the side. The camera arrays are the same as on the new Galaxy S10+, including standard, wide, and tele cameras on the back, plus 10 megapixel selfie cameras on both the front and inside. The 4G LTE version will go on sale April 26th for $1,980, and a 5G version will also be available. Both AT&T and T-Mobile will offer the Galaxy Fold in the second quarter of this year. The phone comes in Cosmos Black, Space Silver, Martian Green, and Astro Blue, with choice of hinge color for further personalization.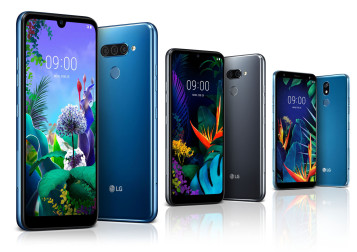 LG's new mid-range phones for 2019 all feature tall 2:1 displays, fingerprint readers, a dedicated Google Assistant button, and "AI CAM" automatic scene detection and mode selection, a feature thus far found only on higher-end phones. LG announced the Q60, K50, and K40 today, ahead of the MWC trade show next week.
Q60: 6.26-inch display with a small notch, three rear cameras (16mp main, 5mp wide, and 2mp depth), 13mp selfie camera, 3,500 mAh battery, 3 GB RAM, and 64 GB storage.
K50: The same 6.26-inch display with a small notch, two rear cameras (13mp main and 2mp depth), 13mp selfie camera, 3,500 mAh battery, 3 GB RAM, and 32GB storage.
K40: 5.7-inch display, 16mp camera, 8mp selfie camera, 3,000 mAh battery, 2 GB RAM, and 32 GB of storage.
They all have memory card slots supporting cards up to 2 TB and DTS:X 3D surround sound. Further details of the three phones will be revealed next week at the MWC trade show.
The LG G8 ThinQ, the company's next flagship phone, will have a 3D face scanner for biometric security, and use its screen surface as the phone earpiece. LG has made several announcements leading up to the phone's launch about its features, also confirming the phone's name — the LG G7 ThinQ — and that it will be fully unveiled at the MWC trade show, which takes place the week of February 24th. The 3D face scanner will provide "sophisticated security for phone unlocking and payment authentication". The scanner is an Infineon REAL3 image sensor chip. It's tuned to infrared light and uses its own infrared light source so it's unaffected by ambient light. It uses time of flight (ToF) technology, which measures the time it takes for light to make the round trip to and from objects the light reflects off of. The screen-based earpiece is technology LG calls Crystal Sound OLED (CSO). LG developed CSO in-house, and says it "repurposes the OLED display as a diaphragm, vibrating the entire surface to produce sound with impressive volume." The G8 will also have a speakerphone using more traditional technology on the bottom, including the "Boombox" design (also found on the G7) that uses the interior of the whole phone as a resonance chamber to boost bass and volume.