Hands On with the Samsung Galaxy A50 and A30
Article Comments 7
Feb 26, 2019, 9:57 AM by Rich Brome @rbrome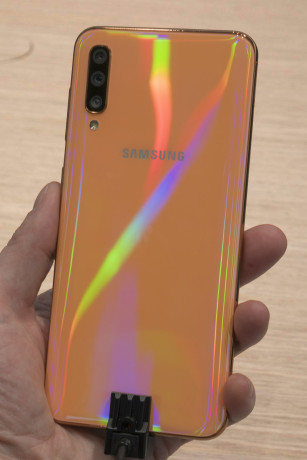 Samsung is going in a new direction with its A series of mid-range phones. Previous models married an understated but very premium design with popular features like Samsung Pay, with mid-range specs and prices. With the A30 and A50, Samsung is getting more adventurous with both the design and the features. They have dazzling prismatic finishes and surprising features like in-display fingerprint reader and 25-megapixel cameras. Now that everyone can make "premium" metal-and-glass designs at almost any price point, Samsung is experimenting with a material it calls "Glasstic" for the back. How is it? We checked 'em out.
Advertisements article continues below...
Samsung is still leveraging its core strengths in the A series, including Samsung Pay, their new One UI, and impressive Samsung Super AMOLED displays in both models. They've also brought down a lot of the advanced camera features from the flagship S10 models, like Bixby Vision, AR Emoji, and Scene Optimizer.
It's the same exact display in both models, so the phones are identical from the front. The display is sufficiently sharp with full-HD+ resolution, and quite large at 6.4 inches. Samsung has gone with the notch design the A-series this year, something new for them. It's a mercifully small notch, though. The display looks great in person.
The back is made of a material Samsung calls "Glasstic". It's an apt name, as it feels like you'd assume it would after hearing that name. It feels like a high-quality clear plastic... harder than typical plastic, but if you know glass, you can tell that this isn't it.
The design is large and a bit generic-looking to me. (Past A series had a more distinctive look, IMHO.) But it feels good and looks fine. It feels too large for me, but I'm a small person; it's about average among today's larger phones. It's well-designed, functionally, and well-put-together. The design of the outer frame echos the S series, but doesn't quite match its sexiness. The buttons work well.
Using the software, you'd think you were using an S10. It carries over an impressive portion of the features from the higher-end models, even in the advanced camera app. But of course this isn't the S series, so not everything is there. Some of the places you'll run into this are odd. For example, the camera's manual mode is strangely limited (no shutter speed control) despite the camera app borrowing many features from the S series that I would consider much higher-end.
The wild thing about the A series is the finishes on the rear. Instead of the refined, professional design of past A-series models, Samsung has applied dazzling new finishes.
A50 finish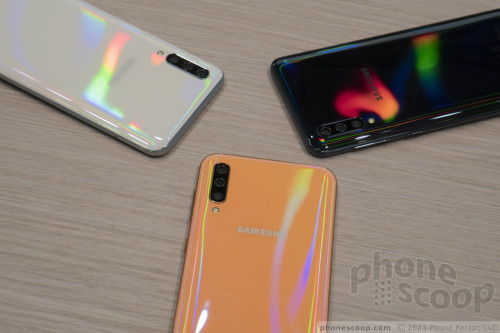 A50 finish
On the A50, it's a prismatic effect. This isn't like subtle color-shifting effect on the new "Prism" colors in the S series... no, no... this is an extremely bright, full-rainbow effect that's so eye-searing it truly can't be captured and conveyed in mere photos. When you look at the photos here, imagine the rainbow colors about three times brighter and more colorful. This will surely get attention outdoors. It might even distract drivers if you're walking down the street talking on your phone. It's bright. Personally, I'm not sure it looks classy. You will either love or hate a finish like this.
A30 finish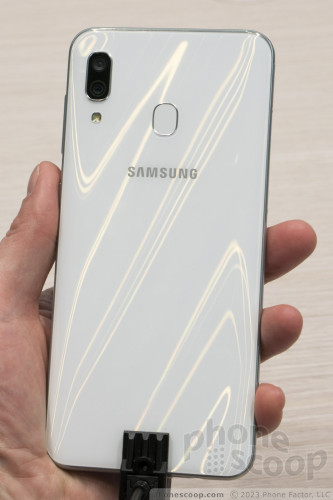 A30 finish
The A30 has a shimmering design that's not prismatic (no rainbow effect) but it's still quite pronounced. In bright light, contrasting lines shimmer dramatically as you move the phone even the slightest bit. It's a bit classier than the A50's finish, but it still might be too flashy (literally) for some.
The A50 has two standout features compared to the A30: 25-megapixel cameras on the front and back, and an in-display fingerprint reader. In-display fingerprint readers are a neat trick, but standard fingerprint readers still have better performance. I'm not sure who needs a 25-megapixel camera. There are valid technical reasons the best cameras in phones right now are just 12 megapixel, so this seems like a marketing gimmick via spec sheet. But if you only take photos in well-lit scenes, you should benefit from a much better digital zoom function.
The A50 also has a faster processor and a little more RAM and storage to go along with it. Otherwise, they really are two variants of the same phone. You can tell just from holding them, but they also share other specs like large 4,000 mAh batteries.
There's a chance we'll see these in the US; Samsung did bring the A6 to the US last year.
No messages