MWC 2019
The world's largest annual mobile event - Mobile World Congress - takes place on the last days of February. We're on the ground in Barcelona to bring you all of the week's news. Tune in here for our full coverage, including hands-on with new phones from LG, Samsung, Alcatel, Nokia and more.
Also, follow us on Twitter for up-to-the-second news and extra content:
All Samsung LG Sprint AT&T more... Discuss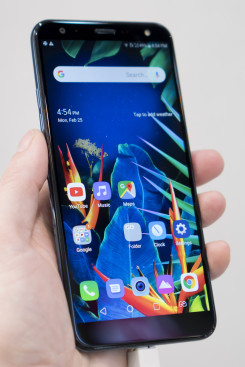 LG's more affordable phones aren't always exciting, but US carriers love them, and sell plenty to US consumers. LG has three new ones this year, the smallest and most of affordable of which is the K40. It's basically a replacement for the K30. Improvements include a larger, taller display and batter cameras. It also adds a dedicated Google Assistant button and AI Cam automatic scene detection. What's it like in person? We checked it out.
---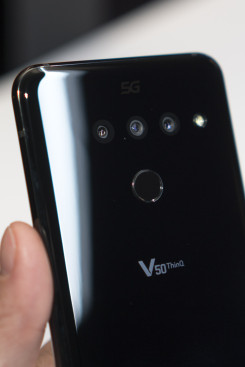 LG's V50 ThinQ is the first 5G phone for Sprint, and the first phone in the US to use 5G on low-frequency bands that provide broad coverage. LG took the V40 and somehow added both 5G and a larger battery, without making it any bigger. It keeps the V40's triple cameras, and other hallmark features of the V-series like wireless charging, 3.5mm audio jack... and memory card support. LG didn't leave anything out. There's also a sleek new design. How is it? We took it for a quick spin.
---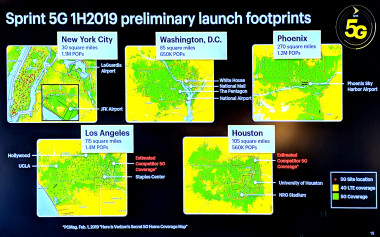 Sprint today released new details of the 5G network it will launch this May and June. Chicago, Atlanta, Dallas, and Kansas City will launch in May, while New York City, Los Angeles, Washington DC, Phoenix, and Houston will launch in June. The NYC, LA, and Phoenix networks will each cover over 1 million people. Los Angeles, Phoenix, Houston, Atlanta, Dallas/Ft. Worth, and Kansas City will all launch with over 100 square miles of 5G coverage, up to 270 square miles for the Phoenix area. The LA network will cover from downtown to the coast, The NYC network will cover most of Manhattan, La Guardia airport, and JFK airport. Ericsson, Nokia, and Samsung are providing the network equipment. Sprint's first 5G phone will be the LG V50 ThinQ, followed by the Samsung Galaxy S10 5G in the summer.
---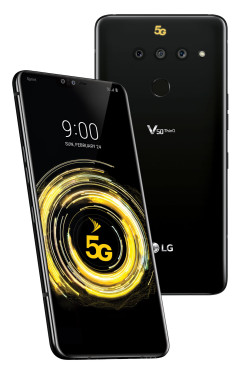 The LG V50 is the same size as last year's V40, but manages to include both 5G and a larger battery. Most other 5G phones this year are noticeably larger than their 4G counterparts. (The V50 is technically 0.7mm taller and 0.4mm thicker (8.3 vs 7.9mm) than the V40, a difference not obvious in person.) The V50's battery rates 4,000 mAh (compared to 3,300 in the V40). The V50 includes three rear cameras (standard, wide, and tele) plus two on the front (standard and wide). Its quad-HD OLED display measures 6.4 inches. A new vapor-chamber cooling system should reduce processor throttling during gaming sessions. Like the smaller G8, it has a Snapdragon 855 processor, 6 GB RAM, 128 GB built-in storage, stereo speakers, IP68 water resistance, fingerprint reader on the back, Quick Charge 3.0, NFC, stereo speakers, and 32-bit Hi-Fi Quad DAC. It has both a memory card slot and 3.5mm audio jack. Sprint will carry the V50 ThinQ first, this spring, followed by Verizon in the summer.
---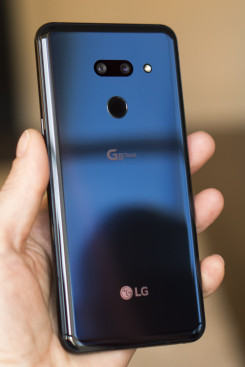 The LG G8 ThinQ has some futuristic new features, like complex mid-air hand gestures and hand vein scanning. Otherwise it's similar to the G7, but makes numerous small upgrades and refinements. How well do the new features work? How does it look and feel in person? What else should you know about this new flagship phone? Read on to find out.
---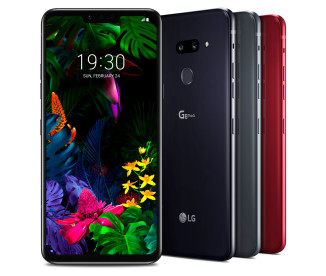 The new LG G8 ThinQ has a 3D depth camera on the front that can sense and recognize detailed hand gestures such as turning a virtual knob in mid-air. The same sensor also provides two different kinds of biometric security: hand vein scanning and 3D face scanning. The sensor also provides a superior selfie portrait mode. LG calls it "Z Camera", referring to "z" as the axis of depth. There's also a fingerprint reader on the back, and all three biometrics (finger, face, and hand) can be active at the same time. The phone uses the whole top half of the display as a speaker, serving as the earpiece during calls, and one of two stereo speakers when watching video. The design is largely similar to last year's G7, but with a sleeker back that puts the standard and wide cameras completely under the smooth glass back. As LG's main flagship phone for 2019, the G8 ThinQ has a 6.1" quad-HD+ OLED display, Snapdragon 855 processor, 6 GB of RAM, 128 GB built-in storage, 32-bit Hi-Fi Quad DAC, IP68 water resistance, and Android 9 (Pie). It has both a 3.5mm audio jack and a memory card slot. The battery rates 3,500 mAh and it supports Quick Charge 3.0. The main camera is 12 megapixels with an f/1.5 aperture, while the wide-angle camera has 16 megapixels and an f/1.9 aperture. A new night mode combines 10 burst shots into one, to reduce noise. It can also apply a bokeh (blurred background) effect to video. The standard portrait mode is adjustable and has studio-effect options. The G8 will be available from major US carriers, including T-Mobile, and national retailers "in the coming weeks", available in black, silver, and red.
---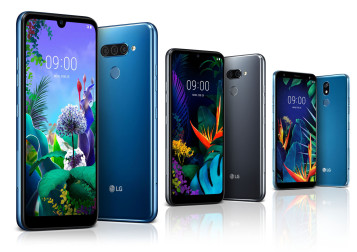 LG's new mid-range phones for 2019 all feature tall 2:1 displays, fingerprint readers, a dedicated Google Assistant button, and "AI CAM" automatic scene detection and mode selection, a feature thus far found only on higher-end phones. LG announced the Q60, K50, and K40 today, ahead of the MWC trade show next week.
Q60: 6.26-inch display with a small notch, three rear cameras (16mp main, 5mp wide, and 2mp depth), 13mp selfie camera, 3,500 mAh battery, 3 GB RAM, and 64 GB storage.
K50: The same 6.26-inch display with a small notch, two rear cameras (13mp main and 2mp depth), 13mp selfie camera, 3,500 mAh battery, 3 GB RAM, and 32GB storage.
K40: 5.7-inch display, 16mp camera, 8mp selfie camera, 3,000 mAh battery, 2 GB RAM, and 32 GB of storage.
They all have memory card slots supporting cards up to 2 TB and DTS:X 3D surround sound. Further details of the three phones will be revealed next week at the MWC trade show.
---
The LG G8 ThinQ, the company's next flagship phone, will have a 3D face scanner for biometric security, and use its screen surface as the phone earpiece. LG has made several announcements leading up to the phone's launch about its features, also confirming the phone's name — the LG G7 ThinQ — and that it will be fully unveiled at the MWC trade show, which takes place the week of February 24th. The 3D face scanner will provide "sophisticated security for phone unlocking and payment authentication". The scanner is an Infineon REAL3 image sensor chip. It's tuned to infrared light and uses its own infrared light source so it's unaffected by ambient light. It uses time of flight (ToF) technology, which measures the time it takes for light to make the round trip to and from objects the light reflects off of. The screen-based earpiece is technology LG calls Crystal Sound OLED (CSO). LG developed CSO in-house, and says it "repurposes the OLED display as a diaphragm, vibrating the entire surface to produce sound with impressive volume." The G8 will also have a speakerphone using more traditional technology on the bottom, including the "Boombox" design (also found on the G7) that uses the interior of the whole phone as a resonance chamber to boost bass and volume.
---