MWC 2019
The world's largest annual mobile event - Mobile World Congress - takes place on the last days of February. We're on the ground in Barcelona to bring you all of the week's news. Tune in here for our full coverage, including hands-on with new phones from LG, Samsung, Alcatel, Nokia and more.
Also, follow us on Twitter for up-to-the-second news and extra content:
All Samsung LG Sprint AT&T more... Discuss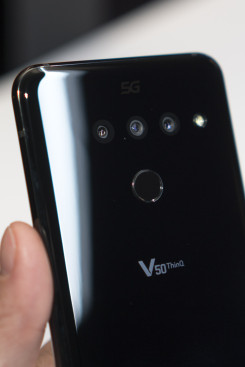 LG's V50 ThinQ is the first 5G phone for Sprint, and the first phone in the US to use 5G on low-frequency bands that provide broad coverage. LG took the V40 and somehow added both 5G and a larger battery, without making it any bigger. It keeps the V40's triple cameras, and other hallmark features of the V-series like wireless charging, 3.5mm audio jack... and memory card support. LG didn't leave anything out. There's also a sleek new design. How is it? We took it for a quick spin.
---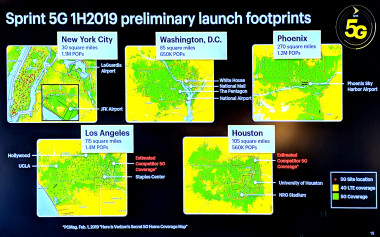 Sprint today released new details of the 5G network it will launch this May and June. Chicago, Atlanta, Dallas, and Kansas City will launch in May, while New York City, Los Angeles, Washington DC, Phoenix, and Houston will launch in June. The NYC, LA, and Phoenix networks will each cover over 1 million people. Los Angeles, Phoenix, Houston, Atlanta, Dallas/Ft. Worth, and Kansas City will all launch with over 100 square miles of 5G coverage, up to 270 square miles for the Phoenix area. The LA network will cover from downtown to the coast, The NYC network will cover most of Manhattan, La Guardia airport, and JFK airport. Ericsson, Nokia, and Samsung are providing the network equipment. Sprint's first 5G phone will be the LG V50 ThinQ, followed by the Samsung Galaxy S10 5G in the summer.
---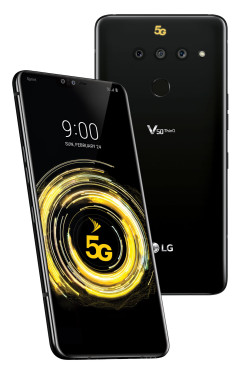 The LG V50 is the same size as last year's V40, but manages to include both 5G and a larger battery. Most other 5G phones this year are noticeably larger than their 4G counterparts. (The V50 is technically 0.7mm taller and 0.4mm thicker (8.3 vs 7.9mm) than the V40, a difference not obvious in person.) The V50's battery rates 4,000 mAh (compared to 3,300 in the V40). The V50 includes three rear cameras (standard, wide, and tele) plus two on the front (standard and wide). Its quad-HD OLED display measures 6.4 inches. A new vapor-chamber cooling system should reduce processor throttling during gaming sessions. Like the smaller G8, it has a Snapdragon 855 processor, 6 GB RAM, 128 GB built-in storage, stereo speakers, IP68 water resistance, fingerprint reader on the back, Quick Charge 3.0, NFC, stereo speakers, and 32-bit Hi-Fi Quad DAC. It has both a memory card slot and 3.5mm audio jack. Sprint will carry the V50 ThinQ first, this spring, followed by Verizon in the summer.
---
The Samsung Galaxy S10 series covers a wide range of prices, from $750 up to $1,600 for the best S10+, the Ceramic edition with 12 GB RAM and 1 TB storage. Although Samsung initially announced pricing only for the lowest-memory configuration of each S10 model, US carriers have now revealed additional details and deals, including pricing for the high-memory configurations, and monthly payment options. The pricing of the Galaxy S10 series is remarkably consistent across all US carriers, with up-front pricing being identical, and monthly options working out to an even split of the up-front price across the full term of the payment plans, with no interest. Most carriers are also offering special deals for multiple phones and/or adding lines to existing plans. Read on for full details.
---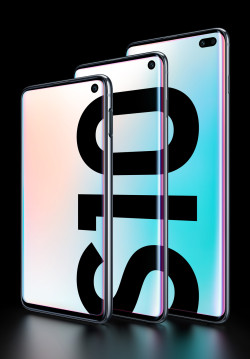 The tenth edition of Samsung's Galaxy S series of flagship phones includes, for the first time, four different models spanning a range of sizes and price points. Samsung announced the Galaxy S10 series today at an event in San Francisco. In addition to the standard S10 and (larger) S10+ that mirror pervious years' offerings, Samsung also revealed a smaller, cheaper S10e, as well as the S10 5G, which is even larger than the S10+. All of the S10 models include the new, top-end Snapdragon 855 processor, Cat. 20 LTE, a new "Dynamic" AMOLED display with hole-punch design and HDR10+, and two-way wireless charging that can charge other phones or accessories. For photography, they all include the same 12-megapixel main camera as the S9 (with dual-pixel and dual-aperture technology), a 16-megapixel wide-angle camera, and a new 10-megapixel, auto-focus front camera that can record 4K video. All models keep the 3.5mm audio jack, as well as IP68 rating for water-resistance. Most S10 models (the S10e excluded) also have an ultrasonic fingerprint reader embedded in the display, a third camera on the back for telephoto shots, an Infinity Edge display that curves at the sides for thinner bezels, heart rate sensor, and a minimum of 8 GB of RAM / 128 GB built-in storage. The S10 5G also adds 3D depth cameras to both the front and back and 25W fast charging. The S10, S10e, and S10+ go on sale worldwide March 8th, with pre-orders available starting tonight at midnight Eastern time. Those models will be available in the US in Prism Black, Prism White, Prism Blue, and Flamingo Pink (which is based on Pantone's color of the year, Living Coral). Pricing will be the same unlocked and at all major US carriers: The S10e will start at $750, the S10 at $900, and the S10+ at $1,000. Variants with added memory will cost more. All four top US carriers will offer all four models. Those who pre-order the S10 or S10+ will receive a free set of Galaxy Buds fully wireless earbuds (normally $129). Samsung is also offering trade-in deals worth up to $550. The S10 5G will be available in the 2nd quarter, first with Verizon before the middle of the year, followed by AT&T, Sprint, T-Mobile, Spectrum, and Xfinity "at a later date this summer." Read on for more details.
---