Samsung Grows Galaxy S Family with S10, S10+, S10e, and S10 5G
Article Comments
Feb 20, 2019, 2:30 PM by Rich Brome
updated Feb 25, 2019, 7:54 AM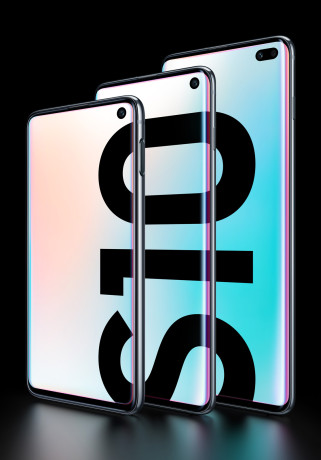 The tenth edition of Samsung's Galaxy S series of flagship phones includes, for the first time, four different models spanning a range of sizes and price points. Samsung announced the Galaxy S10 series today at an event in San Francisco. In addition to the standard S10 and (larger) S10+ that mirror pervious years' offerings, Samsung also revealed a smaller, cheaper S10e, as well as the S10 5G, which is even larger than the S10+. All of the S10 models include the new, top-end Snapdragon 855 processor, Cat. 20 LTE, a new "Dynamic" AMOLED display with hole-punch design and HDR10+, and two-way wireless charging that can charge other phones or accessories. For photography, they all include the same 12-megapixel main camera as the S9 (with dual-pixel and dual-aperture technology), a 16-megapixel wide-angle camera, and a new 10-megapixel, auto-focus front camera that can record 4K video. All models keep the 3.5mm audio jack, as well as IP68 rating for water-resistance. Most S10 models (the S10e excluded) also have an ultrasonic fingerprint reader embedded in the display, a third camera on the back for telephoto shots, an Infinity Edge display that curves at the sides for thinner bezels, heart rate sensor, and a minimum of 8 GB of RAM / 128 GB built-in storage. The S10 5G also adds 3D depth cameras to both the front and back and 25W fast charging. The S10, S10e, and S10+ go on sale worldwide March 8th, with pre-orders available starting tonight at midnight Eastern time. Those models will be available in the US in Prism Black, Prism White, Prism Blue, and Flamingo Pink (which is based on Pantone's color of the year, Living Coral). Pricing will be the same unlocked and at all major US carriers: The S10e will start at $750, the S10 at $900, and the S10+ at $1,000. Variants with added memory will cost more. All four top US carriers will offer all four models. Those who pre-order the S10 or S10+ will receive a free set of Galaxy Buds fully wireless earbuds (normally $129). Samsung is also offering trade-in deals worth up to $550. The S10 5G will be available in the 2nd quarter, first with Verizon before the middle of the year, followed by AT&T, Sprint, T-Mobile, Spectrum, and Xfinity "at a later date this summer." Read on for more details.
source: Samsung
Article
The main rear camera on all models is 12 megapixel with OIS, dual-pixel, 77º field of view, and dual aperture: f/1.5 and f/2.4. The ultra-wide camera on all models is 16-megapixel fixed-focus with f/2.2 aperture and a 123º field of view. The telephoto camera, on models that have it, is 12 megapixel and has OIS, PDAF, f/2.4 aperture, and 45-degree field of view.
S10e
The S10e shaves size and cost by having its fingerprint reader embedded in the side lock button instead of under the display. It also lacks the zoom camera and heart rate sensor. The battery rates 3,100 mAh. Its base configuration is 6 GB RAM / 128 GB storage , although it's also available with 8 / 256 GB.
The 5.8-inch display is full HD+ instead of quad-HD+. It doesn't curve at the sides, so the side bezels are a little thicker, making the bezels more even all around the phone.
However the processor, main camera, 123º ultra-wide camera, front camera, AKG-tuned stereo speakers, and Dynamic AMOLED technology are the same top-end quality in the S10e as in the pricier models. And the S10e shares the same advanced features like Cat. 20 LTE, Wi-Fi 6, fast wireless charging, and Wireless Power Sharing.
S10 / S10+
The S10+ is mostly just a larger S10, but there are a few other differences.
Both have a design that looks very similar to the S9 / S9+. Both have the ultrasonic fingerprint reader under the display. Both have the 45º "2x zoom" camera and heart rate sensor next to it. Both have quad-HD+ displays with the "Edge" design that's curved at the sides for thinner bezels.
The S10 display measures 6.2 inches while the S10+ measures 6.4 inches. As you might expect, the battery is also larger in the S10+ (4,100 vs. 3,400 mAh).
The S10+ adds a second camera to the front, which is strictly for depth, to produce a better portrait (bokeh / blurred background) effect. It also has vapor chamber cooling, for better gaming performance.
Finally, only the S10+ is available in a special Ceramic edition with an actual ceramic back (white or black). The Ceramic edition will be available with a whopping 12 GB of RAM and 1 TB of built-in storage.
S10 5G
The 5G edition is a super-sized version of the S10+. Its display measures 6.7 inches and the battery rates 4,500 mAh. It has a unique pearlescent color and finish on the back that's even more prism-y than the Prism White. It also adds a 3D depth cameras on both sides, using the same ToF technology that many phone makers are expected to deploy on flagship phones this year. It also has "Super Fast Charging" at 25W and is compatible with USB-PD 3.0. It does not have a memory card slot, but does come with 256 GB of built-in storage.
All of the S10 models have NFC, Samsung Pay with MST, support for Samsung DeX desktop mode, Android 9.0, Bluetooth 5.0, and Wi-Fi 6 (802.11ax).
The table below highlights the spec differences between the four models, and be sure to check out our hands-on article and video as well.
S10e
S10
S10+
S10 5G
display
5.8"
Full-HD+
flat
6.1"
Quad-HD+
Edge (curved)
6.4"
Quad-HD+
Edge (curved)
6.7"
Quad-HD+
Edge (curved)
rear cameras
12mp dual-aperture
16mp ultra-wide
12mp dual-aperture
16mp ultra-wide
12mp 2x tele
12mp dual-aperture
16mp ultra-wide
12mp 2x tele
12mp dual-aperture
16mp ultra-wide
12mp 2x tele
3D depth (ToF)
front cameras
10mp auto-focus
10mp auto-focus
10mp auto-focus
8mp depth
10mp auto-focus
3D depth (ToF)
fingerprint reader
side button (capacitive)
in-display (ultrasonic)
in-display (ultrasonic)
in-display (ultrasonic)
memory options (RAM / storage)
6 / 128 GB
8 / 256 GB
8 / 128 GB
8 / 512 GB
8 / 128 GB
8 / 512 GB (Ceramic)
12 GB / 1 TB (Ceramic)
8 / 256 GB
expansion
microSD
microSD
microSD
(none)
data
Cat. 20 LTE
Cat. 20 LTE
Cat. 20 LTE
Cat. 20 LTE
5G NR NSA
battery
3,100 mAh
3,400 mAh
4,100 mAh
4,500 mAh
charging
fast charging
Fast Wireless Charging 2.0
Wireless PowerShare
fast charging
Fast Wireless Charging 2.0
Wireless PowerShare
fast charging
Fast Wireless Charging 2.0
Wireless PowerShare
25W Super Fast Charging
Fast Wireless Charging 2.0
Wireless PowerShare
processor
Snapdragon 855
No messages