Hands On with Sony's New Extra-Tall Phones
Article Comments 1
Feb 28, 2019, 5:38 PM by Rich Brome @rbrome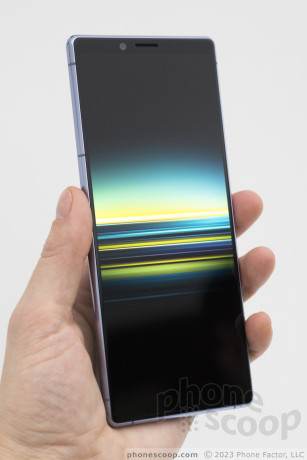 Sony's new phones for 2019 have an unusual display aspect ratio that makes them unusually tall. The Xperia 1 and 10 Plus are a normal width, but much taller than other phones, thanks to extra-tall displays plus a "forehead". The Xperia 10 is a similar shape but smaller, giving it a normal height but narrow width. That makes my impressions of the 10 much different than the other two. Read on for my full hands-on first impressions.
Advertisements article continues below...
You have to admire the courage of Sony in trying these 21:9 displays. The "tall" displays on other phones range from 18:9 (2:1) to 19.5:9 at the tallest. 21:9 really is quite a different shape of display, and it affects everything about the phone. I give Sony a lot of credit for going out on a limb and offering something truly new and different. With their current market position, they really need to do something unique to stand out, and this achieves that.
With that said, the execution isn't entirely successful for me. The 1 and 10 Plus are simply too tall.
What really puzzles me is the relatively large "forehead" above the display. If there were ever phones that needed a notch (etc.) to minimize the top bezel and make the phone height reasonable, it would be these. But alas, the forehead simply adds to an already tall phone, making it something that simply won't fit comfortably in any pocket. Of course not everyone carries their phone in their pocket, but enough people do that I worry for these phones' sales on that basis alone.
And if you need a large bezel at one end of the phone, it should be the
at the bottom, not the top. A small "chin" can actually improve one-handed use. The forehead doesn't help.
The smaller 10 is a different story. It uses the unusual screen aspect ratio to make the phone narrower than most phones, rather than taller, and that makes all the difference. Here, finally, is phone that gives people with smaller hands a large screen that's still very comfortable to hold. I like this size and shape. A lot. And the rest of the design also helps it feel great to hold. I hope Sony finds some success with the 10, and/or someone else picks up on this idea. It would still be better if a notch (etc.) helped chop a little height off the top, but it works well enough as-is.
Although I like the quality plastic materials, looks-square-but-feels-rounded shape, and minimalist design of the 10 and 10 Plus, the keys and side fingerprint reader are not great. The buttons are all tiny and awkwardly-placed. The lock button in particular is way too small and flush with the surface. I had trouble finding it by feel. The fingerprint reader is mirrored so it collects fingerprints like that's it's job. (It is, of course, but you know what I mean.)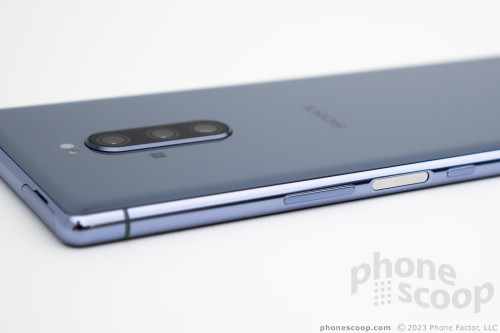 The 1 feels even nicer with its metal and glass design, but is hampered by the same height issue, and poor buttons.
The software on the 10 and 10 Plus is mostly good. The "Side Sense" feature helps with the fact that the top and bottom of the display are so difficult to reach one-handed: A thin line on the very side of the display can swiped to serve as a "back" button. Or you can double-tap it to bring up some shortcuts to apps and certain quick settings. That's a nice touch, although I found the line distracting and the shortcut controls a little unintuitive at first.
Sony isn't finished with the software for the Xperia 1 yet, and so wasn't showing that.
The Xperia 10 has a Snapdragon 630 processor, 3 GB of RAM, full-HD+ display, and a 2,870 mAh battery. I'm worried that the battery is too small; it's below-average. But Sony has a lot of proprietary power-saving technology, so it's possible that will be adequate. If you're looking for a phone with these kinds of specs, then the Xperia 10 looks promising with its unique form factor.
But if you're looking for a higher-end phone, I have reservations recommending the Xperia 10 Plus and Xperia 1. Certainly skip them if you usually carry your phone in your pocket.
Where's the Xperia 1 Compact?
Though I much preferred the XZ1's metal back to glass...hopefully they announce a compact model again...