CES 2014
The grand-daddy of consumer electronics shows takes place the week of January 6th. We're reporting all week from Las Vegas, with liveblogs, hands-on reports, and more.
Bookmark this page and don't miss a thing!
All Liveblogs AT&T ZTE T-Mobile more... Discuss 3
The Aio brand's days may be numbered - since AT&T plans to replace the brand with Cricket - but for now, they're still around and pumping out new phones. Their latest is the Sonata from ZTE, a basic Android phone.
---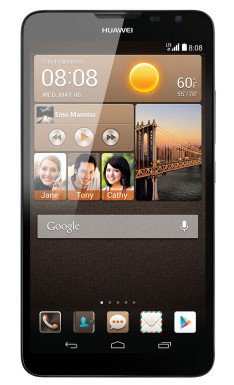 Huawei today announced the Ascend Mate2 4G, the follow-up to its Ascend Mate phablet. The Mate2 will have 4G LTE compatible with both AT&T and T-Mobile networks in the U.S. Like the original, it sports a 6.1-inch display, although the Mate2 has a much smaller bezel, giving it the best screen-to-body ratio in the industry, according to Huawei. The Mate2 is powered by a Qualcomm Snapdragon 400 quad-core processor at 1.6 GHz. It has a large 4050 mAh battery and can even be used to charge other phones. The main camera is 13-megapixel and the front camera is an unusual 5-megapixels with a wide-angle lens, for high-quality selfies. The screen is super-sensitive, supporting use through standard gloves. It runs Huawei's Emotion UI 2.0, which supports mini-apps that float above other apps, and a driving mode with a simplified interface. Pricing and release timing were not immediately available.
---
The G Flex is LG's entrant in the new curved-screen superphone category. It has everything the G2 and G Pro have, plus a huge 6-inch curved screen. It's now official for AT&T, T-Mobile, and Sprint, and we went hands-on with the U.S. versions.
---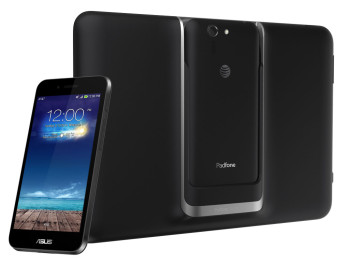 AT&T and Asus today announced that AT&T will carry the PadFone X, which is a smartphone/tablet combo device. The PadFone X has both a 5-inch smartphone and a 9-inch tablet that dock with one another. Both screens are full 1080p HD. The screen and apps will instantly transition from the smartphone to the tablet when the smartphone is docked with the tablet. The PadFone X tablet device has a soft-touch back cover, a metallic frame, and stereo speakers. It includes a large battery that will charge the smartphone device when it is docked. The PadFone is one of the first from AT&T to include LTE-Advanced technologies, such as Carrier Aggregation. It supports both VoLTE and HD Voice, which are firsts for AT&T. The Asus PadFone X runs Android 4.4 Kit Kat. Pricing and availability will be shared closer to launch.
---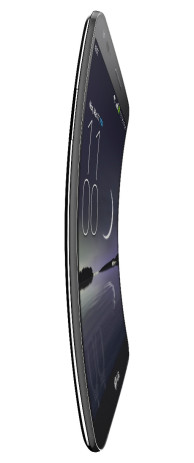 AT&T today announced that it will sell the curved LG G Flex smartphone. LG announced the G Flex in October and it is already available for sale in several markets overseas. It has a curved, plastic OLED display, which measures 6 inches across the diagonal and has 720p HD resolution. The plastic OLED display is flexible, durable, brighter, and more precise than traditional OLEDs thanks to the materials and use of Real RGB pixels. The curved screen is paired with a curved 3,500mAh battery. The G Flex had a "self-healing" coating on the back cover, which is elastic and can recover from daily wear-and-tear. The G Flex positions the volume and control buttons on the back surface, rather than the sides edges. Other features include QTheater, which gives users quick access to photos, videos, and YouTube from the lock screen; Dual Window split-screen multitasking; Swing Lockscreen, which alters the appearance of the lock screen depending on how the G Flex is held; Face Detection Indicator to let users know when the G Flex sees their face; and Camera Timer and Urgent Call Alert, which flash the LED on the rear key to indicate the timer is counting down or there is an emergency incoming call. The G Flex runs Android 4.2.2 and is powered by a 2.26GHz quad-core Qualcomm Snapdragon 800 processor that is paired with an Adreno 330 GPU and 2GB of RAM. The main camera rates 13 megapixels and the user-facing camera rates 2 megapixels. It includes Wi-Fi, GPS, Bluetooth 4.0, NFC. Pricing and availability were not shared by AT&T, although LG announced plans for a Q1 release.
---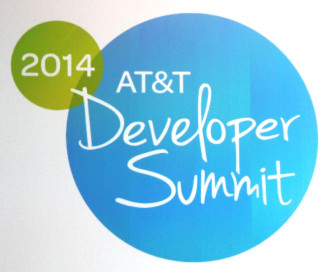 At every CES, AT&T holds a parallel developer event nearby. In past years, they've used the keynote to announce (or pre-announce) new phones; 2012 saw the introduction of seven new LTE smartphones. Tune in live for our up-to-the-minute coverage of everything AT&T has to share at CES.
---
ZTE today said that it plans to show off a number of new devices at the Consumer Electronics Trade show in Las Vegas next week. Several of the gadgets had not been announced before today.
Grand S II: This follow-up to last year's flagship Android smartphone is what ZTE calls a "high-precision voice phone" able to act on commands, such as unlocking and picture-taking. It also features three mics to help improve the clarity of voice calls.
Nubia 5S / 5S Mini: The larger Nubia 5S has a 5-inch 1080p HD screen, 13-megapixel Sony RS camera sensor with f/2.0 aperture, and 4K Ultra HD video capture. The 5S Mini has a 4.7-inch IGZO display from Sharp and comes in different colors. Both devices are powered by quad-core Qualcomm processors.
Sonata 4G: This Android smartphone is headed to AT&T's Aio Wireless prepaid service. It includes a 4-inch screen, 1.4GHz Qualcomm Snapdragon 400 dual-core processor, and 5-megapixel camera with 720p HD video capture.
Phablet: ZTE teased the release of its first phablet device at CES, which it says will have a 5.7-inch HD screen with Gorilla Glass, quad-core processor, Dolby Digital, and wireless charging. The unnamed device will be able to run two apps on the screen at the same time, similar to the Samsung Galaxy Note.
Projector Hotspot: ZTE has created a Wi-Fi mobile hotspot that also includes a projector. ZTE says the Projector Hotspot will be ideal for sharing video content anywhere, while also supporting LTE access for up to eight devices.
BlueWatch: ZTE's first smartwatch is called the BlueWatch. The device includes a pedometer and can record and analyze user movement data at all times. The BlueWatch connects to smartphones via Bluetooth and enables access to calls, social media updates, and photos.
AT&T Wireless Home Base: ZTE is prepared to offer its own AT&T Wireless Home Base device. The home base will let people use AT&T's wireless network, rather than copper or fiber, for their home-based voice services.
ZTE said more details about all these products will be made available during CES.
---