AT&T to Sell LG G Flex
Article Comments 19
Jan 6, 2014, 12:00 PM by Eric M. Zeman
updated Jan 6, 2014, 1:39 PM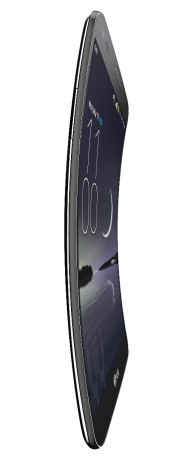 AT&T today announced that it will sell the curved LG G Flex smartphone. LG announced the G Flex in October and it is already available for sale in several markets overseas. It has a curved, plastic OLED display, which measures 6 inches across the diagonal and has 720p HD resolution. The plastic OLED display is flexible, durable, brighter, and more precise than traditional OLEDs thanks to the materials and use of Real RGB pixels. The curved screen is paired with a curved 3,500mAh battery. The G Flex had a "self-healing" coating on the back cover, which is elastic and can recover from daily wear-and-tear. The G Flex positions the volume and control buttons on the back surface, rather than the sides edges. Other features include QTheater, which gives users quick access to photos, videos, and YouTube from the lock screen; Dual Window split-screen multitasking; Swing Lockscreen, which alters the appearance of the lock screen depending on how the G Flex is held; Face Detection Indicator to let users know when the G Flex sees their face; and Camera Timer and Urgent Call Alert, which flash the LED on the rear key to indicate the timer is counting down or there is an emergency incoming call. The G Flex runs Android 4.2.2 and is powered by a 2.26GHz quad-core Qualcomm Snapdragon 800 processor that is paired with an Adreno 330 GPU and 2GB of RAM. The main camera rates 13 megapixels and the user-facing camera rates 2 megapixels. It includes Wi-Fi, GPS, Bluetooth 4.0, NFC. Pricing and availability were not shared by AT&T, although LG announced plans for a Q1 release.
Advertisements article continues below...
That's what they told us at the time. I guess LG kept them in the dark about the other carriers.