Huawei Announces Ascend Mate2 for U.S.
Article Comments
Jan 6, 2014, 1:58 PM by Rich Brome @rbrome
updated Jan 6, 2014, 1:59 PM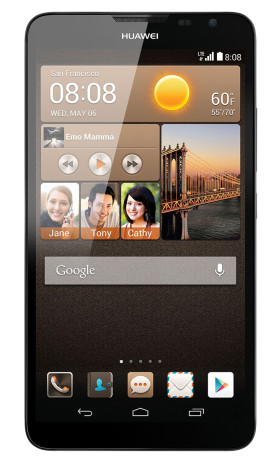 Huawei today announced the Ascend Mate2 4G, the follow-up to its Ascend Mate phablet. The Mate2 will have 4G LTE compatible with both AT&T and T-Mobile networks in the U.S. Like the original, it sports a 6.1-inch display, although the Mate2 has a much smaller bezel, giving it the best screen-to-body ratio in the industry, according to Huawei. The Mate2 is powered by a Qualcomm Snapdragon 400 quad-core processor at 1.6 GHz. It has a large 4050 mAh battery and can even be used to charge other phones. The main camera is 13-megapixel and the front camera is an unusual 5-megapixels with a wide-angle lens, for high-quality selfies. The screen is super-sensitive, supporting use through standard gloves. It runs Huawei's Emotion UI 2.0, which supports mini-apps that float above other apps, and a driving mode with a simplified interface. Pricing and release timing were not immediately available.
No messages