Hands On with the Huawei Ascend Mate2
Article Comments 2
Jan 6, 2014, 2:51 PM by Rich Brome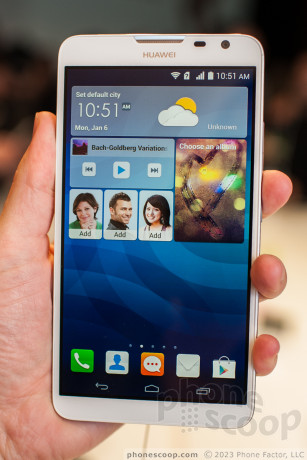 Huawei's phablet for 2014 is the Ascend Mate2 4G. It's a 6.1-incher with a lot of features, but trims a few things to make it more affordable than the competition. Check out our hands-on impressions.
Huawei's Ascend Mate2 4G is Huawei's second go at a major global phablet. They've taken last year's Ascend Mate and improved it in many ways.
Going up against juggernauts Samsung and LG isn't easy. Wisely, Huawei isn't positioning the Mate2 against the Galaxy Note 3. This isn't quite a kitchen-sink phone. It comes close, but they're skimping on the display and processor, presumably in order to position this as the more affordable phablet that's still packed with features. It only has a Snapdragon 400 inside, clocking in at 1.6 GHz, although it is the newer quad-core version, (the MSM8928,) so it should be a bit faster than last year's Snapdragon 400 phones. In use, it seems fast enough at standard tasks, including web browsing. The camera is a little slow, though.
The display is 6.1 inches on the diagonal; it's huge. It's only 720p resolution. It really looks nice for a 720p display, but if you look closely for pixels, you'll see them. If you care that much about pixel density, you probably stopped reading at Snapdragon 400 anyway. Huawei has carefully chosen which features to dial down to reach a certain price point, and the display and processor are good places to start when targeting people who don't need the bleeding edge in their phone.
The body has a nice white glass front, with two slivers of silver for an earpiece, in two different textures. It's a classy face. The sides are one wrap-around band of what looks like brushed silver-tone metal. The volume and lock buttons on the right are also silver color, with a rough texture that makes them quite easy to find and press. They work well. The audio jack is up top, and the micro-USB jack, on the bottom. So far, a classy design… then there's the back. The back is glossy white plastic, with a faint glitter design. It's slightly childish-looking, and collects fingerprints like mad.
As you'd expect, there's a 13-megapixel camera in back. Less expected is the 5-megapixel camera up front, for unusually nice selfies. In fact, they've put a lot of effort in the selfie experience, with a wide-angle lens and a special panorama mode designed just for super-selfies. It's odd to use, though; you snap yourself first, then a shot to the left, then to the right. It produces a neat snap of where you are (think a view of the Vegas Strip in the background) but it's slow and clumsy to use.
The battery is massive at 4,050 mAh. Huawei claims two days of battery life. In a clever twist, you can actually use the Mate2 to charge another phone.
Like LG and Samsung, Huawei has enhanced Android specifically for phablets, with mini-apps that float over other apps. The Mate2 also has a shortcut menu that floats over everything. Unlike the Note 3 with its stylus trigger, this menu is always there, as a simple translucent white dot. You can drag it around, if it's in the way. Tapping it brings up the semi-circular fan of shortcuts. (They're really copying Samsung here.)
In another move that should sound familiar, there's a cover accessory available with a window for viewing the time in standby. There's also a driving mode, and the screen works with standard gloves. There's no infrared port.
As a more affordable alternative to the (not at all affordable) Samsung Galaxy Note 3 and LG G Flex, the Ascend Mate2 looks worth considering, provided you don't need the fastest processor.
Looks good!
Wow... I never thought I'd say that about a Huawei.
6.1 Inches, you can hold this in your hand I would say about 20+ minutes before your hand cramps up and you drop the phone. Seriously, try holding this for an extended period of time, you won't be able to unless you have massive hands, same problem ...
(continues)