CES 2014
The grand-daddy of consumer electronics shows takes place the week of January 6th. We're reporting all week from Las Vegas, with liveblogs, hands-on reports, and more.
Bookmark this page and don't miss a thing!
All Liveblogs AT&T ZTE T-Mobile more... Discuss 3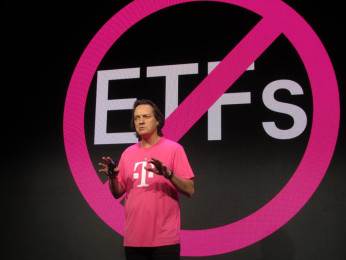 T-Mobile usually has an interesting press event at CES. They've also been hosting "Un-Carrier" press events recently to announce bold new strategic moves that are shaking up the industry. This year's CES will host T-Mobile's "Un-Carrier 4" event. T-Mobile has already put a stake in the heart of device subsidies and intro'd free global data roaming. What's next? Tune in live to find out. Or just tune in to be thoroughly entertained by CEO John Legere's razor-sharp jabs at his competitors. Either way, we'll have you covered right here.
---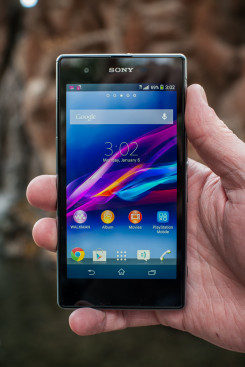 Sony announced the Xperia Z1S for T-Mobile, today. The device impresses with its waterproof design and high build quality. Here are Phone Scoop's first impressions.
---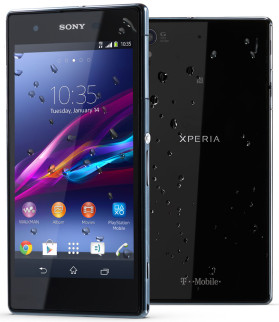 T-Mobile today announced that it will sell the Sony Xperia Z1S smartphone. The Z1S is a version of the Z1 that has been optimized for T-Mobile's network and has several other, minor hardware adjustments. The Z1 was first announced in September 2013. The Xperia Z1S features a 20.7-megapixel camera that has BIONZ for mobile image processing engine, a G Lens, and a 1/2.3-inch camera sensor. The camera has a burst mode than shoots 61 images: 30 before you press the shutter button, 1 when you press the shutter button, and 30 more after the shutter button has been pressed. Other camera features include an augmented reality mode that puts subjects in themed locations, such as with dinosaurs. The Z1S has a 5-inch full HD display with TriLuminos and X-Reality processing engines. It is powered by a 2.2GHz quad-core Snapdragon 800 processor with 2GB of RAM, and comes with 16GB of internal storage. It is waterproof and can stand up to 30 minutes in 4.9 feet of water. It includes Wi-Fi, NFC, GPS, and Bluetooth 4.0LE. It runs Android 4.3 Jelly Bean. T-Mobile said customers can preorder the Xperia Z1S beginning January 13 and it will be available online and in stores beginning January 22. T-Mobile is offering the device for $0 down with 24 monthly payments of $23 with the Simple Choice Plan. Further, Sony is offering customers who by the Xperia Z1S and PlayStation 4 a $100 Visa gift card. Last, the device comes with six free movie downloads from Sony's Video Unlimited service, as well as a 60-day free trial of Music Unlimited.
---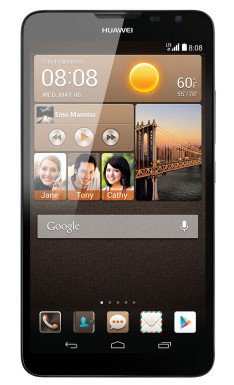 Huawei today announced the Ascend Mate2 4G, the follow-up to its Ascend Mate phablet. The Mate2 will have 4G LTE compatible with both AT&T and T-Mobile networks in the U.S. Like the original, it sports a 6.1-inch display, although the Mate2 has a much smaller bezel, giving it the best screen-to-body ratio in the industry, according to Huawei. The Mate2 is powered by a Qualcomm Snapdragon 400 quad-core processor at 1.6 GHz. It has a large 4050 mAh battery and can even be used to charge other phones. The main camera is 13-megapixel and the front camera is an unusual 5-megapixels with a wide-angle lens, for high-quality selfies. The screen is super-sensitive, supporting use through standard gloves. It runs Huawei's Emotion UI 2.0, which supports mini-apps that float above other apps, and a driving mode with a simplified interface. Pricing and release timing were not immediately available.
---
The G Flex is LG's entrant in the new curved-screen superphone category. It has everything the G2 and G Pro have, plus a huge 6-inch curved screen. It's now official for AT&T, T-Mobile, and Sprint, and we went hands-on with the U.S. versions.
---