CES 2014
The grand-daddy of consumer electronics shows takes place the week of January 6th. We're reporting all week from Las Vegas, with liveblogs, hands-on reports, and more.
Bookmark this page and don't miss a thing!
All Liveblogs AT&T ZTE T-Mobile more... Discuss 3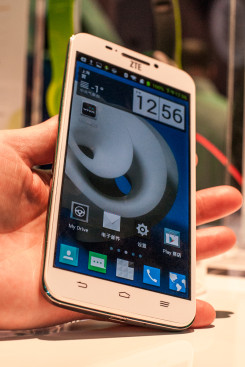 ZTE is back at CES this year with two big-screened phones, the Grand S II and Iconic Phablet. As their names imply, neither device is small in size, nor features.
---
The Aio brand's days may be numbered - since AT&T plans to replace the brand with Cricket - but for now, they're still around and pumping out new phones. Their latest is the Sonata from ZTE, a basic Android phone.
---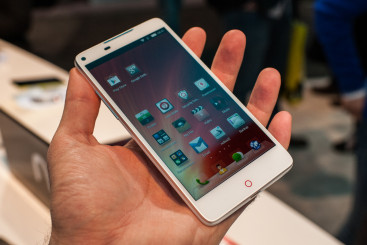 ZTE's "nubia" is a line of phones with premium design and features. It's a global brand, but also part of ZTE's push into higher-end phones in the U.S. Last year's nubia 5 was sold unlocked here, but was an expensive proposition for a phone lacking 4G LTE. ZTE has wisely fixed that glaring flaw with the nubia 5 S, and added some wild camera features, to boot, including 4K video capture. Read on for our hands-on impressions.
---
ZTE today formally announced the Grand S II, its flagship smartphone for 2014. The Grand S II makes heavy use of voice recognition technology in order to make the device easier to control without the use of your hands. According to ZTE, the Grand S II can recognize the owner's voice to unlock the phone, similar to the Motorola Moto X. Owners can use their voice to trigger the camera, which ZTE imagines will be helpful with group shots and selfies. ZTE took pains to improve the performance of its My-Drive application and voice commands for driving, which can be used to ask for directions or read incoming messages. The Grand S II makes use of three microphones to better reduce noise and boost call clarity, as well as capture high-fidelity audio via the voice recorder app. It uses Dolby sound paired with a Box speaker for improved music and video playback. The device runs Android and includes a 5.5-inch 1080p HD display, quad-core 2.3GHz Snapdragon 800 processor, 13-megapixel camera, 2-megapixel user-facing camera, 3,000mAh battery and 16GB of built-in storage. ZTE didn't say when the Grand S II will go on sale, nor how much it will cost.
---
ZTE today said that it plans to show off a number of new devices at the Consumer Electronics Trade show in Las Vegas next week. Several of the gadgets had not been announced before today.
Grand S II: This follow-up to last year's flagship Android smartphone is what ZTE calls a "high-precision voice phone" able to act on commands, such as unlocking and picture-taking. It also features three mics to help improve the clarity of voice calls.
Nubia 5S / 5S Mini: The larger Nubia 5S has a 5-inch 1080p HD screen, 13-megapixel Sony RS camera sensor with f/2.0 aperture, and 4K Ultra HD video capture. The 5S Mini has a 4.7-inch IGZO display from Sharp and comes in different colors. Both devices are powered by quad-core Qualcomm processors.
Sonata 4G: This Android smartphone is headed to AT&T's Aio Wireless prepaid service. It includes a 4-inch screen, 1.4GHz Qualcomm Snapdragon 400 dual-core processor, and 5-megapixel camera with 720p HD video capture.
Phablet: ZTE teased the release of its first phablet device at CES, which it says will have a 5.7-inch HD screen with Gorilla Glass, quad-core processor, Dolby Digital, and wireless charging. The unnamed device will be able to run two apps on the screen at the same time, similar to the Samsung Galaxy Note.
Projector Hotspot: ZTE has created a Wi-Fi mobile hotspot that also includes a projector. ZTE says the Projector Hotspot will be ideal for sharing video content anywhere, while also supporting LTE access for up to eight devices.
BlueWatch: ZTE's first smartwatch is called the BlueWatch. The device includes a pedometer and can record and analyze user movement data at all times. The BlueWatch connects to smartphones via Bluetooth and enables access to calls, social media updates, and photos.
AT&T Wireless Home Base: ZTE is prepared to offer its own AT&T Wireless Home Base device. The home base will let people use AT&T's wireless network, rather than copper or fiber, for their home-based voice services.
ZTE said more details about all these products will be made available during CES.
---