Hands On with the ZTE nubia 5 S
Article Comments
Jan 7, 2014, 7:05 PM by Rich Brome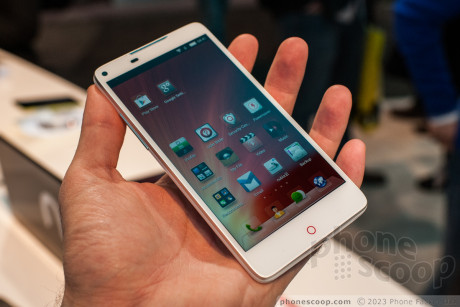 ZTE's "nubia" is a line of phones with premium design and features. It's a global brand, but also part of ZTE's push into higher-end phones in the U.S. Last year's nubia 5 was sold unlocked here, but was an expensive proposition for a phone lacking 4G LTE. ZTE has wisely fixed that glaring flaw with the nubia 5 S, and added some wild camera features, to boot, including 4K video capture. Read on for our hands-on impressions.
Article
Honestly, I have trouble imagining why anyone would have paid $450 (on Amazon) for the original nubia 5. For that money, you should really get LTE. Fortunately, the new nubia 5 S for the Americas has quad-band LTE that will work well with both AT&T and T-Mobile, plus full 3G and 2G support for those networks. As it should be.
The nubia 5 S is actually a pretty impressive phone. The design is sexy, the processor, top-notch, and the screen: lovely.
Where the nubia 5 S really shines, though, is the cameras. On the back you'll find a 13-megapixel camera with OIS (optical image stabilization) that can shoot 4K Ultra-HD video at 30 fps. ZTE is actually using Sony's Exmor RS sensor, which should deliver excellent quality. It can also shoot regular HD video at up to 120 fps, for smooth slow-motion when played back. The front camera rates an impressive 5 megapixels.
Even crazier is the camera software, which offers three separate draggable points for measuring focus, exposure, and white balance. If you've seen the Focal app for Android, (previously part of CyanogenMod,) it's a bit like that, but the white balance option is unique. It also has some wild options for combining two or more photos in a variety of creative ways. They can be a little tricky to figure out, but if you like to get creative with your photos, you'll have a blast experimenting with this feature.
The software has some tweaks to Android, but in typical ZTE fashion, not all of the changes are improvements. Fortunately, there are plenty of settings for turning off the features that get in the way for you.
One genuinely innovative feature is a one-handed mode that shrinks the whole screen down to one corner, so you can more easily use the phone with one hand. Just tilt the phone diagonally (pointing the bottom corner in your hand toward the ground) to activate it. Then just swipe diagonally to expand it back to full-screen mode. In our brief time with the phone, we activated this mode a few times by accident, which was infuriating. But if they can improve the activation algorithm before it launches in the U.S., it could be a really handy feature, given the large 5-inch screen.
The hardware is mostly great. They were showing off white, but it will be available in black, too. The front is all glass, of course. The left and right capacitive buttons are tiny, dim, red dots that are only visible part of the time. They do a lot for the design, at the expense of some usability for some. The glass is surrounded by a really nice metal band. It has the cool feel of real metal; it looks and feels very nice, adding a significant premium element to the design. The side buttons are good, and I was delighted to see a dedicated camera button. It's a bit wobbly, but it's a two-stage button that works. The back is, unfortunately, glossy white plastic. It's the only part of the design I really didn't care for. Otherwise it looks and feels quite nice overall.
The rest of the nubia 5 S specs include a Snapdragon 800 processor, 64 GB of storage, NFC, 3-mic noise cancellation, infrared port, and Slimport for connecting to TVs, etc. It really has just about everything.
ZTE also announced the nubia 5 S mini, which brings all of the specs down a notch compared to the 5 S, and scales the screen down to 4.7 inches. What's puzzling, though, is that it's not very "mini". In fact it's barely any smaller at all. You're basically just getting a lot less phone in a similar-size body. I imagine it will be cheaper, but otherwise I'm honestly not sure why anyone would want it.
ZTE isn't talking release timeframe or pricing yet, but you can bet it will command a premium, and I would guess will be sold unlock, online, like last year's model.
No messages