Hands On with the ZTE Sonata
Article Comments
Jan 7, 2014, 7:05 PM by Rich Brome @rbrome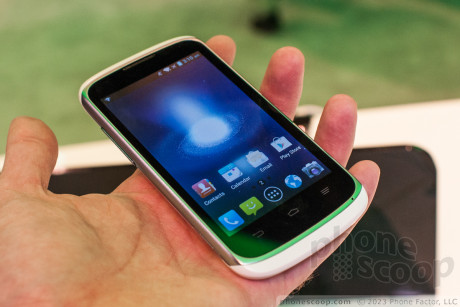 The Aio brand's days may be numbered - since AT&T plans to replace the brand with Cricket - but for now, they're still around and pumping out new phones. Their latest is the Sonata from ZTE, a basic Android phone.
Advertisements article continues below...
The Sonata is almost as basic as 3G Android phones can be, with its small 4-inch screen, low-end Snapdragon 400 processor, and 5-megapixel camera. With that said, I've seen recent low-end phones with worse screens, cameras, and processors. In most respects, the Sonata manages just one step above the lowest-end of what you'll see among Android phones. There are a few notable step-ups, though, including Gorilla Glass and active noise suppression.
The design is surprisingly unique and nice. It's small and light. It's all plastic and feels like it, but the very rounded shape and soft texture feel great to hold. The white and silver plastic design certainly doesn't look premium, but it's at least unique and not unattractive. It might be quite appealing for younger kids.
Gorilla Glass on the front should help it survive a kid's rough-and-tumble lifestyle, and the rest of the body feels solid and durable, which is unusual for such a light, all-plastic phone.
The buttons all work quite well. Actually, they're pretty great. There's a memory card slot conveniently located on the side, handy since the Sonata only comes with 4 GB of internal memory.
The software is close to standard Android 4.1, with just a few tweaks, including settings shortcuts in the notification shade.
If you're in the market for a cheap prepaid phone for your young 'un, your budget doesn't usually buy much style. That's where the Sonata stands out; it may be the most attractive phone in its category.
ZTE isn't talking release timeframe or pricing yet, but I would guess soon and cheap.
No messages