T-Mobile Will Sell Sony Xperia Z1S Flagship Phone
Article Comments 2
Jan 6, 2014, 8:00 PM by Eric M. Zeman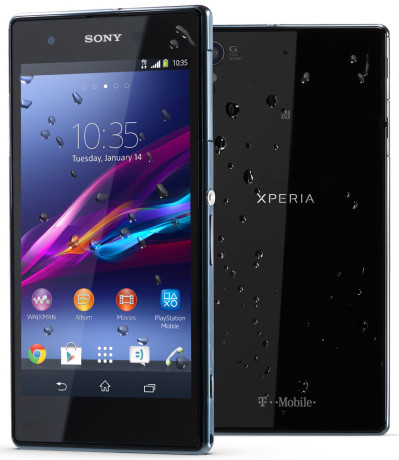 T-Mobile today announced that it will sell the Sony Xperia Z1S smartphone. The Z1S is a version of the Z1 that has been optimized for T-Mobile's network and has several other, minor hardware adjustments. The Z1 was first announced in September 2013. The Xperia Z1S features a 20.7-megapixel camera that has BIONZ for mobile image processing engine, a G Lens, and a 1/2.3-inch camera sensor. The camera has a burst mode than shoots 61 images: 30 before you press the shutter button, 1 when you press the shutter button, and 30 more after the shutter button has been pressed. Other camera features include an augmented reality mode that puts subjects in themed locations, such as with dinosaurs. The Z1S has a 5-inch full HD display with TriLuminos and X-Reality processing engines. It is powered by a 2.2GHz quad-core Snapdragon 800 processor with 2GB of RAM, and comes with 16GB of internal storage. It is waterproof and can stand up to 30 minutes in 4.9 feet of water. It includes Wi-Fi, NFC, GPS, and Bluetooth 4.0LE. It runs Android 4.3 Jelly Bean. T-Mobile said customers can preorder the Xperia Z1S beginning January 13 and it will be available online and in stores beginning January 22. T-Mobile is offering the device for $0 down with 24 monthly payments of $23 with the Simple Choice Plan. Further, Sony is offering customers who by the Xperia Z1S and PlayStation 4 a $100 Visa gift card. Last, the device comes with six free movie downloads from Sony's Video Unlimited service, as well as a 60-day free trial of Music Unlimited.
source: Sony
can anyone point out..
How the sony device does not infringe upon Rockstar's patents (as opposed to any other android device)? They all look the same to me.