Liveblog: AT&T Developer Summit
Article Comments 3
Jan 6, 2014, 11:00 AM by Eric M. Zeman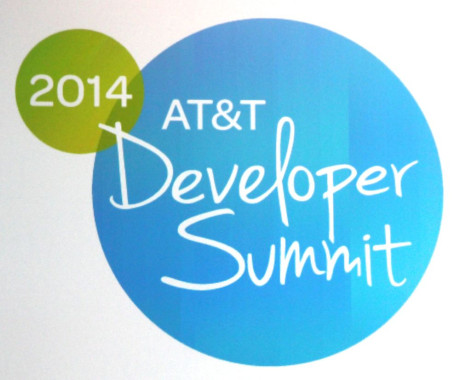 At every CES, AT&T holds a parallel developer event nearby. In past years, they've used the keynote to announce (or pre-announce) new phones; 2012 saw the introduction of seven new LTE smartphones. Tune in live for our up-to-the-minute coverage of everything AT&T has to share at CES.
AT&T Liveblog
Jan 6, 2014, 1:29 PM: It is the first to include LTE-Advanced features, such as VoLTE and HD Voice.
Jan 6, 2014, 1:29 PM: it has brought the CEO of ASUS on stage to talk about the PadFone X, a tablet/smartphone combo unit.
Jan 6, 2014, 1:29 PM: Oh, look, AT&T is announcing a new phone!
Jan 6, 2014, 1:23 PM: AT&T has a panel on stage how talking about the automotive ecosystem. They have reps from GM, Ericsson and Glimpse to discuss just how they think it will unfold over the coming years.
Jan 6, 2014, 1:16 PM: Also wants to focus on driver safety and will include voice commands and voice recognition to help make that a reality.
Jan 6, 2014, 1:15 PM: AT&T has launched a huge space in Atlanta specifically to help develop for cars. It includes a garage and developer tools to help cars get to the next stage of being connected.
Jan 6, 2014, 1:11 PM: AT&T wants the customer experience to be effortless, but also safe and secure and reliable. AT&T takes distracted driving seriously, so it will make sure that connected cars don't pose a safety threat.
Jan 6, 2014, 1:10 PM: AT&T knows that it needs a flexible and modular system for car makers that can be customized and individualized by the car makers.
Jan 6, 2014, 1:09 PM: AT&T's connected car business will be called: AT&TDRive - transform the connected vehicle to mobilize life.
Jan 6, 2014, 1:08 PM: Car makers want apps made just for their cars to help boost the in-car experience.
Jan 6, 2014, 1:07 PM: Connectivity, 4G hotspots, content, infotainment, applications, data/diagnostics. It's all coming.
Jan 6, 2014, 1:06 PM: Luria says cars are moving beyond just basic connectivity. AT&T sees the car as a smartphone on wheels.
Jan 6, 2014, 1:06 PM: He's moving on to the connected car, which is his main topic. In the US there are 16 million new cars purchased each year, with 63 million sold worldwide. That's a lot of devices to connect to the network.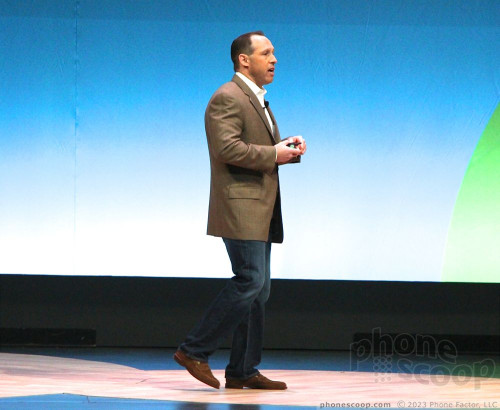 Jan 6, 2014, 1:03 PM: Lurie is recapping a bit of the past 20 years.
Jan 6, 2014, 1:01 PM: AT&T's Glen Lurie is on stage now. He's got a bit more personality than some of the previous presenters.
Jan 6, 2014, 12:54 PM: The first was a product called M that lets people get cash from the people around them while reimbursing them directly via their bank account.
Jan 6, 2014, 12:54 PM: AT&T is letting several of its developers hackers show off the results of their weekend efforts.
Jan 6, 2014, 12:52 PM: AT&T just showed a funny bit with its developers and the guy it uses for its commercials with kids. It's one of those "you had to be here" to really get it. Hopefully AT&T will make the video spots available somewhere on its developer portal.
Jan 6, 2014, 12:49 PM: The smoke detector also monitors air quality and uses a smartphone app that can be used to turn the alarm off remotely. It's called Birdi.
Jan 6, 2014, 12:48 PM: They are showing off a connected smoke detector that can send text message alerts to home owners know when there's a fire at their house, as well as automatically call emergency services. Neat.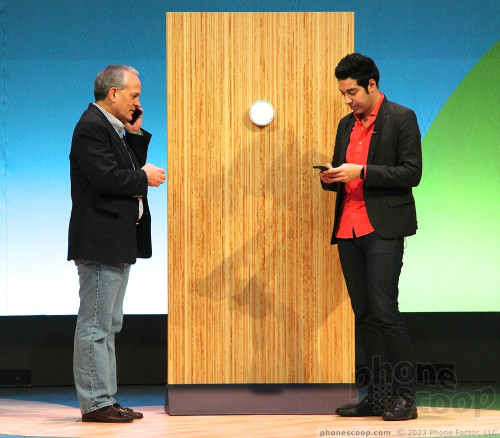 Jan 6, 2014, 12:41 PM: AT&T is moving on to its business solutions stuff. Andy Giesse, the head of AT&T's business solutions group, it stalking about the AT&T Mobile Identity API for developers.
Jan 6, 2014, 12:39 PM: These companies really think that using Sponsored Data will coax consumers into using their products and services, but they are healthcare and insurance companies, which is extremely boring to most consumers.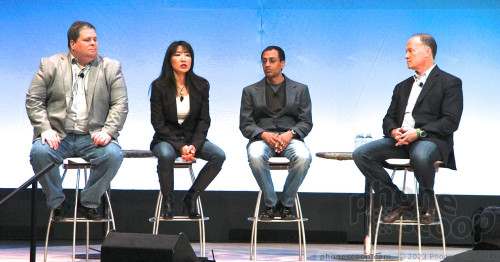 Jan 6, 2014, 12:37 PM: They are running a mini panel now with a handful of companies that might take AT&T up on its Sponsored Data idea, but this has to be the driest, most boring panel ever.
Jan 6, 2014, 12:34 PM: This means people who want to stream YouTube (for example) will be able to do so without impacting their monthly data usage. Instead of the user paying for the data, Google would pay for it. So far, no companies have actually signed up for it.
Jan 6, 2014, 12:33 PM: Donovan is talking about the new Sponsored Data idea, which will let companies, such as Google, pay for the data their apps/services use.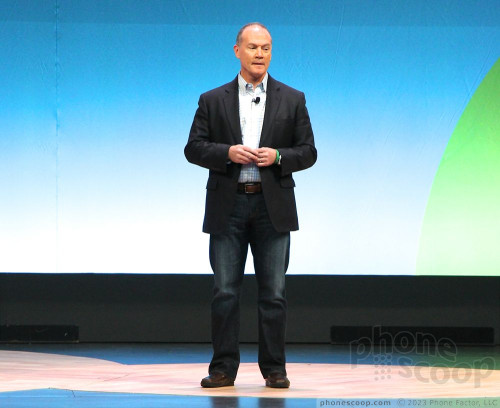 Jan 6, 2014, 12:31 PM: John Donovan is now taking the stage, he's the SVP of AT&T's network operations.
Jan 6, 2014, 12:29 PM: AT&T wants smartphones to serve as the remote control for our lives. It thinks smartphones can play a much bigger role than they already do in managing our daily activities, homes, and more.
Jan 6, 2014, 12:25 PM: AT&T is talking about a new speech API that should enable more speech-compatible apps. They are showing off a service they created using the digital narration API.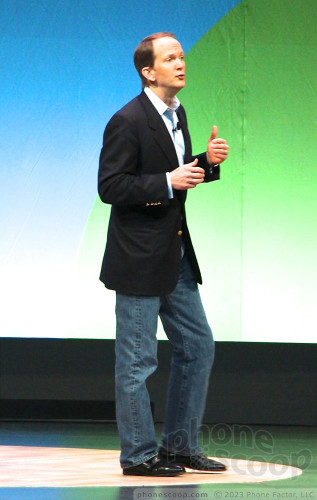 Jan 6, 2014, 12:16 PM: First topic for consideration is AT&T's API platform and program. Yay, APIs!
Jan 6, 2014, 12:13 PM: It lets people interact with their homes remotely.
Jan 6, 2014, 12:13 PM: AT&T's Digital Life product has exceeded its expansion goals for the last 12 months and it is available in 59 markets around the country.
Jan 6, 2014, 12:08 PM: AT&T targets T-Mobile and Verizon in a new add, talking up its LTE network.
Jan 6, 2014, 12:08 PM: AT&T CEO is on stage and talking about the day's agenda. Sharing some stats.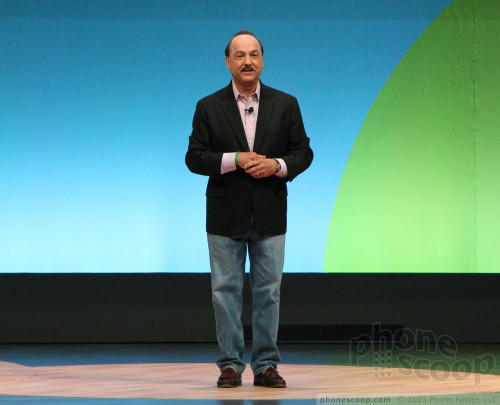 Jan 6, 2014, 12:04 PM: AT&T kicking things off with a video montage of developers doing developer-y things.
Jan 6, 2014, 12:02 PM: OK, starting just a couple minutes late while waiting for everyone to filter into the theater here at the Palms.
Jan 6, 2014, 11:58 AM: The show is about to get started folks. AT&T always has some interesting things to share at its annual develop conference. We're looking forward to what it has to say today.
Dress Code
Dungarees! You must be kidding. What are they, all a bunch of famers at AT&T.