All Liveblogs AT&T Samsung LG more...
Motorola CEO Sanjay Jha today indicated that the company hopes to make fewer phones during 2012 in order to conserve marketing resources. In an interview with The Verge, Jha also said that Motorola needs to be able to differentiate the Motorola experience when compared to the competition. "Verizon and AT&T don't want seven stock ICS devices on their shelves. The vast majority of the changes we make to the OS are to meet the requirements that carriers have." In short, Motorola will continue to offer its own user experience on Android devices, but there will be fewer of them this year.
Lenovo today indicated that it wants to sell smartphones in the U.S., according to an interview with Reuters. David Schmoock, Lenovo's North American chief, said, "I will spend time over the next couple of years building out the relationship with the mobile providers — AT&T, Sprint, Verizon, etc. You have to build out that network first, then that allows you to put products on the shelf." Schmook doesn't see Lenovo hitting U.S. retail stores imminently, but he is working to make it happen. Lenovo recently announced a new Android-based smartphone called LePhone 2 that will be sold in its home market of China.
Nokia want to sell an exclusive Windows Phone device with each of the major U.S. network operators, said Nokia's U.S. chief Chris Weber in an interview with Fierce Wireless. "The most important thing we can do in the U.S. market is bring exclusive devices and opportunities to each of the carriers. Doing that exclusivity and giving them something unique allows us to get great carrier support. I think it's critical for us to be successful in the U.S. That's the way you get great carrier support." Weber did not indicate that Nokia has concrete plans to offer such devices beyond those already for sale with AT&T and T-Mobile USA. Nokia hopes to win over first-time smartphone buyers, too, with inexpensive WP7 smartphones to get them hooked on the WP7 experience and the Nokia brand. Nokia plans to market its U.S. devices heavily in the coming months.
T-Mobile USA CEO Philip Humm today said that there are no new acquisition deals on the table and that the company is prepared to move forward without merging or being acquired by a competitor. Speaking to AllThingsD, Humm said, "There is no second AT&T deal around. Now it's really a question about restarting the business. We will give you more details probably by the end of the quarter. We are right now finalizing our plans." T-Mobile USA recently lost its bid to sell itself to AT&T. T-Mobile USA gained valuable spectrum and a roaming deal with AT&T has part of the break-up, but the company still needs to raise capital. Parent company Deutsche Telekom scored $3 billion in cash from AT&T, but it's not clear if it will reinvest that money in developing T-Mobile USA further.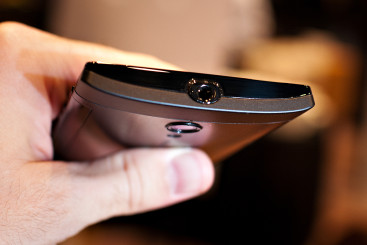 Here is a quick look at the Sony Xperia Ion, an LTE smartphone for AT&T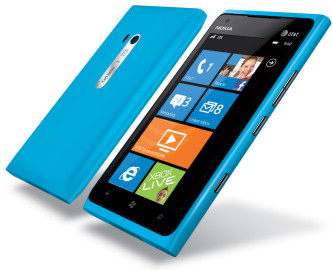 Nokia today announced the Lumia 900 Windows Phone device for AT&T at the Consumer Electronics Show in Las Vegas. The Lumia 900's stand-out feature is its support for AT&T's LTE 4G network. Other features of the Lumia 900 include a 4.3-inch AMOLED ClearBlack display, 1830 mAh battery, 1.4GHz processor, front-facing camera for video chats, and Carl Zeiss optics for the 8-megapixel main camera, and 512MB of RAM. The Lumia 900s design is based on the N9 and the Lumia 800, and is carved from solid polycarbonate. It will be an exclusive device for AT&T. Pricing and availability were not revealed.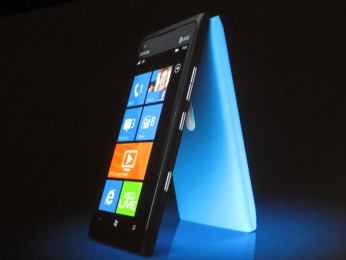 Nokia has promised us the first Windows Phone with 4G LTE, and it will be exclusive to AT&T. Tune it for details as they unfold!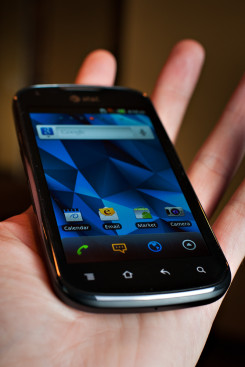 Pantech was one of a slew of companies that outed new Long Term Evolution 4G gear for AT&T today. The Pantech Burst is a nice little $50 LTE 4G smartphone.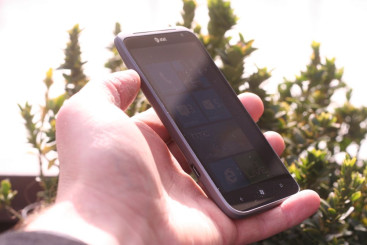 HTC dropped a Windows Phone-shaped bomb on AT&T today. The Titan II packs Long Term Evolution 4G and a 16-megapixel camera. Here are our first impressions.
Nokia CEO Stephen Elop today said that the company is going to launch its first Long Term Evolution 4G Windows Phone device in the U.S. market with AT&T. The New York Times earlier reported that Nokia would unveil the Lumia 900. Nokia has a separate press conference scheduled for Monday afternoon during CES in Las Vegas. It is expected to show the Lumia 900 at that time.
AT&T, Microsoft, and HTC today announced the Titan II, a new Windows Phone device that has Long Term Evolution on board. The Titan II has a 4.7-inch display, dual-core 1.5GHz processors, a 16-megapixel main camera, and a 1.3-megapixel user-facing camera. It has dual-LED flashes and can record video in 720p HD. The device will become available later this year.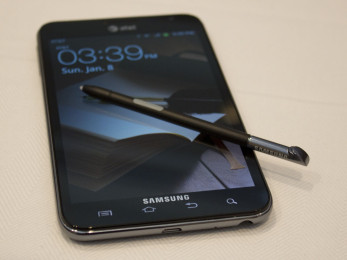 AT&T revealed that it will sell Samsung's monstrously large Galaxy Note smartphone/tablet. With its 5.3-inch display, the Note defies categorization.
AT&T today announced six new LTE phones, some with record-breaking high-resolution cameras.
Sony Ericsson Xperia Ion, an Android phone with a 12-megapixel camera with Sony Exmor R sensor and 4.7-inch full HD display. A front camera also supports 720p capture. It also sports HDMI-out and is PlayStation Certified.
HTC Titan II, with a 16-megapixel camera and a 4.7-inch Super-LCD display. Powered by a Qualcomm 1.5 GHz Snapdragon S2 processor.
Samsung Galaxy S II Skyrocket HD, with a full HD display measuring 4.65 inches, powered by a 1.5 GHz dual-core processor.
Samsung Galaxy Note, with a huge 5.3-inch display that borders on tablet size. A stylus is included, but not required. 1.5 GHz dual-core processor.
Samsung Exhilarate, an affordable LTE smartphone with a 4-inch Super AMOLED display and made from 80 percent recycled post-consumer materials.
Pantech Burst, with 4-inch Super AMOLED display and Android.
The last two devices will be available for less than $50 each.
AT&T today announced AppCenter, a new application store that is intended to help distribute HTML5-based applications to Android and other phones. The AppCenter will be accessible from a number of phones, and can link to third-party application stores, such as the Android Market. AT&T hopes developers will use its new APIs to increase the availability of HTML5-based apps.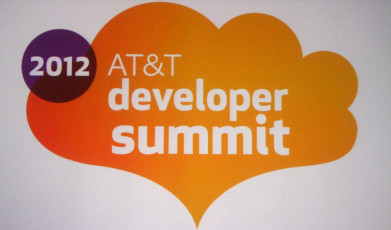 AT&T is hosting a summit for developers and will be sharing some big news about phones to come later this year. Phone Scoop is liveblogging the whole event for your entertainment right here!
Official Samsung posters on display at the CES event show the device with an AT&T logo, seemingly confirming that the phone/tablet device is coming to the carrier. An official announcement is expected on Monday.