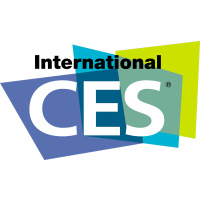 CES 2012
The grand-daddy of consumer electronics shows takes place the week of January 9th. A lot of cell phone news is expected, from LG, Samsung, Nokia, AT&T, Sprint, and more. We'll be reporting all week from Las Vegas, with liveblogs, hands-on reports, and other news . Our CES page collects all of our CES news in one place.
All Liveblogs AT&T Samsung LG more...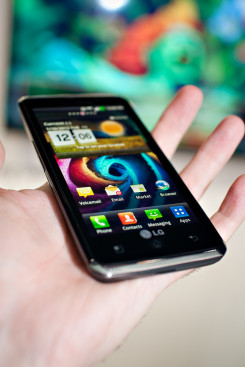 The Spectrum is LG's new flagship 4G LTE phone from Verizon. The display is huge and HD, yet it's thinner than last year's Revolution. How does it shape up?
---
All of the Long Term Evolution 4G devices released by Sprint this year will use only its 1900MHz spectrum, said Sprint spokesperson David Owen in an interview with Phone Scoop. Right now, Sprint doesn't have access to Clearwire's spectrum nor LightSquared's spectrum for LTE services, so it will repurpose its 1900MHz spectrum assets to handle both its current CDMA voice/data network and future LTE data network. Sprint plans to launch the LTE network, Samsung Galaxy Nexus, and LG Viper at approximately the same time, but couldn't commit to a specific date. Sprint believes its LTE roll-out will be complete by the end of 2013, though Owen wouldn't say how Clearwire and LightSquared's spectrum and LTE networks will play a role in that final 4G picture. Clearwire will not, however, expand its WiMax network beyond what it already covers and will eventually transition to LTE. Owen said that Sprint's goal is to offer smartphones and mobile hotspots that provide good battery life and fast internet speeds, no matter what network technology is being used. The new tri-network (CDMA, WiMAX, LTE) mobile hotspot offers that for data-hungry customers. Owen said that tri-network phones are cost prohibitive, so it will offer CDMA/WiMax and CDMA/LTE devices at the same time as it completes its transition from WiMax to LTE 4G networking technologies.
---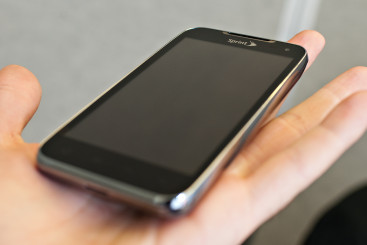 Sprint showed off one of its first LTE 4G smartphones at CES, the LG Viper. We took a quick look at it and here are our thoughts.
---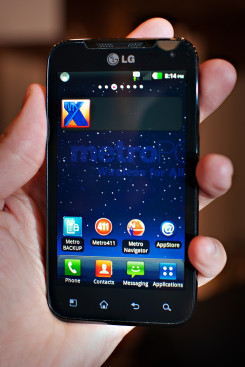 The LG Connect 4G is designed to be a relatively affordable LTE phone for carriers like MetroPCS. While it's small in size and price, it's no slouch in features. We spent some time with it.
---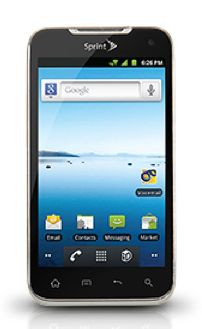 Sprint today provided a few details about the LG Viper, an upcoming Android smartphone that will be one of the first to use Sprint's forthcoming Long Term Evolution network. The LG Viper has Android 2.3 Gingerbread, a 4.0-inch WVGA touchscreen, 1.2GHz dual-core processor, a primary 5.0-megapixel camera and front-facing VGA camera, and Near Field Communication and Google Wallet. Sprint didn't say when the phone would launch, but its LTE network is set to go live before the middle of 2012.
---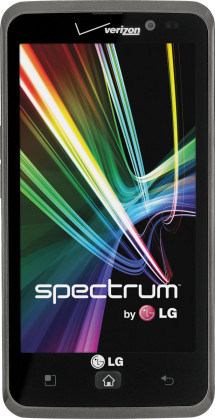 LG today announced the Spectrum for Verizon, following in the footsteps of the Revolution announced at this time last year. The Spectrum sports 4G LTE and a 4.5-inch true HD IPS display, like the Nitro for AT&T. It also sports a Qualcomm 1.5 GHz dual-core processor, 8-megapixel main camera, and 1.3-megapixel front camera. Other notable features include a Corning Gorilla Glass front, 16 GB included memory card, DLNA wireless video streaming, and HDMI output via MHL. The Spectrum will be available January 19th for $200 with 2-year contract.
---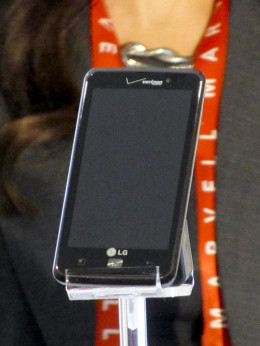 We're live at the LG's press conference at CES.
---
MetroPCS today announced the addition of the LG Connect 4G to its smartphone lineup. The LG Connect 4G can access MetroPCS's Long Term Evolution 4G network and includes a 4.0-inch Nova display with Gorilla Glass and a dual-core 1.2GHz processor. It has a 5-megapixel main camera with a flash, and 720p HD video capture, as well as a user-facing camera for video chats. The Connect 4G also includes Dolby Mobile for enhanced sound. The Connect 4G will be available from MetroPCS within the coming month, though pricing was not disclosed
---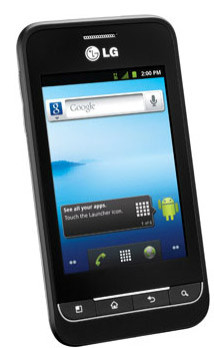 LG has revealed details of the LG Optimus 2 on its web site. This follow-up device runs Android 2.3 Gingerbread and features a 3.2-inch touch display with 320 x 480 pixels. The Optimus 2 is powered by an 800MHz processor and supports CDMA EVDO Rev. A networks in the 800/1900MHz bands. Other features include a 3.2-megapixel camera with autofocus and video capture; Bluetooth 3.0+EDR, GPS, and Wi-Fi; and support for microSD cards up to 32GB. LG didn't say which network will offer the Optimus 2, but its spectrum support earmarks it for a U.S. CDMA carrier. The Optimus 2 appears on the Alltel and CellCom web sites. Cellcom is selling it for $0.95 with a new two-year contract.
---