LG Announces Spectrum for Verizon
Article Comments
Jan 9, 2012, 11:49 AM by Rich Brome @rbrome
updated Jan 9, 2012, 1:20 PM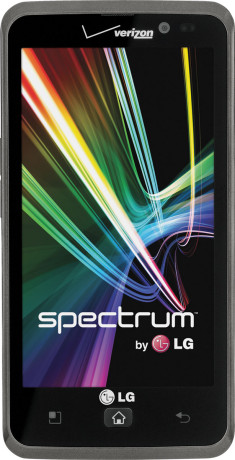 LG today announced the Spectrum for Verizon, following in the footsteps of the Revolution announced at this time last year. The Spectrum sports 4G LTE and a 4.5-inch true HD IPS display, like the Nitro for AT&T. It also sports a Qualcomm 1.5 GHz dual-core processor, 8-megapixel main camera, and 1.3-megapixel front camera. Other notable features include a Corning Gorilla Glass front, 16 GB included memory card, DLNA wireless video streaming, and HDMI output via MHL. The Spectrum will be available January 19th for $200 with 2-year contract.
more info at LG Electronics »
more info at Verizon Wireless »
AD article continues below...
No messages