Review: LG Spectrum for Verizon Wireless
Form Basics Extras Wrap-Up Comments 2
Is It Your Type? Body The Three S's
Jan 26, 2012, 12:47 PM by Eric M. Zeman
LG's Spectrum covers all the modern smartphone basics and adds some great features, such as an HD display. See what LG got right — and wrong — in its latest smartphone for Verizon Wireless.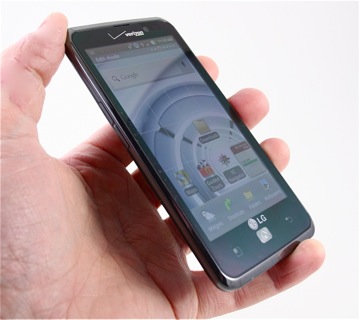 LG debuts its top-of-the-line smartphone for Verizon in the Spectrum. This slick handset boasts an HD screen, LTE 4G, and a dual-core brain. Are you seeking that kind of action in a smartphone? If you're looking for plenty of performance and plenty of power, you can do worse than the Spectrum. The Spectrum makes improvements to its predecessors all the way around, but does LG's latest for Big Red go far enough?
LG always seems to have poor voice quality
The Esteem on MetroPCS is terrible. Voices garbled and robotic sounding.
that is not true lg phones are excellent phones ive had about 6 different lg model phones all have great..with great call quality overall...thier also very strong tuff...each phone ive had I have dropped so many times on concrete floors nt even funny....
(continues)