Hands On: Samsung Galaxy Note for AT&T
Article Comments 10
Jan 9, 2012, 2:00 PM by Eric M. Zeman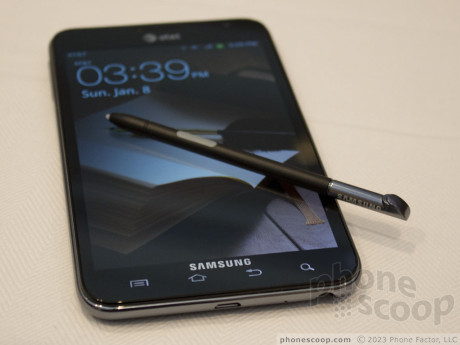 AT&T revealed that it will sell Samsung's monstrously large Galaxy Note smartphone/tablet. With its 5.3-inch display, the Note defies categorization.
Samsung announced the Galaxy Note back in late 2011, but it wasn't until this week in Las Vegas at the Consumer Electronics Show that AT&T revealed it will be sold by the nation's number two carrier.
The Note is preposterously large. It looks nearly identical to other Galaxy-class smartphones released by Samsung but to the Nth Degree. Its 5.3-inch display commands palm-stretching length and width measurements. It feels incredibly huge in the hand. I have large hands, and I had a hard time keeping it firmly in my grasp. It definitely feels more like a small tablet that it does a large phone. The Note's saving grace is its waist line. It my be wide and long, but it is as thin as any smartphone on the market. That means you can slip it into tight jeans pockets, but you'll know it is there. Oh, you'll know it is there.
The materials are about the same as other Galaxy devices, which is to say cheap-feeling plastics. There are no obvious metal pieces in the make-up of this phone, though the glass of the display felt strong and smooth. The plastics that rim the sides and top/bottom of the Note are slippery and shiny. The battery cover has a mild textured feel to it, as have other Galaxy-branded devices. The quality of the manufacturing felt good, and I didn't see any obvious problems with the way it was put together (though, admittedly, the battery cover was realyl hard to remove).
The volume key is on the left side of the phone and felt great. It is one of the better volume toggles I've used on a Samsung device in recent memory. It is realyl easy to find, and the travel and feedback are spot on. The microUSB port is on the bottom, the 3.5mm headset jack is on the top, and the power/lock button is on the right side. This button also feels good. For a phone this size, I was disappointed to see no dedicated camera button. Surely Samsung wasn't lacking in real estate.
The display measures 5.3 inches, and offers 1280 x 800 pixels. Samsung calls it a Super AMOLED HD display. It looks really, really good. I was impressed whiling using it, and despite the size, I was unable to find any individual pixels making themselves seen. Because the display is so large, the Note could be either a tablet or a smartphone. Dell was calling devices with 5-inch displays tabets two years ago. Now plenty of devices ship with 4.6-and-larger screens. While 5.3 inches is no doubt huge for a smartphone, it is a bit small for a tablet, which typically offers more screen real estate. So, it's a tough call. Is the Note a small tablet that can make phone calls, or an absolutely gargantuan smartphone? It could be either
The Note runs the latest version of TouchWiz on top of Android 2.3.6 Gingerbread. Samsung would not say if or when the Note might be updated to Android 4.0.
The user interface looks identical to those we've seen on other Galaxy-class devices from Samsung. It offers seven home screens for customization, plenty of widgets, and a criminally large number of applications.
One thing you may notice right away is that the screen can hold 25 applications per page, rather than the normal 16 or 20. You can cram an outlandish number of applications onto the Note, and still see half of of them on a single screen.
The one unique aspect to the Note — other than its size — are the pen capabilities. The Note ships with a stylus that interacts with the capacitive tough display and can be used across the entire user interface in place of your finger. There are also tools that let you take screen shots with the pen, double-tap the pen to see a note-taking application, as well as several applications that were written directly for the stylus. It is a neat set of features to have.
Here's a video tour of the Galaxy Note with a complete run through of the pen features:
Don't know--
--what Samsung was thinking with this one.
that they just sold me a new phone!!!
They were thinking of people like me! I have MS and I currently carry a phone and the original 7" Galaxy Tab. The problem for me is that with my decreased hand dexterity, juggling two or three devices results in dropped devices and frustration. Whe...
(continues)
muchdrama said:
--what Samsung was thinking with this one.
I agree. I'm sure there's a userbase for this somewhere but I can't see it for me. It's too small to be tablet and too damn big for a phone. That **** looks...
(continues)
they made it because they can, why should the dell streak be the only big a$$ phone/tablet device out there? the more the merrier. watch all the rap artists and wanna be's be the ones carrying this phone. train commuters and frequent flyers can also e...
(continues)
Why...?
The Note makes a great first impression on impulse-buyers -- which will account for most of it's sales. Purchasers will find themselves constantly defending the device when others point out the impracticality of it as a daily-driver. A few will love it, however, most will regret their purchase within a few months.

Coming to Craigslist ads and Ebay auctions soon 🙄
this "phone" is for those who don't really use the phone much... I CANT WAIT MUST HAVE NOW BUT I AM TO CHEAP TO PAY FULL PRICE FOR INTL UNLOCKED VERSION!!!!!!!!
it depends on your lifestyle. some people call for a device such as this one. personally i use bluetooth 99 percent of the time so the phone being tucked away in my edc bag or jacket pocket will not get in my way. my gsII felt big at first. now it's j...
(continues)
FINALLY -
When the Dell Streak came out I KNEW it was only a little while before something MUCH better would come out. That it is a bit larger is only a BONUS. The Streak to be about the perfect size, but the screen and OS version lacked a LOT. I can't believe it is finally coming. AND, in multiple colors. Dell could have had a real winner if they had actually promoted the Streak, but Samsung now has the ball and is obviously on a roll. Already over a million sold, and they aren't even in the best market yet (USA). I can only hope that they also are available on Sprint. I will really have heartburn if I have to switch to ATT just to get the ideal phone. Have you seen the lineup of available accessories? I guess having it come out a few months earlier ...
(continues)