Review: Samsung Galaxy Note for AT&T
Form Basics Extras Video Wrap-up Comments 6
Is It Your Type? Body The Three S's Usability S-Pen
Feb 15, 2012, 5:00 PM by Eric M. Zeman
Samsung shoots for the moon with its latest Galaxy phone, the Note for AT&T. This "super phone" offers one of the largest screens on the market, LTE 4G, and a stylus. Can the Note prove that bigger is better? Phone Scoop delivers its verdict.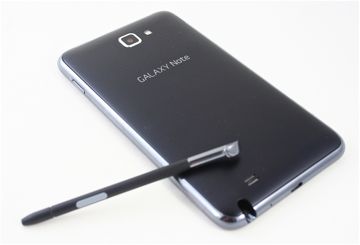 The Samsung Galaxy Note — with its whopping 5.3-inch display — is neither a smartphone nor a tablet, insists Samsung. It is a Super Phone, a device that has all of the latest features of both in one package. It's so big, that you can ostensibly skip buying a tablet and let the Note be your all-in-one mobile computing device. That's assuming you can fit it in your pocket. The Note also brings back what Steve Jobs hoped to abolish: the stylus. Is this gigantic phone, with pen in tow, the answer to your I-only-want-to-carry-one-device prayers? Let me tell you.
Successor to my Streak?
I've been following the Note with interest as it is very similar in overall size as my Streak while gaining a little screen size. I'm not sure about the pen, I doubt I'll use it much. The 4x3 screen is a little odd in today's 16x9 market but I don't know if that will have any impact on my usage.

As for the size of 5"+ devices, you get used to it quickly, I can't imagine returning to a smaller device now. I'll grant you that this size is not for the small handed if you are a heavy phone user, though bluetooth solves that easily.

I, and most Streak owners, tend to use it in landscape orientation; a must for a screen this large. With the Thumb Keyboard app it is a joy to type on; often I will write email on it while sitting in front...
(continues)
Go with samsung. The quality of the materials is way better, especially on the inside of the device.
Don't break the screen though, it will cost you about 300$ to get it fixed lol
A cross between a phone and a tablet?
Unless I missed it, I didn't see anything in the review that discussed how well this phone would act as a tablet. I wouldn't mind its odd size if I knew that having it could make me forgo a separate tablet purchase.
I don't think it can in terms of overall functionality, but it could feasibly offer enough usefulness that someone who doesn't want two devices could skip buying a tablet. That would depend on each, individual person's needs though.
TYPO!
I'm not typically picky, but under Form and Usability, you say "Galaxy Nexus" at the top instead of "Galaxy Note." It threw me off for a bit, I thought you were referring another review you wrote for a moment.
One of the Largest?
Please tell me - Which phone has a larger screen ? As far as I know, this is not one of the largest, it IS the largest.