Review: Samsung Galaxy Note for AT&T
Article Comments 6
Feb 15, 2012, 5:00 PM by Eric M. Zeman @zeman_e
Samsung shoots for the moon with its latest Galaxy phone, the Note for AT&T. This "super phone" offers one of the largest screens on the market, LTE 4G, and a stylus. Can the Note prove that bigger is better? Phone Scoop delivers its verdict.
AD article continues below...
Form
Is It Your Type?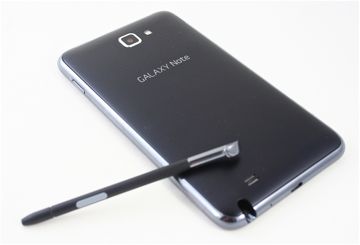 The Samsung Galaxy Note — with its whopping 5.3-inch display — is neither a smartphone nor a tablet, insists Samsung. It is a Super Phone, a device that has all of the latest features of both in one package. It's so big, that you can ostensibly skip buying a tablet and let the Note be your all-in-one mobile computing device. That's assuming you can fit it in your pocket. The Note also brings back what Steve Jobs hoped to abolish: the stylus. Is this gigantic phone, with pen in tow, the answer to your I-only-want-to-carry-one-device prayers? Let me tell you.
Body
The Galaxy Note is absurdly large. It dwarfs any other phone you've ever seen or used. As with many of Samsung's Galaxy-class devices, it is a rather conservative looking device, with clean lines, plenty of black (or white,) and plastic materials all the way around. Sitting on a table or a desk by itself, it doesn't look so large, but if it's near anything else, the scale of the Note becomes readily apparent: It is one huge phone.
I can't even come close to wrapping my large hands around it. It's also weighty. I'd say that most guys won't have a problem sticking the Galaxy Note into their pants pocket, but women might depending on the cut of their clothes. Due to its size, it is not easy to retrieve from the depths of your jeans, though. It takes some effort to dig it out.
The overall feel is that the Galaxy Note is a dense device, and the quality of manufacture is good. Nothing is creaky or loose.
The screen is massive and consumes the lion's share of the Galaxy Note's front face. There are four capacitive keys below the display for the standard Android controls, and you can see the light and proximity sensors, as well as the user-facing camera next to the AT&T logo near the top.
The volume toggle is on the left side of the Galaxy Note. It's easy to find and has a good feel to it; I liked the travel and feedback. The micro-USB port is on the bottom. The lock button is on the right edge of the Note, very close to the top. It has a feel similar to the volume toggle. The 3.5mm headset jack is all by itself on the top of the Note.
Next to the micro-USB port on the bottom, you'll notice the stylus. The stylus — or "S-Pen" as Samsung is calling it — is not merely a hard pointing tool. It is an active digitizer. No other device, such as a pen, will interact with the Galaxy Note's display. If you lose the S-Pen, you're going to have to buy another one to continue using the pen features (pricing not yet determined.) The stylus locks into place firmly enough that there's no fear of it falling out, but it comes out easily when nudged by your fingernail. The stylus itself is very thin and has a button for advanced actions (such as taking screen shots). Samsung actually makes sleeve for the stylus that turns it into a full-size pen (a pen-within-a-pen) so that it can be comfortably used for hours at a time.
The battery cover comes off with some assistance of your thumbnail. Truthfully, it's much more a pain to reinstall the battery cover than it is to remove it. Underneath it, you'll find the massive 2500mAh battery and can gain access the SIM and microSD card slots. You have to remove the battery to swap both cards, sadly.
The Galaxy Note's singular, defining characteristic is its sheer size. It's so big, you hardly notice anything else about it.
The Three S's
Screen
The Galaxy Note's key feature is its 5.3-inch display, which packs a whopping 1280 x 800 pixels. It's a Super AMOLED HD display, but also includes an active digitizer layer so that it works with the S-Pen. Adding layers to a display can have negative effects — such as reducing brightness — but that's not the case with the Galaxy Note. The display is just as impressive as any other SAMOLED from Samsung. Of course, the insane size makes it all the more eye-popping. Colors are stunning. It can be used at night to direct air traffic it is so bright, and outdoor visibility is not a problem.
Signal
The Galaxy Note is one of a few phones that can access AT&T's slowly growing LTE 4G network. When LTE is not available, it falls back to HSPA+. I used the Note under both LTE and HSPA+ and either way it connected easily to the network and showed off quick internet speeds. AT&T's LTE network in New York City provided for blazing fast internet speeds on the Note. I had no problems making phone calls under any network conditions, and the Note didn't drop any during my testing.
Sound
The Galaxy Note is a fine voice phone. The earpiece produces warm tones and clear conversations. The earpiece also offers enough volume so that the phone can be used outside in the wind or in a crowded coffee shop with no problems. Set all the way up, the Galaxy Note borders on painfully loud. The speakerphone, too, is a capable tool. Though the quality of calls routed to the speakerphone was not as good as through the earpiece, the Galaxy Note's speaker emits a lot of sound so that conversations can be heard in noisy environments with no problem. The ringers and alerts are plenty loud, and the vibrate alert is enough to jolt you out of a daydream.
Battery
With 2500mAh of power stored in the Galaxy Note's huge battery, you'll easily get a full day's life out of the device. Even with the huge screen, 4G radio, and dual-core processor, Samsung worked some magic into the Galaxy Note's power management. If you unplug it Monday morning at 7AM, you'll make it to lunch on Tuesday with no problem. Well done, Samsung.
Usability
This is the most important section of Phone Scoop's review of the Galaxy Note. As attractive and stunning as the Galaxy Note may be, it is simply too large for most people. As I've noted, I have large hands, and I cannot use this device one-handed.
Holding the device in my right hand, I cannot stretch my thumb across the Galaxy Note to reach the all-important Menu key, which is on the bottom left. I can reach it only if adjust my grasp to the point of nearly dropping the phone. And it's not just the Menu key. My thumb cannot reach perhaps 30% of the Galaxy Note's display unless I adjust my grip on the device. Constantly adjusting my grip, in addition to the weight of the Galaxy Note, led to muscle fatigue in my hand.
You have to resort to two hands to effectively use the Galaxy Note — and that negates the Galaxy Note's usefulness as a phone to a large degree. Here's why: Imagine you're traveling. You land at an airport and need to hurry to another gate or to the car rental counter. You have a roller-bag or other luggage with you, so one hand is occupied. Using the other hand to check emails, messages, the weather, whatever, is nearly impossible. This is especially true if you want to send a message. Even the presence of Swype doesn't make one-handed typing practical.
I found myself constantly bringing up my left hand to help with making on-screen selections, or to interact with parts of the user interface because my other hand couldn't reach those elements. I want to be able to everything with my phone one-handed.
Don't get me wrong, overall I really like the Galaxy Note and what Samsung is trying to do here, but after using it for a few days, my hand hurt, I was frustrated that I often had to use two hands, and I was pining to use a smaller, lighter, easier-to-use phone.
I've included a look at usable the Galaxy Note is in the our video tour of the Galaxy Note.
S-Pen
The S-Pen introduces some interesting features, though I am not sure how much use they'll get.
First, the S-Pen itself is a tiny thing. I found it comfortable to use for a few minutes here and there, but if you're going to spend an hour performing some task, you're going to want the S-Pen sleeve for less hand fatigue.
For starters, every single portion of the user interface is accessible with the pen. You can skip using your hands entirely if you want and just use the S-Pen to swipe between screens, open apps, peck out messages, and so on. So, what can you do with the pen that you can't do with your finger? The special functionality is tied mostly to a single application called S Memo.
S Memo is pretty much what the name implies, a note-taking application that takes advantage of the stylus. For example, if you use the press the S-Pen's button and then press-and-hold on the screen, the Galaxy Note automatically takes a screen shot and then opens the S Memo app. Using S Memo, you can write notes on the image, erase portions of it crop anything (not just squares or circles, but really fine-tuned cropping), reverse the images, share it via a social networking and so on.
S Memo also lets you take notes. You can fire up a new note and compose a message — either by writing the note yourself as you would on paper, or by using the S-Pen on the Swype keyboard. (I will admit that Swype works WAY better with the S-Pen than with your thumb, as the S-Pen allows you to be much more precise.) Notes can be multiple pages long, and S Memo includes handwriting recognition software to try to figure out stuff you write yourself. You can import images, clip art, or map, you can skip the pen and keyboard entirely and dictate notes, and of course you can send the notes to others via email, social networks and the whole shebang.
Samsung has released the S-Pen SDK to developers, and says that some have taken up the challenge of creating S-Pen compatible apps. It will call attention to apps written for the S-Pen in the Samsung App Store (which is an adjunct of the Android Market).
At launch, however, there's little use for the S-Pen other than the included note-taking app.
I've included a look at the S-Pen in the our video tour of the Galaxy Note.
Basics
Menus
From here on out, the Galaxy Note is more or less identical in terms of software features when compared to its Galaxy S II smartphones. It runs Android 2.3.6 Gingerbread with the newest version of Samsung's TouchWiz. Samsung and AT&T have committed to updating the Note to Android 4.0 Ice Cream Sandwich, but there is no timeframe suggesting when that will actually happen.
The Galaxy Note includes seven home screen panels for customization, though you can delete up to four of them. The phone comes with plenty of apps and widgets littered across the home screens out of the box, but obviously you can change all that to your own liking.
The main app menu can be viewed in an alphabetical grid, a customizable grid, or in an alphabetical list.
One thing I'll say in favor of the Galaxy Note, the huge display means you can really pack stuff on the home screens. For example, most phones can't fit more than four apps across, but the Galaxy Note can fit five. The home screens can house up to 25 app shortcuts each, in addition to the five permanent app shortcuts at the bottom of the screen.
The user interface was Tomahawk Missile fast. I was able to jump from app to app and screen to screen with zero delay. With a 1.5GHz dual-core processor under the hood, it has plenty of power to get things done and it performed well no matter what I threw at it.
Calls/Contacts
The calling and contacts applications on the Galaxy Note don't appear to make any significant changes over previous Samsung Android phones.
The software dialpad pops up when the phone button is pressed. From there, it is easy to access the call log, favorites, and the main contact list.
The Galaxy Note for AT&T includes the Samsung Buddies Now home screen widget. It lets you populate home screen panels with links to up to nine buddies. If you want to look at a buddy's entire contact card, simply press their face and you'll be taken into the contact application. This app can be used instead of setting a handful of contact shortcuts to the home screen.
Messaging
The stock Android messaging tools are on board and cover the basics with aplomb. The SMS application remains simple yet powerful. Messages are threaded in a conversational style, and media (photos, video, audio) fall in-line with the text. The usual two Android email applications are also present. There's the generic email app for POP3/IMAP4 and Exchange, as well as the native Gmail application.
On the instant messaging side of the equation, the stock Google Talk application is on board for Google users, but a catch-all application for other services is missing. If you want to chat via AIM, Yahoo, or Windows Live, you'll need to seek out a third-party solution from the Android Market.
Samsung's Social Hub is on board. It lets you manage nearly everything — email, SMS, Facebook, Twitter, even your calendar — from a single portal.
The full Facebook app is pre-installed; Twitter isn't.
Extras
Media
Music
The Galaxy Note offers both the new Google Music application and the older media player. The media player is a generic piece of software that can be used to access and playback media stored on the device. The Google Music application lets you stream your library from Google's servers over the network. It also lets you purchase music from the Android Market.
Music can be played back through attached headphones, or sent via Bluetooth to properly-equipped Bluetooth devices. Sound quality of music playback was quite good.
There are no third-party music applications pre-installed such as Slacker or Pandora, though they are easy to find in the Android Market.
Video
As far as video goes, the Galaxy Note has the stock Android video player application, YouTube application, and AT&T TV & Movies application on board. It also has the Android Market for renting and buying movies. The Note easily handled video content that I side-loaded, and I found the Note great for watching movies thanks to the roomy and vibrant screen.
Media Hub
The Galaxy Note also comes with Samsung's Media Hub. It is sort of like the Blockbuster Android application. Users can access the Media Hub to download movies and television shows on the Note, but not music. Rental fees and sale prices vary by title.
AllShare is on board for those who like to share their multimedia files with DLNA-compatible devices, such as HDTVs.
Camera
Camera
The Galaxy Note uses the same camera software as found on the Epic 4G Touch and other Galaxy-branded phones from Samsung. The viewfinder window is busy with controls running down both sides. On the left, users can switch to the front camera, set the flash, or dive into a fuller settings menu. On the right, you can access the camcorder and the gallery.
The full camera settings menu is extensive and lets advanced users adjust nearly every facet of the camera and picture-taking experience. Exposure, scene, metering, ISO, and more can all be tweaked.
The Galaxy Note has touch-to-focus, and will lock onto anything you want in the viewfinder. Focusing is extremely fast, and then the image is captured immediately.
My one complaint? No physical camera button. Samsung has given up on including dedicated camera buttons on its high-end devices. What reasoning lies behind this decision is baffling to me. The Galaxy Note is clearly large enough for the hardware necessary to include a camera button.
The camcorder software behaves in exactly the same manner as the camera.
Gallery
The Galaxy Note makes use of the stock Android 2.3 photo gallery software. Images are stored in floating stacks based on date. The view of the gallery can also be switched to a more linear timeline view.
The gallery is also excellent when it comes to editing photos. It supports a wide range of tools for adjusting images after the fact (effects, color, brightness, fine-tuned selector tool, crop, rotate, etc.), and makes sharing images through MMS, email, social networks a breeze.
Photos/Video
Photos
The Galaxy Note has an 8-megapixel sensor and a bright LED flash. Most of the pictures I captured were excellent in quality. Focus was crisp, colors were accurate, and images showed a warmth that made them pleasing to the eye.
Use of the flash was particularly helpful. The flash is extremely bright. The end result is indoor shots that look almost as good as those taken on a sunny day.
Video
The Galaxy Note can also capture 1080p HD video. I thought the quality of the video was excellent. The Note delivered consistently good results. The clarity of the video was the most impressive trait, but colors and white balance all looked good, too.
Browse/Customize
Browser
The Note comes with the stock Android browser. With the capable processor and LTE/HSPA+ on board, it's a solid browsing device. When under strong AT&T coverage, browsing sessions were a joy. Web pages loaded in the blink of an eye under both LTE and HSPA+ coverage.
Customize
With seven humongous home screen panels and apps and widgets galore, you have a vast canvas on which to personalize the Galaxy Note and make it your own.
Extras
Apps
AT&T did not take it easy with the Galaxy Note. There are a number of AT&T-branded apps on board, which include AT&T Code Scanner, AT&T Family Map, AT&T TV, myAT&T, AT&T Navigator, and YPmobile. Some can be deleted and some cannot. Others are just links to the Android Market. Add these to the Samsung-branded apps, and you have plenty to choose from before you even open the Android Market.
Bluetooth
The Galaxy Note supports mono/stereo Bluetooth headsets. Pairing and connecting was no problem, and sound quality through both was very good in my car. The same goes for pairing with PCs and other devices to pass files back and forth.
Clock
The Galaxy Note's lock screen has a large digital clock at the top. The font is a bit on the thin side, but the sheer size makes it easy to read. There's also a clock application if you're interested in using a stopwatch, timer, setting alarms, etc. This app doesn't have any effect on the lock screen clock, though.
GPS
The Galaxy Note includes Google Maps and AT&T Navigator. Both do an admirable job of providing navigation, though AT&T's software is a bit more reliable and faster to respond to real-time situations. Sadly, it costs $10 per month to use. Google Maps is a respectable free alternative.
Video
Wrap-up
The Samsung Galaxy Note for AT&T is somewhat hard to wrap your head (and your hand!) around. In the end, I have to say it is a prime example of the "bigger isn't always better" maxim. Though I love the huge display and the room it provides for applications and content, it is so big that it gets in the way of general usability. I would not buy a phone that I can't use easily with one hand; that's table stakes. However, if you have exceptionally huge hands, the Galaxy Note may be exactly what you're looking for.
The S-Pen brings a new dimension (or, really, resurrects an old dimension) to the modern smartphone. While it has some whiz-bang appeal, Samsung needs to scare up more apps that offer unique pen-based features. Until it does, the S-Pen and accompanying S Memo app come off as parlour tricks to me.
Discounting the sheer dimensions of the Galaxy Note and the S-Pen, it gets pretty much every other feature right. It's a good voice phone, has great battery life, offers zippy mobile data, and takes good pictures/video.
Would I recommend this phone? Only to the Kobe Bryants and Jeremy Lins of the world. For most of us, it's just too much phone.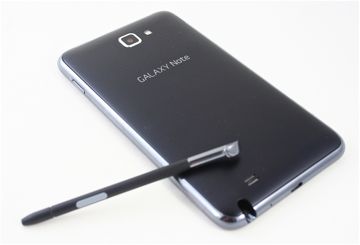 Successor to my Streak?
I've been following the Note with interest as it is very similar in overall size as my Streak while gaining a little screen size. I'm not sure about the pen, I doubt I'll use it much. The 4x3 screen is a little odd in today's 16x9 market but I don't know if that will have any impact on my usage.

As for the size of 5"+ devices, you get used to it quickly, I can't imagine returning to a smaller device now. I'll grant you that this size is not for the small handed if you are a heavy phone user, though bluetooth solves that easily.

I, and most Streak owners, tend to use it in landscape orientation; a must for a screen this large. With the Thumb Keyboard app it is a joy to type on; often I will write email on it while sitting in front...
(continues)
Go with samsung. The quality of the materials is way better, especially on the inside of the device.
Don't break the screen though, it will cost you about 300$ to get it fixed lol
A cross between a phone and a tablet?
Unless I missed it, I didn't see anything in the review that discussed how well this phone would act as a tablet. I wouldn't mind its odd size if I knew that having it could make me forgo a separate tablet purchase.
I don't think it can in terms of overall functionality, but it could feasibly offer enough usefulness that someone who doesn't want two devices could skip buying a tablet. That would depend on each, individual person's needs though.
TYPO!
I'm not typically picky, but under Form and Usability, you say "Galaxy Nexus" at the top instead of "Galaxy Note." It threw me off for a bit, I thought you were referring another review you wrote for a moment.
One of the Largest?
Please tell me - Which phone has a larger screen ? As far as I know, this is not one of the largest, it IS the largest.