Hands-On: HTC Titan II with LTE for AT&T
Article Comments 1
Jan 9, 2012, 3:35 PM by Eric M. Zeman
updated Jan 9, 2012, 3:36 PM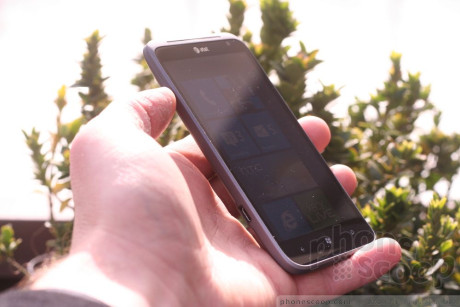 HTC dropped a Windows Phone-shaped bomb on AT&T today. The Titan II packs Long Term Evolution 4G and a 16-megapixel camera. Here are our first impressions.
Advertisements article continues below...
The Titan II is one big mother-lover of a phone. Thanks to the 4.7-inch WVGA (800x480) display, its dimensions stretch to the extreme. It's very similar to the original Titan, but adds a few juicy bits of awesomeness.
The weight is really, really good. I was expecting it to be a brick, and it isn't. It isn't too heavy at all. As is typical of HTC devices, the manufacture and materials are top-notch. Everything about the feel of the Titan II exudes quality. The glass and metal components feel very satisfying in the hand.
The front is mostly screen, but there are three capacitive buttons along the bottom for the standard WP7.5 controls: Back, Home, Bing Search. They worked well and were responsive.
The display looks really, really good. It is bright, colorful, and the resolution is high enough that individual pixels are pretty much invisible.
A microUSB port us on the left side of the Titan II, and the volume toggle and camera button are on the right. Both of these buttons are easy to find and use, and offered good travel and feedback. The camera — and even the photo galleries — can be accessed from the locked device by pressing and holding the camera button.
The camera is positioned very close to the top of the Titan, and swells out from the back surface just a bit. The dual-LED flash is next to it. The entire back cover peels off to reveal the battery. The Titan II does not have a user-accessible memory card slot. It ships with 16GB of storage and that's all you get.
The Titan runs Microsoft's Windows Phone 7.5 Mango operating system.
With a dual-core 1.5GHz processor providing all the get-up-and-go needed, the Titan II's UI was insanely fast. On the surface, the basic UI doesn't look at that different when compared to WP7, but you'll eventually notice that the settings menus have more to them, and there are more programs and controls in the full application list.
Rounding out some of the specs, the Titan has a 16-megapixel camera with F2.8 lens, autofocus, dual LED flash, and 720p video capture. It also has a 1.3-megapixel user-facing camera. Other features include GPS, Wi-Fi, stereo Bluetooth, 5.1 surround sound, a bevy of sensors, and HSPA+ in addition to the support for AT&T's growing LTE network.
As far as Windows Phone 7 smartphones go, the Titan II sets a new benchmark — again. HTC's competitors will have a lot to live up to when it comes to WP7 devices, as HTC continues to offer the best hardware.
HTC Greatness!
For those out there that are Android fanboys, this isn't necessarily new specs in your arena. But, for WP fanboys such as myself, its nice to finally see some hardware with top specs. I'm REALLY liking this phone. 😁