All Sprint Samsung Cricket Boost more... Discuss 2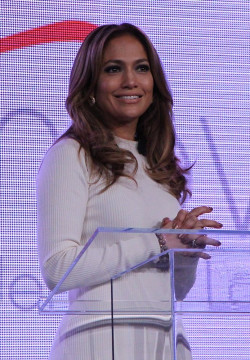 Verizon Wireless today announced a new company called Viva Movil, which is meant to help address the Latino population in the U.S. The company was founded by Jennifer Lopez, who serves as its chief marketing officer. Viva Movil is a partnership between Brightstar Solutions, for distribution, and Moorehead Communications, a Verizon Wireless retailer. The company will use social networking and online commerce to connect with the Latino population. The company is a retail chain that sells Verizon phones and tablets on Verizon's network with Verizon service plans. The stores will be designed in a way so that they are appealing to the Latino community, and all staffers will be bilingual. The company's web site is up and taking orders, and the first Viva Movil retail store will open on June 15 in New York City. Other markets, such as Los Angeles and Miami, will follow throughout the year.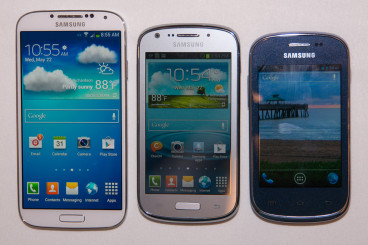 Cricket today showed a sneak peek of two Samsung phones coming this summer. The Admire 2 sports a 4-inch screen and 4G LTE, while the Galaxy Discover is more basic with its 3.5-inch screen and stock Android interface. We checked them out. Read on for our first impressions.
At a press briefing this morning, Cricket revealed that it plans to enable LTE roaming later this year on bands 4 (1700) and 25 (1900). Band 25 LTE is used exclusively by Sprint in the U.S. Band 4 (AWS) is used by many carriers, including T-Mobile, AT&T, and soon, Verizon. The Samsung Galaxy S 4 will be Cricket's first phone to support band 25 roaming.
Cricket today announced plans to offer two new Samsung Android phones this summer: the Admire 2 and the Galaxy Discover (already offered in a GSM variant by Net10.)
The Admire 2 is a new, mid-range Android phone with 4G LTE, 4-inch display, 5-megapixel camera, memory card slot, and Samsung's TouchWiz interface and camera features on top of Android 4.1. U.S. Cellular carries it as the Axiom.
The Galaxy Discover is a basic Android phone with a 3.5-inch display, 3-megapixel camera, memory card slot, and stock Android 4.0 interface.
Further specs, pricing, and launch dates will be announced at a later date.
Cricket today announced that it will start selling the Samsung Galaxy S 4 on June 7 for $599.99. A financing option starts with a $59.99 down payment, plus monthly payments.
Coolpad announced the Quattro II on the sly during an event at the CTIA trade show. Phone Scoop took a quick look at the company's latest low-cost wonder.
Coolpad today revealed the Quattro II 4G, an Android smartphone slated to land at C Spire Wireless in the next few weeks. It features a 4.5-inch qND display, dual-core 1.2GHz Qualcomm Snapdragon processor with 1GB of RAM, and 5-megapixel camera. It will run on LTE 4G and is capable of VoLTE calls. It offers 4GB of storage and included supports microSD cards for expanded storage. It ships with Android 4.1 Jelly Bean.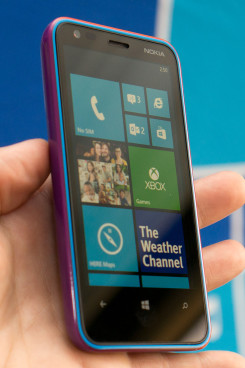 We spent some time with the new Lumia 620 for Aio, AT&T's new prepaid experiment. This cute little phone has a unique design. Here's what we thought of it.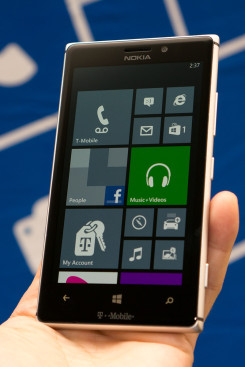 We spent some time with Nokia's new flagship phone, coming soon to T-Mobile USA. The Lumia 925 displays an evolution of Nokia's industrial design that uses more metal to achieve a thinner, lighter body. Find out how it stacks up against the competition in our hands-on.
CAT today announced the availability of the B15, a rugged Android smartphone. The device, which debuted earlier this year, runs Android 4.1 Jelly Bean and has a 4-inch WVGA display that works with wet fingers. It also includes a 5-megapixel camera, a MediaTek dual-core 1GHz processor, GPS, Wi-Fi, and support for microSD cards. The device is fully ruggedized and can withstand up to 30 minutes in three feet of water as well as multiple drops to concrete from six feet. CAT says it is "impervious" to dust and dirt. The B15 is being built and distributed for CAT by Bullitt Mobile. It costs $349 and can be used on the networks run by AT&T and T-Mobile USA.
Sprint today announced plans to offer its first tri-band LTE products later this summer. The three devices include the Novatel Wireless MiFi 500 LTE, the Netgear Zing Mobile Hotspot, and the Netgear 341U USB Modem. All three devices will be able to access LTE in the 800MHz, 1900MHz, and 2.5GHz bands. Right now, Sprint is primarily deploying LTE in the 1900MHz band, but it will begin to offer LTE in the 800MHz band starting later this year after Sprint shuts down its iDEN network on June 30. The 800MHz spectrum will offer better in-building coverage when compared to the 1900MHz spectrum. Sprint has officially launched LTE in 88 markets, but it says it will cover 170 markets in the coming months. The 2.5GHz spectrum is currently owned by Clearwire, and Sprint says it will eventually be used to offer high-speed service in densely populated regions. The exact pricing and availability details of the three tri-band LTE devices will be announced at a later time. Sprint has not yet said when it will offer tri-band LTE smartphones.
Sprint today announced that its prepaid brands Boost Mobile and Virgin Mobile USA will both offer the Samsung Galaxy S III beginning in June. The GSIII will include support for Sprint's LTE 4G network. Pricing and exact availability was not shared.
Boost Mobile today announced a new mobile wallet application for its Android smartphones. Boost Mobile Wallet is a mobile banking service targeted at the underbanked that lets Boost Mobile customers send money to people in 135 countries, pay bills, top-up prepaid wireless accounts, transfer funds between accounts, as well as deposit checks directly from the phone. The app is accompanied by a re-loadable prepaid Visa debit card that can be used for transactions at retailers around the country. The application itself is free to download from the Google Play Store. The wallet app can be used to make payments directly at select retailers in Los Angeles, San Diego, and portions of New Jersey. Boost expects to roll the payment service out nationwide beginning this summer.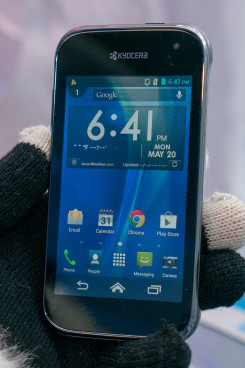 Kyocera's new Hydro XTRM for U.S. Cellular sits at the high end of the Hydro lineup, with upgraded features like 4G and extra durability. You could also think of it as a "Torque Lite". Read on for our first impressions of this interesting new Android phone.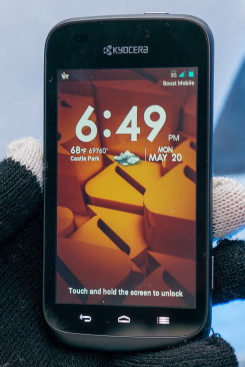 Kyocera's water-proof Hydro gains a better-equipped cousin in the Hydro Edge for Sprint and Boost. Packing better tech into a thinner profile, the Edge is a step up on paper, but how does it stack up in person? We take it for a quick spin in our hands-on report.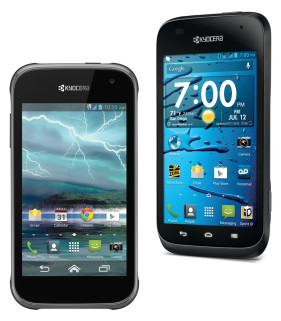 Kyocera today announced the Hydro Edge and Hydro XTRM, building on the success of the original Hydro. Like the original, the new models are affordable Android phones that are fully water-proof. The new models are slightly higher-end, however, both sporting a dual-core Qualcomm Snapdragon S4 Plus processor, 4-inch glass display, 5-megapixel auto-focus camera, and Android 4.1. Both models also feature the unique Smart Sonic Receiver tissue-conduction speaker technology found in the Torque. Both have 1 GB of RAM, 4 GB of built-in storage, and a memory card slot.
Hydro Edge: Coming to Sprint and Boost this summer, this CDMA model also sports HD Voice and a back-side-illuminated camera sensor. Its processor clocks in at 1 GHz.
Hydro XTRM: On sale with U.S. Cellular starting today, this model steps up with 4G LTE, a 1.2 Ghz processor, a front camera, shock (drop) resistance to military standards, and a large 2,000 mAh battery.