Hands-On: Coolpad Quattro II 4G
Article Comments
May 21, 2013, 10:02 PM by Eric M. Zeman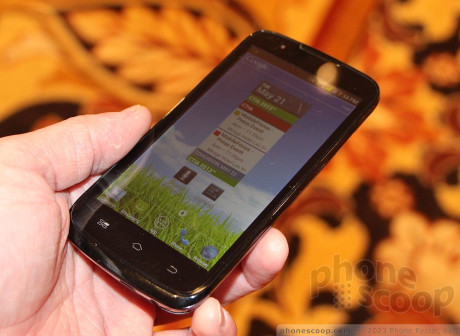 Coolpad announced the Quattro II on the sly during an event at the CTIA trade show. Phone Scoop took a quick look at the company's latest low-cost wonder.
Coolpad Quattro II
Coolpad, which is a Chinese company, showed off the Quattro II 4G at CTIA this week. The device is the company's second big push into the U.S., as it follow last year's Quattro, which was sold by MetroPCS. This time around, Coolpad has C Spire Wireless on deck to sell the device. It will become available in the coming weeks The original Quattro sold for $79 from Metro, but Coolpad couldn't say how much C Spire will be asking for it.
The device is a simple, bar-style Android smartphone that carries forward the design seen in last year's model. It is gray, silver, and black and made of inexpensive materials. The back surface has a patterned texture that is somewhat scratchy and sparkly. It contrasts starkly with the smooth, glossy front.
The overall feel of the device betrays its low-cost roots. It does not feel like a flagship device, and it clearly isn't meant to. The seams were fairly tight and it seemed put together well, but the materials were a bit creaky. The size is comfortable, though it is thicker than I'd like any smartphone to be.
The screen has 540 x 960 pixels (qHD resolution). It measures 4.5 inches and looks good for the most part. I found it to be bright and colorful, though it doesn't compare to today's best 720p or 1080p HD screens. The glass was prone to collecting gross finger oils, though.
What bugged me most about the design was the buttons along the side. The side edges are angled steeply away from the front toward the back, and the buttons are placed far enough away from the front surface that they are really hard to find and use. The screen lock button, in particular, was impossible to find. It doesn't help that it is buried below the surface of the side edge. The volume toggle on the left edge had a better profile, but was still difficult to operate comfortably.
The microUSB port and the stereo headphone jack are both on the bottom of the phone. The battery cover, battery, and microSD cards can all be removed.
The devices runs a near-stock version of Android 4.1 Jelly Bean. In the few moments that we spent with the device, it felt snappy and quick. I didn't see any software problems.
The Coolpad Quattro II 4G will be available from C Spire Wireless by the end of June.
No messages