Hands On with the Kyocera Hydro Edge
Article Comments 2
May 21, 2013, 9:00 AM by Rich Brome @rbrome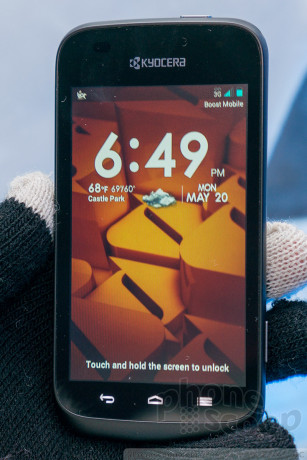 Kyocera's water-proof Hydro gains a better-equipped cousin in the Hydro Edge for Sprint and Boost. Packing better tech into a thinner profile, the Edge is a step up on paper, but how does it stack up in person? We take it for a quick spin in our hands-on report.
source: Kyocera
Advertisements article continues below...
The Hydro Edge is a step above the original Hydro in almost every way. The screen is larger (4") and better, the camera improved to 5-megapixel and auto-focus, and memory upped. The screen is glass (the original Hydro's was plastic.) There's also HD voice for Sprint's network. Kyocera has also brought over the Smart Sonic Receiver technology from the Torque, a speaker that works something like bone conduction, sending clear sound into your head regardless of ambient noise.
They've put all of this into a noticeably thinner body. The distinctive design of the back is reminiscent of certain HTC phones from a couple of years ago. The removable back cover graces the thin part of the phone; the phone gets a bit thicker near the top.
The phone feels quite solid with the back cover in place, but remove it, and it feels flimsy. I found it way too easy to replace the battery cover and accidentally leave it not fully seated and locked. That's important, as a rubber gasket in the cover keeps water out of the battery and memory card area. It doesn't inspire confidence that water will be kept out. Other waterproof phones - the original Hydro included - have more substantial battery covers with cam latches that close with confidence. This won't be an issue in daily use; you'll just need to triple-check the seam and lock any time you replace the back cover.
The Hydro Edge could be better balanced; the shape and display placement make it feel a bit top-heavy. Otherwise, it feels very nice to hold. It's slightly heavier than the first Hydro, which has the effect of making it feel higher-quality. The materials are plastic, and feel like it, but the back cover has a nice texture to it. The side keys are all decent, and the dedicated camera key is a welcome addition.
The software is based on Android 4.1 and sports a light skin from Kyocera that improves the lock screen features and clock, and adds shortcuts to the notification shade. The camera app has a custom interface and a whole lot of features, including panorama, blink and smile detection, HDR, and scene modes.
The Hydro Edge is coming to Sprint and Boost this "summer". With HD Voice and Smart Sonic Receiver in a water-proof package that Kyocera promises will be very affordable, the Hydro Edge will be a unique offering.
No messages