CTIA 2013
North America's big phone event goes down this week in Las Vegas. Phone Scoop is on the ground, ready to bring you news and hands-on with the handful of new phones expected. Our CTIA page collects all of our CTIA content in one place, and has its own forum for CTIA discussion.
Bookmark this page and don't miss a thing!
All Sprint Samsung Cricket Boost Mobile more... Discuss 2
At a press briefing this morning, Cricket revealed that it plans to enable LTE roaming later this year on bands 4 (1700) and 25 (1900). Band 25 LTE is used exclusively by Sprint in the U.S. Band 4 (AWS) is used by many carriers, including T-Mobile, AT&T, and soon, Verizon. The Samsung Galaxy S 4 will be Cricket's first phone to support band 25 roaming.
---
Sprint today announced plans to offer its first tri-band LTE products later this summer. The three devices include the Novatel Wireless MiFi 500 LTE, the Netgear Zing Mobile Hotspot, and the Netgear 341U USB Modem. All three devices will be able to access LTE in the 800MHz, 1900MHz, and 2.5GHz bands. Right now, Sprint is primarily deploying LTE in the 1900MHz band, but it will begin to offer LTE in the 800MHz band starting later this year after Sprint shuts down its iDEN network on June 30. The 800MHz spectrum will offer better in-building coverage when compared to the 1900MHz spectrum. Sprint has officially launched LTE in 88 markets, but it says it will cover 170 markets in the coming months. The 2.5GHz spectrum is currently owned by Clearwire, and Sprint says it will eventually be used to offer high-speed service in densely populated regions. The exact pricing and availability details of the three tri-band LTE devices will be announced at a later time. Sprint has not yet said when it will offer tri-band LTE smartphones.
---
Sprint today announced that its prepaid brands Boost Mobile and Virgin Mobile USA will both offer the Samsung Galaxy S III beginning in June. The GSIII will include support for Sprint's LTE 4G network. Pricing and exact availability was not shared.
---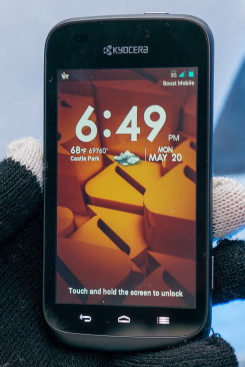 Kyocera's water-proof Hydro gains a better-equipped cousin in the Hydro Edge for Sprint and Boost. Packing better tech into a thinner profile, the Edge is a step up on paper, but how does it stack up in person? We take it for a quick spin in our hands-on report.
---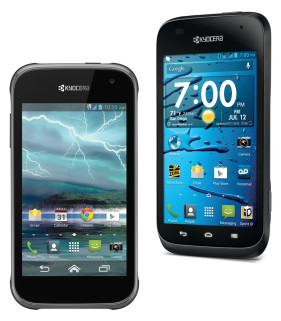 Kyocera today announced the Hydro Edge and Hydro XTRM, building on the success of the original Hydro. Like the original, the new models are affordable Android phones that are fully water-proof. The new models are slightly higher-end, however, both sporting a dual-core Qualcomm Snapdragon S4 Plus processor, 4-inch glass display, 5-megapixel auto-focus camera, and Android 4.1. Both models also feature the unique Smart Sonic Receiver tissue-conduction speaker technology found in the Torque. Both have 1 GB of RAM, 4 GB of built-in storage, and a memory card slot.
Hydro Edge: Coming to Sprint and Boost this summer, this CDMA model also sports HD Voice and a back-side-illuminated camera sensor. Its processor clocks in at 1 GHz.
Hydro XTRM: On sale with U.S. Cellular starting today, this model steps up with 4G LTE, a 1.2 Ghz processor, a front camera, shock (drop) resistance to military standards, and a large 2,000 mAh battery.
---