CTIA 2013
North America's big phone event goes down this week in Las Vegas. Phone Scoop is on the ground, ready to bring you news and hands-on with the handful of new phones expected. Our CTIA page collects all of our CTIA content in one place, and has its own forum for CTIA discussion.
Bookmark this page and don't miss a thing!
All Sprint Samsung Cricket Boost Mobile more... Discuss 2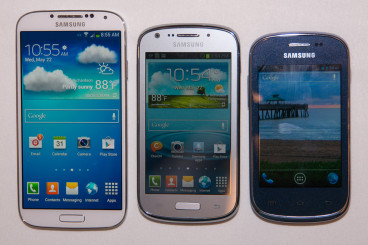 Cricket today showed a sneak peek of two Samsung phones coming this summer. The Admire 2 sports a 4-inch screen and 4G LTE, while the Galaxy Discover is more basic with its 3.5-inch screen and stock Android interface. We checked them out. Read on for our first impressions.
---
At a press briefing this morning, Cricket revealed that it plans to enable LTE roaming later this year on bands 4 (1700) and 25 (1900). Band 25 LTE is used exclusively by Sprint in the U.S. Band 4 (AWS) is used by many carriers, including T-Mobile, AT&T, and soon, Verizon. The Samsung Galaxy S 4 will be Cricket's first phone to support band 25 roaming.
---
Cricket today announced plans to offer two new Samsung Android phones this summer: the Admire 2 and the Galaxy Discover (already offered in a GSM variant by Net10.)
The Admire 2 is a new, mid-range Android phone with 4G LTE, 4-inch display, 5-megapixel camera, memory card slot, and Samsung's TouchWiz interface and camera features on top of Android 4.1. U.S. Cellular carries it as the Axiom.
The Galaxy Discover is a basic Android phone with a 3.5-inch display, 3-megapixel camera, memory card slot, and stock Android 4.0 interface.
Further specs, pricing, and launch dates will be announced at a later date.
---
Cricket today announced that it will start selling the Samsung Galaxy S 4 on June 7 for $599.99. A financing option starts with a $59.99 down payment, plus monthly payments.
---