Hands On with the Samsung Admire 2 and Discover for Cricket
Admire 2 Galaxy Discover Comments 1
May 22, 2013, 12:38 PM by Rich Brome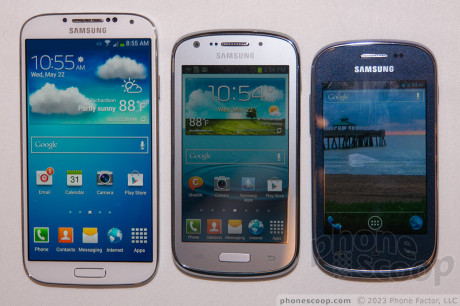 Cricket today showed a sneak peek of two Samsung phones coming this summer. The Admire 2 sports a 4-inch screen and 4G LTE, while the Galaxy Discover is more basic with its 3.5-inch screen and stock Android interface. We checked them out. Read on for our first impressions.
source: Cricket Communications
The Galaxy S III has been a hot seller on Cricket, exceeding all forecasts, as they tell it. It's also boosted Samsung's brand quite a bit. But Cricket is a prepaid carrier, and not everyone can afford a $600 phone. With that in mind, the Admire 2 is an attempt to bring some of that Samsung mojo - and 4G LTE - down to a more reasonable price point.
(If the Admire 2 looks familiar, that's because it's also known as the Axiom for U.S. Cellular; they're the same phone.)
The Admire 2 indeed has a high-quality feel to it. It's all plastic and you'll know it to hold it. But certain details like the physical home button have a premium feel to them, and the overall build quality seems excellent for this price range.
The side keys work well. The 4-inch display is solidly mid-range. It's leaps and bounds better than the one in the Discover, but certainly no match for the displays now shipping in high-end phones. The memory card slot has a hatch on the side for easy access.
The Admire 2 runs Android 4.1 with Samsung's TouchWiz interface. TouchWiz brings welcome features like lock screen shortcuts, notification shade quick settings controls, and Samsung's excellent camera interface.
Look for the Admire 2 on Cricket this summer, or U.S. Cellular is currently offering it as the Axiom.
Plasticphobia
---"The Discover has the style and build quality you'd expect from Samsung. It's plastic"---

I've gotta ask you a question Rich. Why is there such a hatred for polycarbonate phones all of a sudden? It is almost as if no one has ever used or owned plastic products before. Before Steve Jobs, None of this nonsense would've been sheeple marketed.

I would have expected this site to be more level headed and less vocal about Aluminum Vs Polycarbonate. More in tune in understanding that phones have been made this way for years with no issues whatsoever and for a good reason. Have you reporters really had that much problems with polycarbonate phones? In the 27 years I've owned cell phones, I never once had a complaint.

I fear the thought tha...
(continues)