CES 2018
The mother of all trade shows, the Consumer Electronics Show takes over Vegas in early January. Some phones are usually announced, and we'll have hands-on reports for each one. This year, we expect news from Sony, Samsung, Alcatel, and more. Plus we'll have hands-on details of other interesting apps, services, and accessories in the world of phones.
Bookmark this page and don't miss a thing!
Also, follow us on Twitter for up-to-the-second news and extras:
All Google Sony Huawei Razer more... Discuss
Samsung Lenovo Motorola Alcatel AT&T
Motorola's partner Livermorium announced plans to bring its $99 slide-out QWERTY keyboard to market. Is this the accessory or your typing dreams? Here are our impressions of the latest Mod for the Moto Z family of smartphones.
---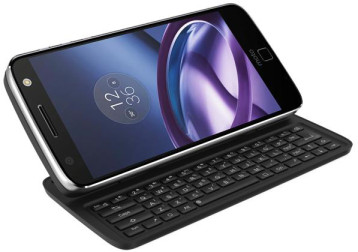 Motorola today announced the pending availability of the Livermorium Slider Keyboard Moto Mod, an attachment that gives the Moto Z family a physical QWERTY keyboard for typing. The keyboard slides out and can tilt the handset up to 60 degrees for miniature-laptop-style typing. The Livermorium was initially an Indiegogo project and has since gained the support of Lenovo and Motorola. The slide-out keyboard will be available later this winter for $99. Motorola continues to encourage developers to support the Moto Mod program. Motorola is taking submissions for Moto Mod concepts and those whose ideas are selected will receive a Moto Z handset, the Moto Mod Development Kit, and support from Indiegogo.
---
Lenovo and Vital USA today announced the Vital Moto Mod, a modular attachment for the Moto Z line of smartphones that can measure a range of health stats. Vital USA says the Vital Modo Mod can monitor heart rate, respiratory rate, pulse oximetry, non-contact body temperature, and blood pressure. The Mod works with the Vital App, a HIPAA-compliant application, to parse the data and create a complete health picture. The mod includes a finger cuff with an inflatable bladder along with other sensors to make the measurements. Vital USA says the measurements take about three to five minutes to complete, and they are then stored in the app where they can be shared and/or analyzed. The company claims all five measurements are made as accurately as they might be with dedicated medical equipment. Pricing and availability were not immediately disclosed.
---