CES 2018
The mother of all trade shows, the Consumer Electronics Show takes over Vegas in early January. Some phones are usually announced, and we'll have hands-on reports for each one. This year, we expect news from Sony, Samsung, Alcatel, and more. Plus we'll have hands-on details of other interesting apps, services, and accessories in the world of phones.
Bookmark this page and don't miss a thing!
Also, follow us on Twitter for up-to-the-second news and extras:
All Google Sony Huawei Razer more... Discuss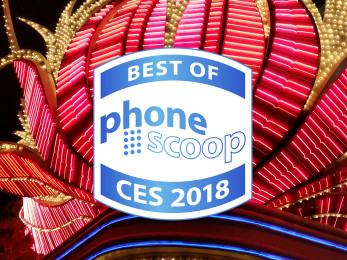 CES is the world's big consumer tech show. Every year we head out to Vegas to check out everything in person. We honor the standouts with our Best of CES awards. This year, five products really caught our eye.
---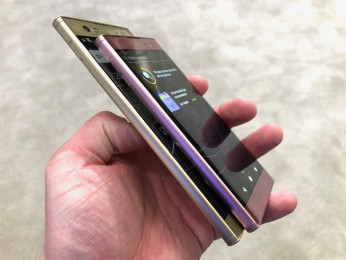 Sony debuted several new smartphones at CES this week in Las Vegas, including the Xperia XA2, XA2 Ultra, and L2. The XA2 and XA2 Ultra share nearly every feature other than screen size and battery capacity. Here is an early look at the latest from Sony.
---
Qualcomm today said a number of leading handset makers have adopted its radio frequency front-end. Some of the OEMs include Google, HTC, LG, Samsung and Sony Mobile. This means these smartphone manufacturers will rely on Qualcomm's hardware to ensure their devices can talk to wireless networks. This is particularly important for T-Mobile, as the RF front end provides comprehensive 600 MHz band (B71) support. T-Mobile is deploying LTE on its 600 MHz spectrum now and plans to use it for 5G service down the road. The RF front end includes a modem-to-antenna system using the new QPM26xx series gallium arsenide-based power amplifier module. The module contains duplexers, envelope tracker, antenna tuners, antenna switches, and discrete and integrated filter modules. Qualcomm says its RF front end supports features such as Gigabit LTE, 4x4 MIMO and LTE Advanced today, and will evolve to handle 5G technologies in 2019.
---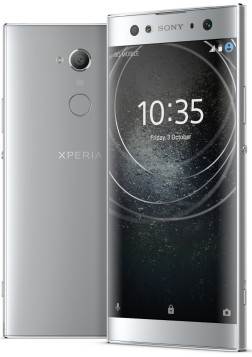 Sony Mobile today unveiled the Xperia XA2 and Xperia XA2 Ultra handsets, dramatically improved sequels to last year's phones. The XA2 and XA2 Ultra (pictured) have metal frames, new aluminum back panels, and 2.5D curved glass on front that Sony says is more refined than the previous generation. The full HD panels measure 5.2 inches on the XA2 and 6 inches on the XA2 Ultra. Fingerprint readers adorn the rear panel of the handsets. Both phones move from the Snapdragon 400 series to the Snapdragon 630 processor with 3 GB of memory and 32 GB of storage. The devices share the same 23-megapixel Sony Exmor RS image sensor with hybrid autofocus, SteadyShot stabilization, and ISO speeds up to 12,800 for low-light photography. They have an all-new 8-megapixel camera on front that includes a 120-degree field of view and SteadyShot for cleaner self videos. The larger XA2 Ultra packs a second user-facing camera with a 16-megapxiel sensor, optical image stabilization, and display-based flash. Both phones gain bigger batteries when compared to last year's handsets. The XA2 has a 3,300mAh power cell and the XA2 Ultra improves even more to 3,580mAh. The batteries include Stamina Mode and Qnovo for adaptive charging. Other features include Bluetooth 5.0 with aptX, GPS, WiFi, NFC, USB-C, and memory card slot (up to 256 GB). The phones run Android 8 Oreo. Sony says the Xperia XA2 and XA2 Ultra will go on sale in late January. Pricing wasn't disclosed.
---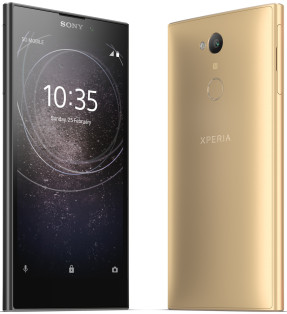 Sony Mobile today announced the Xperia L2, an affordable Android smartphone that makes some significant upgrades compared to its predecessor. To start, the phone has a metal frame and glass front. The L2 includes a 5.5-inch 720p display and it is powered by a 1.5 GHz quad-core MediaTek processor with 3 GB of memory and 32 GB of storage. The phone now packs a rear-mounted fingerprint reader — a must-have in today's market — and a larger 3,300mAh battery with Stamina Mode. The main camera boasts a 13-megapixel sensor while the front camera has a 120-degree, wide-angle, 8-megapixel sensor. Other features include Bluetooth 4.2 with aptX, GPS, WiFi, NFC, USB-C, and memory card slot. It runs Android 7.1 Nougat. Sony says the Xperia L2 will reach the U.S. in black, gold, and pink in late January. Pricing wasn't disclosed.
---