Hands On with the Livermorium Keyboard Slider Moto Mod
Article Comments 1
Jan 9, 2018, 8:45 PM by Eric M. Zeman
updated Jan 9, 2018, 9:49 PM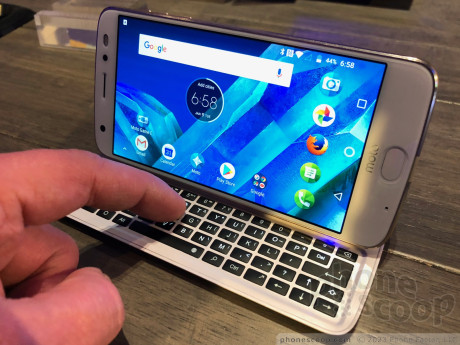 Motorola's partner Livermorium announced plans to bring its $99 slide-out QWERTY keyboard to market. Is this the accessory or your typing dreams? Here are our impressions of the latest Mod for the Moto Z family of smartphones.
Livermorium
Motorola partner Livermorium today announced that it is moving forward with production of its Keyboard Slider Moto Mod for the Moto Z family of smartphones. The Livermorium was first revealed in April 2017 as an Indiegogo project. It now has the needed support to kick off actual manufacturing and, eventually, sales.
The Mod makes me recall the early Motorola Droid phones.
As all Mods do, it attaches to the back of the Moto Z thanks to embedded magnets. The keyboard then slides out sideways to reveal a five-row set of QWERTY keys. The idea is to give old-school users something physical to type on, rather than make them peck at the glass of their handset.
The Mod on hand, a pre-production unit, felt somewhat cheap. The plastic of the rear shell was particularly unappealing in its plain design and flimsy feel. The keyboard adds considerable bulk to the Moto Z, making it harder to hold, use, and carry around when attached to the rear of the phone. The benefit of Moto Mods, of course, is that you can remove them at any time.
The keyboard itself slides out to the left side of the phone. You then rotate the phone to type. Thankfully the user interface of many screens on the Moto Z accommodated the sideways orientation. I didn't encounter any that didn't. It is awkward to hold this way, as the top half is really heavy compared to the bottom. In order to mitigate this, you can angle the phone up to about 60 degrees. This changes the center of gravity and makes it a little bit easier to grasp the entire contraption.
Personally, I liked putting the Mod on a table with the phone angled up, making it resemble a tiny laptop.
Believe it or not, the buttons feel excellent. I appreciated the travel and feedback of the keys as I pounded out a few test sentences.
Is the Livermorium (gawd what an awful name!) Keyboard Slide Moto Mod something I'd spend $99 on? No, I'm happy to trace my finger across the glass. Many, however, may miss physical keys and find it's a helpful addition to the collection of Moto Mods.
The Livermorium goes on sale later this winter.
Back to past!
When I saw the photo I was thinking, "Why is the Nokia E7 back being a topic?" This is the first mod that I've seen that would make me consider using an Android based device. After reading the review I think I'll pass.