CTIA Wireless 2003
Intro Preview Day 1 Day 2 Day 3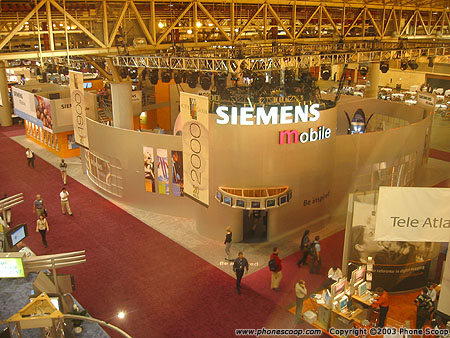 The opposite corner of the Siemens booth, as seen from above. It was hard to get a picture that really gave a feel for the booth, since it was mostly enclosed. The front entrance (under the logo) was an Omnimax-like surround-video room. It was pretty wild.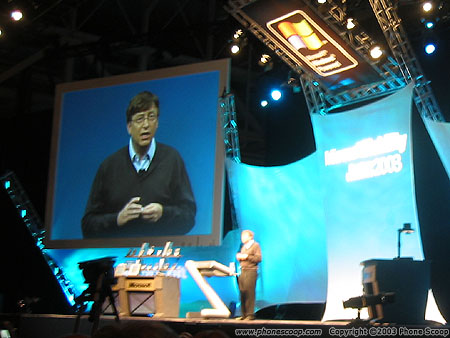 AD article continues below...
Bill Gates giving the keynote for the first annual Microsoft Mobility Developer's Conference. The MMDC was located in the same convention center, and started right as CTIA was ending, so this served as a kind of closing keynote for CTIA. Bill showed the hilarious video poking fun at Microsoft that's been in all his recent keynotes.
The first major announcement was the availability of the .NET Compact Framework, which will make it easier for developers to write Internet-enabled software for Pocket PCs (and soon Smartphones). Also, .NET CF was demonstrated running on a Smartphone for the first time. The second major announcement was the availability of a Smartphone Developer's Kit, which includes the Compal AR-11 Smartphone from Red-E.
So that was the show! It was thoroughly exhausting, but well worth it. Hopefully you enjoyed the coverage. Check back toward the end of the week for my wrap-up article, which will summarize all these random thoughts in a little more cohesive manner, and add some analysis and perspective.